Wow guests with a modern arrangement that's both elegant and easy to recreate.
Thanksgiving centerpieces can be tricky. Cornucopias tend to be, well, corny, and fussy floral arrangements can distract from the real star of the table: the food. So to dream up an idea that feels fresh for the season and is relatively quick and easy to pull off, we turned to florist Caitlin Kerr Bohn of Chicago's The Foxglove Studio for guidance.
A fan of our peak glass terrarium, Bohn created a beautiful arrangement behind the glass that can be admired from every seat at the table. And although she used seasonal flowers—kale, ranunculus, hypericum berries—Bohn selected blooms that weren't red or bright orange, the typical colors of Thanksgiving. The mix of yellow-orange flowers with moss and greenery feels modern, especially when paired with blue-green napkins and pedestal candle holders. Finish the whole thing off with metallic accents in the form of turkey candleholders and gold flatware.
Learn how Bohn arranged this cool centerpiece in five quick steps below.
1.
Gather your materials, which include the terrarium, a small glass dish, a flower pin frog and wire cutters. For flowers, we used kale, ranunculus, penny cress, moss, hypercium berries and bunny tail grass. Look for a mix of sizes and shapes for visual interest.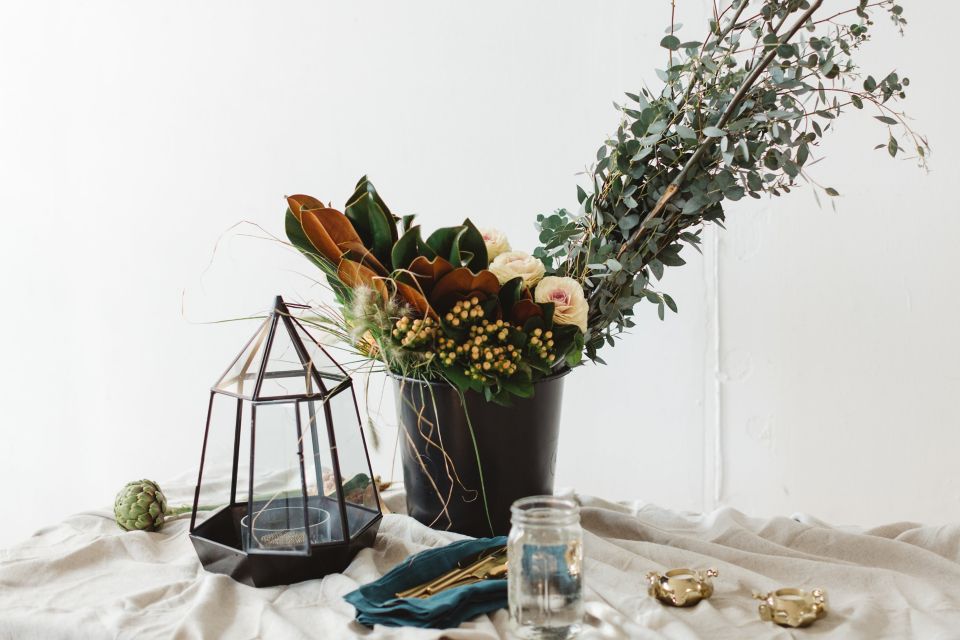 2.
Open the terrarium door, then place a shallow, flat dish in the center of the terrarium. Fill it ¾ full with water. Place a flower frog into the dish's center, then cover the dish with moss, pressing the moss into place.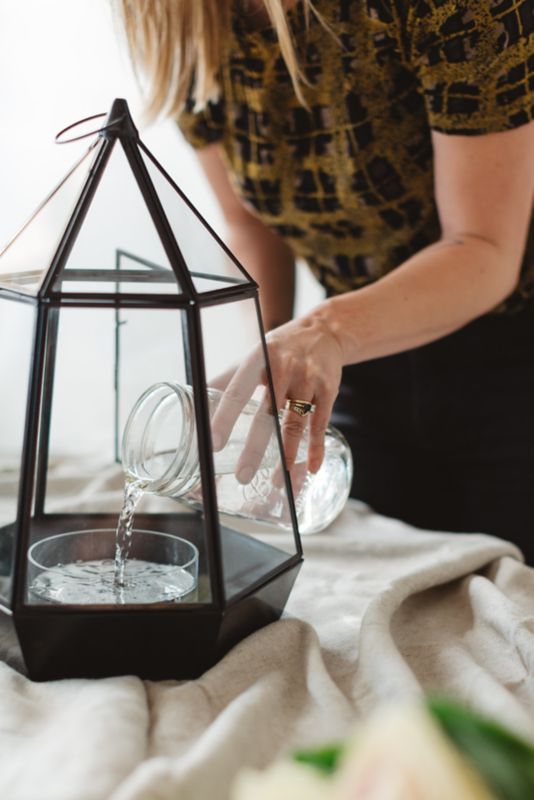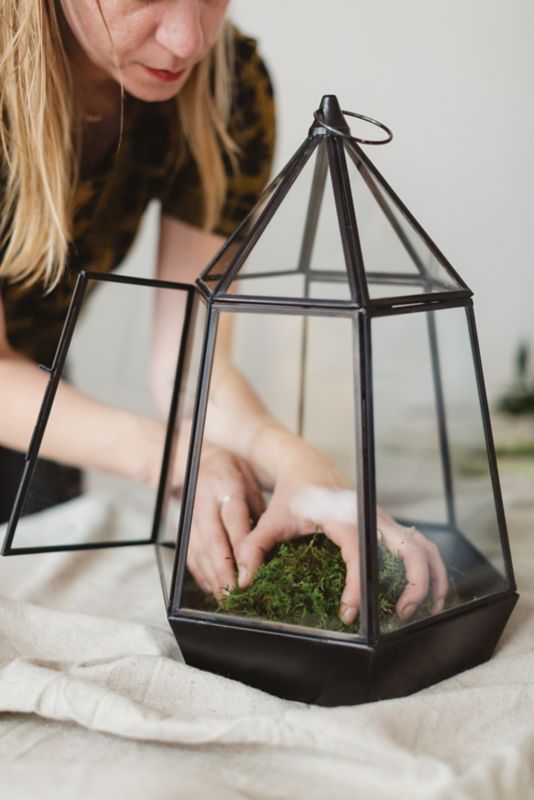 3.
Start by working with your larger flowers first. Trim a flower's end and push it through the moss into the flower frog until it feels steady. You'll want to trim the larger flowers so that they'll be shorter in height than other flowers and positioned near the center of the arrangement.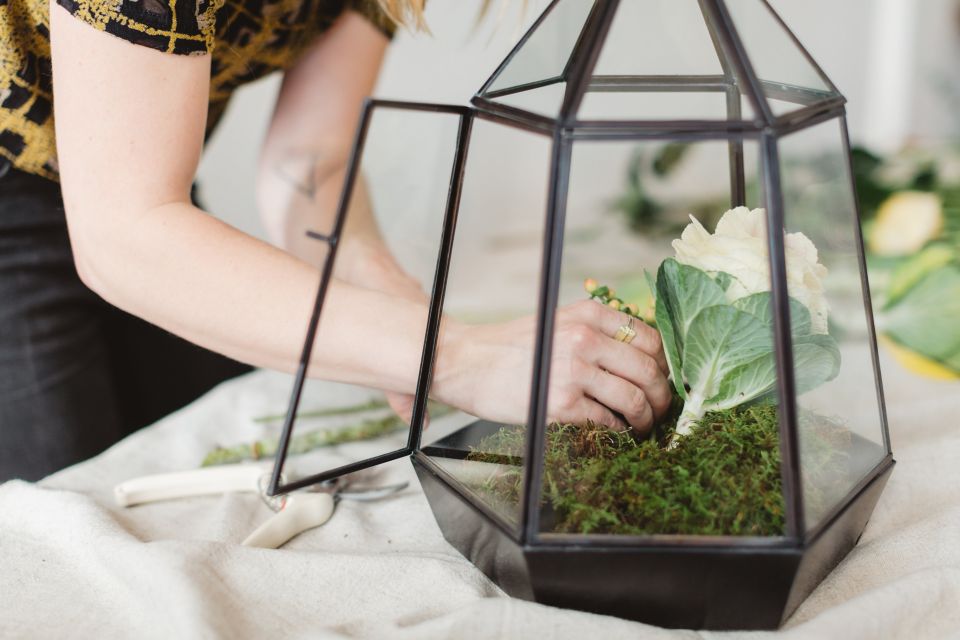 4.
Rotate the terrarium and continue adding flowers as you go, trimming and positioning them to your liking. Every arrangement will be different, so don't put too much pressure on yourself.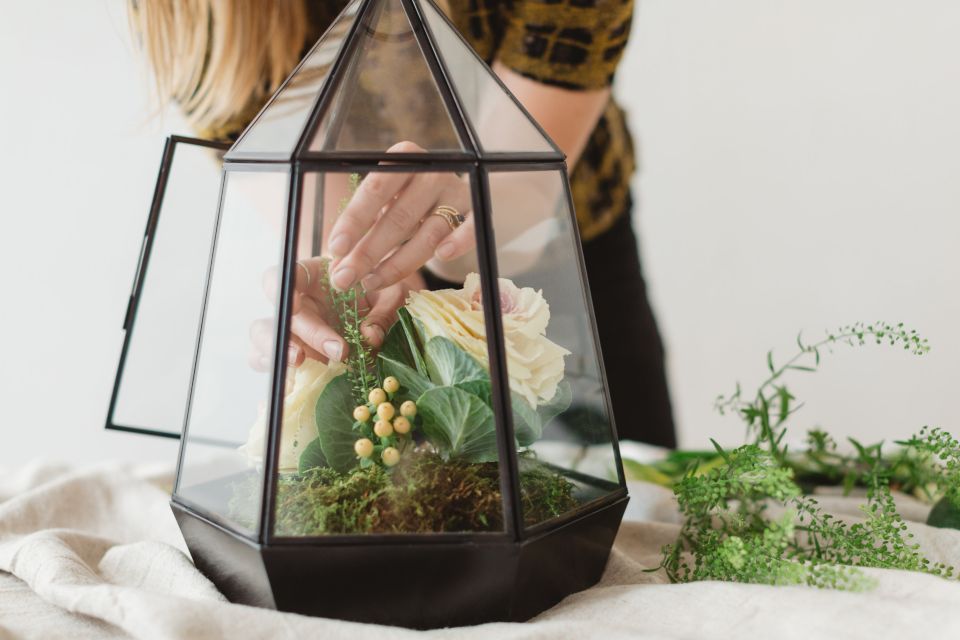 Prep for the holidays and gift your favorite plant and flower enthusiast something from our collection of unique gardening gifts.