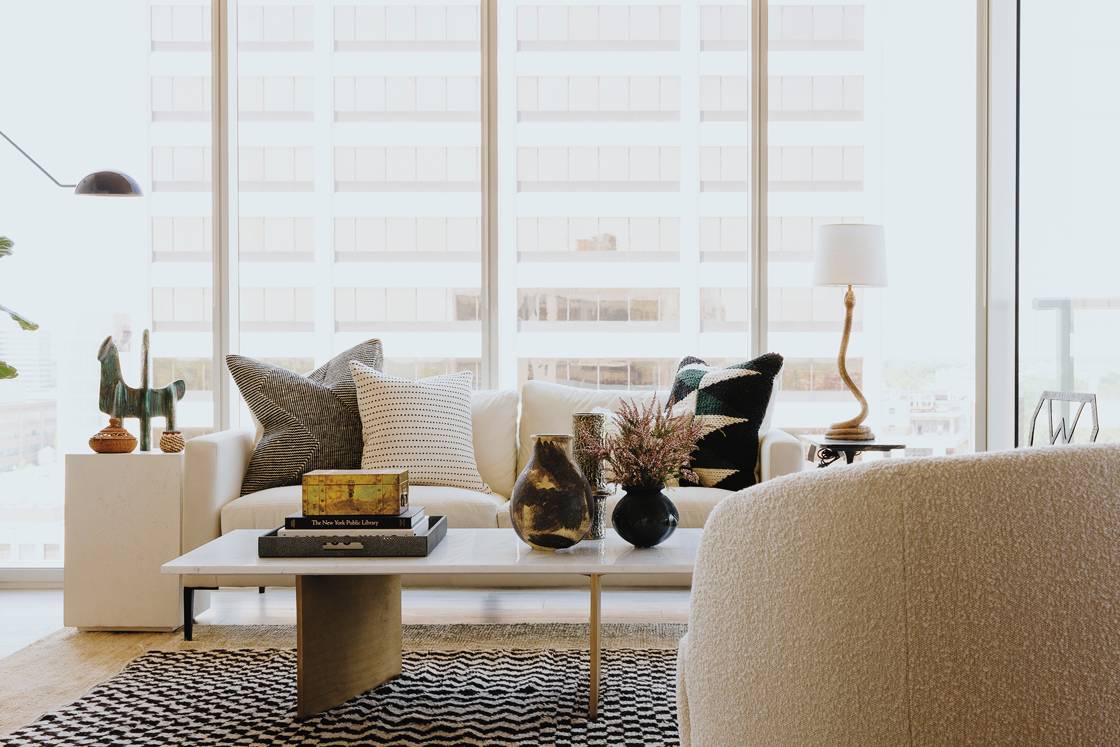 This project kicked off just as the world seemed to grind to a halt. Tell us what that was like.
Alison Wilcox, my Design Director, had a dear friend and former neighbor who moved to Thailand last year for an immersive yoga practice. She never anticipated returning to Chicago in the middle of a pandemic. When she called in March, Alison immediately eased all of her concerns. Our firm has quickly shifted to the virtual design model, much faster and more seamlessly than I would have anticipated, so we were well-equipped to handle this project and meet the client's extremely tight deadline.
Our client found a fantastic apartment, but she needed to furnish it from across the world in two weeks, as her daughter would also be returning from college to live with her and they would both be quarantining there. While our projects typically are ground-up construction or full-scale renovations that have longer lead times, we knew we could rely on CB2 and a mix of some readily available vintage items to meet the quick turnaround without compromising the design.
We started combing the marketplace for furniture options, but all of the pieces we gravitated toward for the home that were readily available happened to be from CB2. We were thrilled to find such phenomenal pieces and felt confident delivering them directly to the client's door [despite never having seen many of them in person].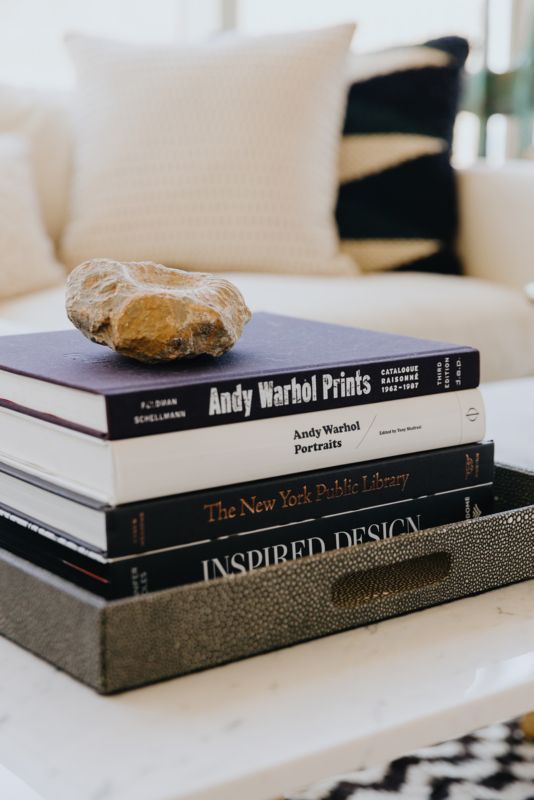 How did the onset of COVID-19 impact your design process?
We started, as we do with all of our projects, by learning about our client's goals, what they gravitate toward aesthetically and how they want to live in the space. Then we present inspiration and ideas to get feedback [and] establish the language and tone of the home. We would typically do a site visit to double-check the measurements on the plans, get lighting and outlet locations and get a feel for the space in person, but due to the circumstances we gave this client a little bit of homework and requested additional images, measurements, etc.
Since this was during quarantine, there was an additional lens that shaped all of our decisions. The clients, upon returning from time abroad, would really be living in every inch of the home, in a way many of us have never had to do before. Between her and her daughter, they would be home-schooling, working, exercising and eating all of their meals in this space, so the home needed to be high-functioning and agile. However, with all the uncertainty in the world right now, the home also needed to rise up and really embrace the clients on an emotional level from the start. We strove to create a space that felt tailored to their needs, tastes and lifestyle.
Our first step was designing a floorplan that is versatile and flexible. No matter the scale of the home, we always work with clients to make sure the pieces selected are comfortable and functional for day to day living, and also have the flexibility to make entertaining effortless. We also needed to make sure all of the items we presented were available and ready to ship quickly.
We set up a virtual design presentation to review the floor plan and options for the pieces. This is always such a fun part of the process, to see what the client naturally gravitates toward and watch the space take shape. We were so thrilled that our client loved the options and made quick decisions. We began ordering and set up a delivery schedule immediately.
What was the inspiration for the space?
Our inspiration for the home was a clean, neutral, modern and versatile space that felt like it had been collected and curated for years, rather than ordered in one swoop (which is what actually occurred). We carefully selected items from CB2 that complement each other, but do not match. For instance, the sofa has a streamlined shape and pairs so beautifully with the more gracefully curved Gwyneth Boucle Chair and softened lines of the console. We love that many of the pieces selected from CB2 reference different eras—to me that always feels modern and thoughtful. Then, as we always do, we mixed in some vintage and antique items such as a checked Moroccan rug over the natural jute area rug, a sculptural bench in a mustard mohair to tuck under the console (which doubles as extra seating) and a fantastic gilt palm lamp by Hans Kogl.
What is your favorite CB2 item in the room?
I absolutely adore the Gwyneth Boucle Chair. It has found its way into many of our projects. It's not over-scaled yet is incredibly comfortable, and the swivel makes it so functional. I am also obsessed with the boucle upholstery. Boucle always feels like a Chanel reference to me, so naturally I'm crazy for it.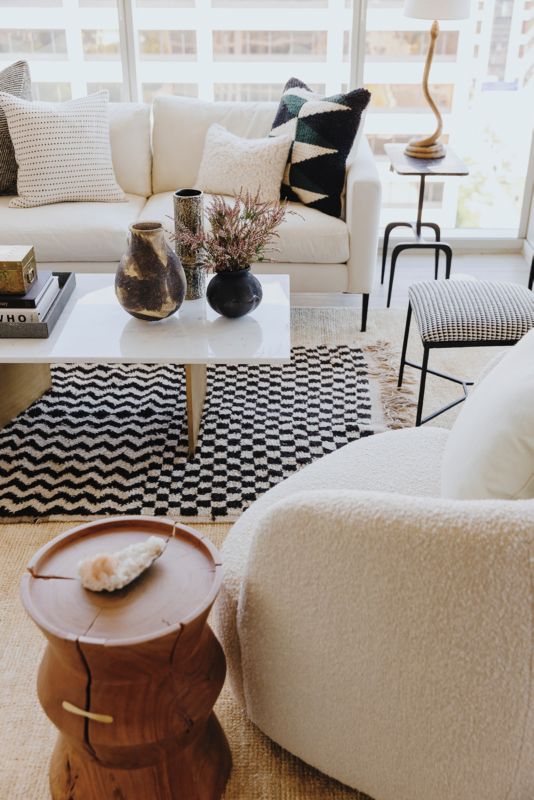 Was there anything about the process you were surprised to find didn't change much?
Yes, I have been blown away since quarantine started by how agile my team has been in shifting to a virtual model. Our team typically executes a highly organized installation process, which involves not only placing every piece of furniture, but thinking through and preparing every last detail for our clients. There is soap in every soap dish, a towel on every bar and family photos in the frame before they even walk in the door. For the installation of this home, we were able to deliver the same high level of service, but from a distance. While we would have loved to be there in person and were there as soon as we could (with protective measures in place, of course), we were able to completely assemble the home down to the accessories all via video correspondence. We're thrilled with the final product.
How will virtual design impact your business moving forward?
It has really opened my eyes to a new way of working. Many of our clients are located all around the world and while I don't think we can completely replicate all the virtues of seeing a place in person or meeting face to face, we now have the tools and experience to deliver far more long distance than ever before. In preparation for a recent client installation, I shopped a few stores (some located in Europe) completely virtually. I love traveling and seeing things firsthand, but technology delivers us the next best option when that is not possible.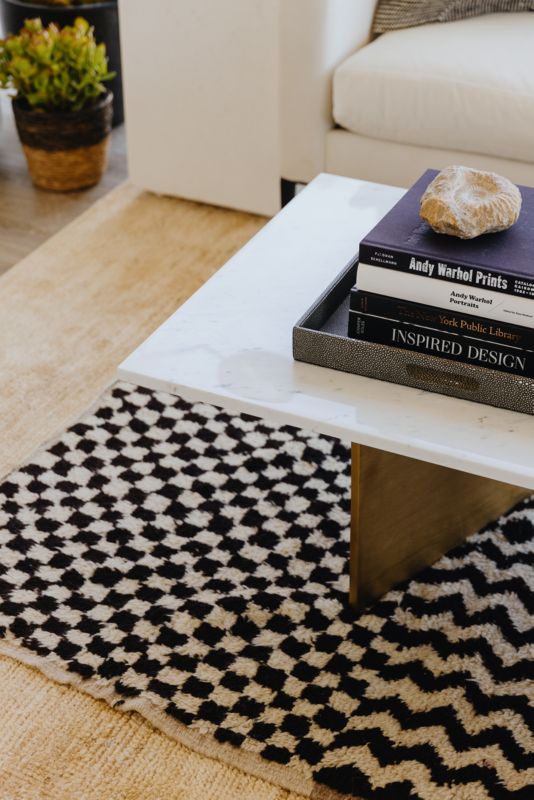 This interview has been edited and condensed. Photos by Jon Shaft.