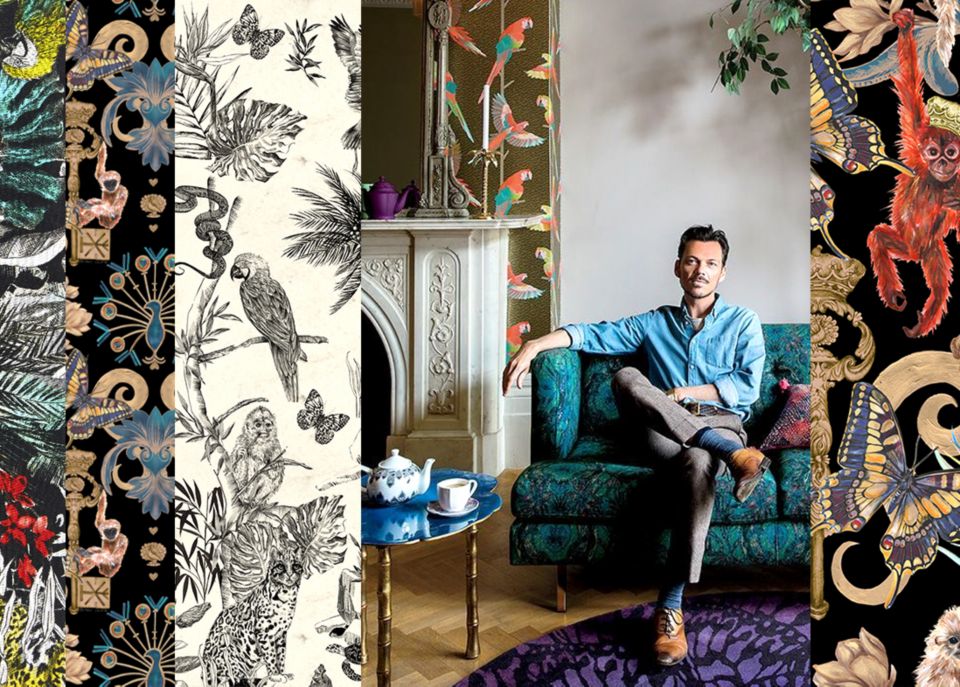 Combine forces of nature with iconic fashion prints, travel inspiration and loads of passion and what do you get? A capsule collection of textiles from the wildly glamorous mind of iconic British fashion designer Matthew Williamson. Patterns overflow with peacocks and snakes, palm fronds and orchids — it's flora and fauna maximalism at its finest, and we can't get enough.
"Everything I've designed is intended not to match perfectly, but to sit together in harmony." — Matthew Williamson
Explosions of pattern and colors, mixing styles and eras so seemingly disparate they're almost clashing…maximalism is firmly entrenched as a fashion trend right now, and we bet we'll see more of it on Fashion Week runways. And Matthew Williamson is, in many ways, an OG maximalist.
A graduate of Central Saint Martins, Matthew Williamson started his eponymous fashion company out of a London flat 22 years ago. His acclaimed debut collection, 'Electric Angels,' showed at London Fashion Week more than a decade ago and made a huge impact on the fashion world. A master of print, embellishment and kaleidoscopic color, his collections reflect a refined yet spirited sense of glamour, inspired by global and artistic influences — a signature aesthetic that has become synonymous with Matthew Williamson designs.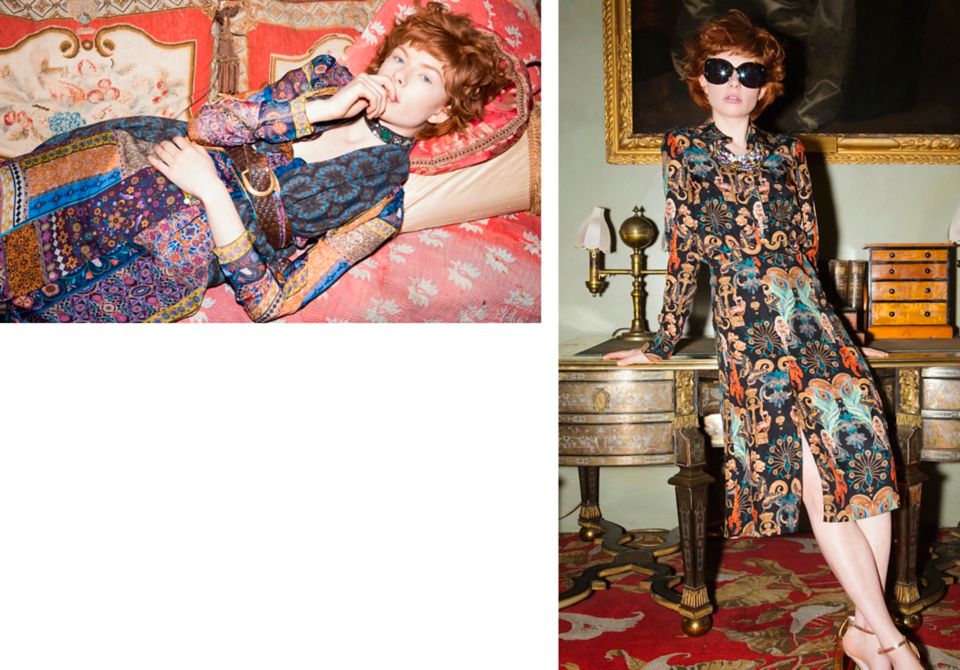 That's all well and good for clothing — changing a dress is far easier than changing decor, right? But like Matthew, we firmly believe fashion influences interiors and vice-versa, so we were thrilled when he offered a few prints from his fashion archives to CB2 for a vibrant textile collection.
Maximalism doesn't have to be so scary for your home, either. It's all about playing with color, pattern and scale in a thoughtful and intentional way. The prints and patterns in Matthew Williamson's newest CB2 pieces are the perfect way to dip your toe in the eclecticism pond.
Take the Regal Monkeys print from the Matthew Williamson 2017 ready-to-wear collection, reimagined in throw pillows and table runners. The "Regal" in Regal Monkeys is inspired by Belvoir Castle in Leicestershire, England, a treasure trove of exquisite decor, architecture, hand-painted wallpapers and lush gardens.
The women of the castle, the Manners sisters and their mother, the Duchess of Rutland, have worn Matthew Williamson designs for many years (as have many other tastemakers, in England and elsewhere). Their spirit and sense of fun perfectly encapsulates the iconic MW aesthetic — an aesthetic you can bring to your own drawing or dining room through this collection.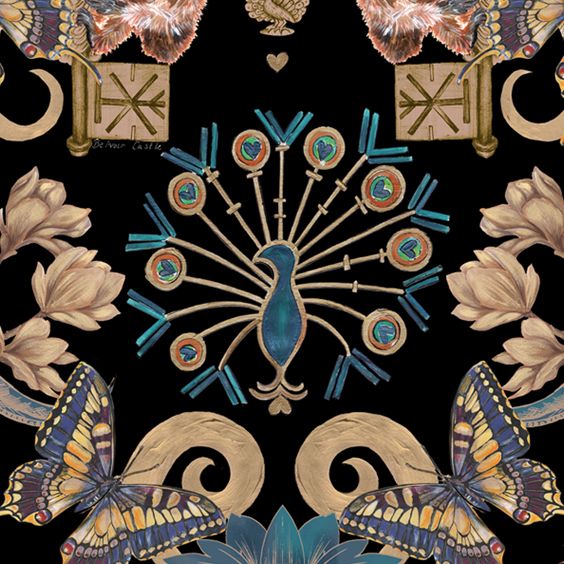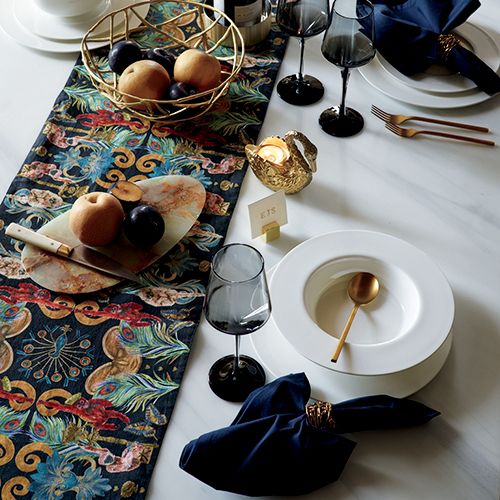 Flocks of peacocks and butterflies and cheeky monkeys swing across scrollwork and ornate keys in a pattern reminiscent of traditional chinoiserie, but with a wild twist. "The key featured in the print was an ancient key, hundreds and hundreds of years old, found in a precious, locked cabinet [inside Belvoir Castle]," explains Matthew Williamson designer Vicky Sanders. It adds a sense of gravitas to an otherwise playful print, don't you think?
Far from the Castle at Leicestershire, Matthew Williamson's Midnight Jungle print draws inspiration from his travels to Trinidad and Tobago. Each element is finely hand drawn with pen and vibrantly colored.
We adore this pattern as both a dramatic bohemian dress and a pop-of-color throw pillow. As the design team notes, if you look closely, you'll notice little scenes within the print that tell a story with some of Matthew's favorite animals: the parrot, butterfly, flamingo and monkey. The super-rich palette and ornate detailing add instant impact and personality to any couch (or closet).
Strip away the color and, well, we still love it. For this stunning bedding, the print was brought back to the more monochromatic, hand-drawn elements. The neutral palette allows the print's details to really shine through. This duvet wouldn't look out of place in an eccentric English Manor, but we can just as easily see it as an unexpected element in an industrial, exposed-brick loft.
"For me, the boundary between interiors and fashion is becoming more and more blurred," Matthew explains – and it's clear that, for him, there are no hard and fast rules in either. His prints and patterns call to mind a world of "controlled bohemia," marrying lush landscapes with high fashion for a perfect touch of English eccentricity. Even the pattern-shy can bring some of that signature eclecticism home with smaller pieces, while full-fledged maximalists can mix and match to their heart's content. Explore all of Matthew Williamson's wild and wonderful designs for CB2 here.
Additional images courtesy of Matthew Williamson, Wefindvenues and Stones Events.