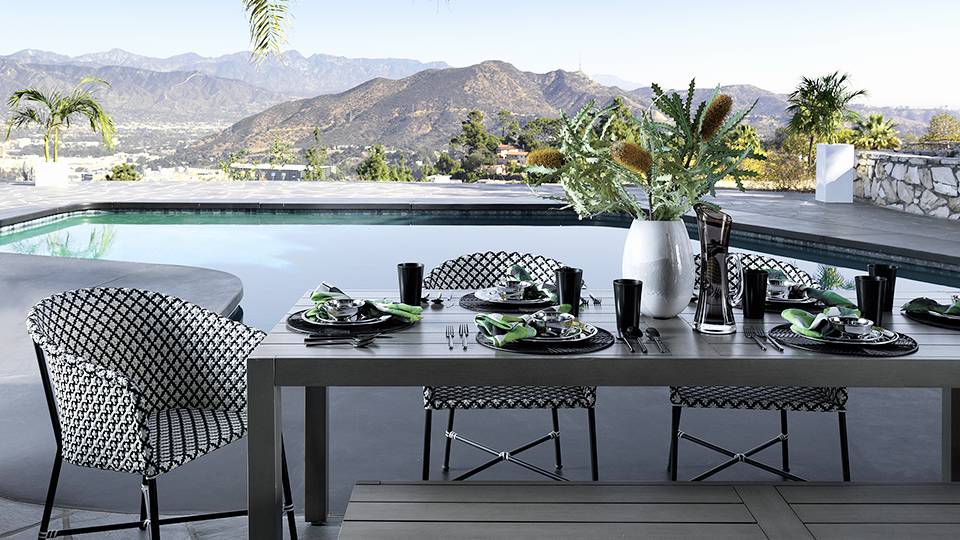 Think you can host a party in your sleep? Us, too. But even the experts among us have been known to mess things up every once and awhile (RIP Fourth of July picnic, 2012). Here are a few spring party mistakes we've all made, followed by thoughtful solutions and fresh ideas that will actually make things easier for everyone in the long run.
---
1. You didn't make a weather plan.
It takes one sudden torrential downpour ruining your spread of homemade snacks and you'll never make this mistake again. Remember that late spring and early summer weather is often unpredictable. On warm, sunny afternoons, arrange outdoor furniture so there are plenty of seating options under the shade of a covered deck or umbrellas. If you have a sectional sofa on the patio, arrange it so that it's partially shaded and partially exposed. And since it's still cool in the evenings, clean and prep your fire pit, arrange seating around it with throw blankets on hand. Pull in a few small accent tables or ottomans for people to put their drinks down or to hold s'mores ingredients, if you're roasting marshmallows. And if the weather is looking seriously sketchy, clean up inside just in case the party needs to move indoors.
2. Your decor is trying too hard—and everyone knows it.
As a season, spring always feels like a light refreshment following a flurry of fancy holiday parties. Breezy, casual gatherings are all that any of us crave. Express this sentiment from the start with your invitations. Email or paperless invitations are perfect for this sort of occasion. Encourage casual, come-as-you-are dress in your invitations and follow-up communication.
3. You made a big to-do of dinner and drinks.
Rather than serve a big sit-down lunch or dinner, create a buffet of bites to serve throughout the party. Bring out the more substantial tapas later in the party and the sweet stuff last. Set up a self-serve bar, stocked with simple beer wine choices and a couple of minimal-prep cocktail options. Another easy option: make enough of a single, awesome punch to please a crowd.
4. Do your research on seasonal fruits and vegetables local to your area. Light, refreshing bites are best for spring, so think crostinis coated with hummus, snow pea or avocado mash, or parsley-white bean spread topped with raw, shaven carrot, radish and beet. Strawberries and peaches are some of the first fruits to appear, so add them to a spinach-and-nut salad for a sweet and healthy treat. Top spring party dishes with fresh herbs such as mint, basil, cilantro and chives. If you're busting out the grill, toss the vegetables on—either in slices large enough to get nice char marks or chopped, marinated, and skewered. Serve them alongside a chilled pasta salad splashed with an olive oil vinaigrette or a traditional gazpacho. A squeeze of lemon atop any dish immediately gives it a fresh feel. Serve on white, off-white or pastel plates to really nail the spring theme.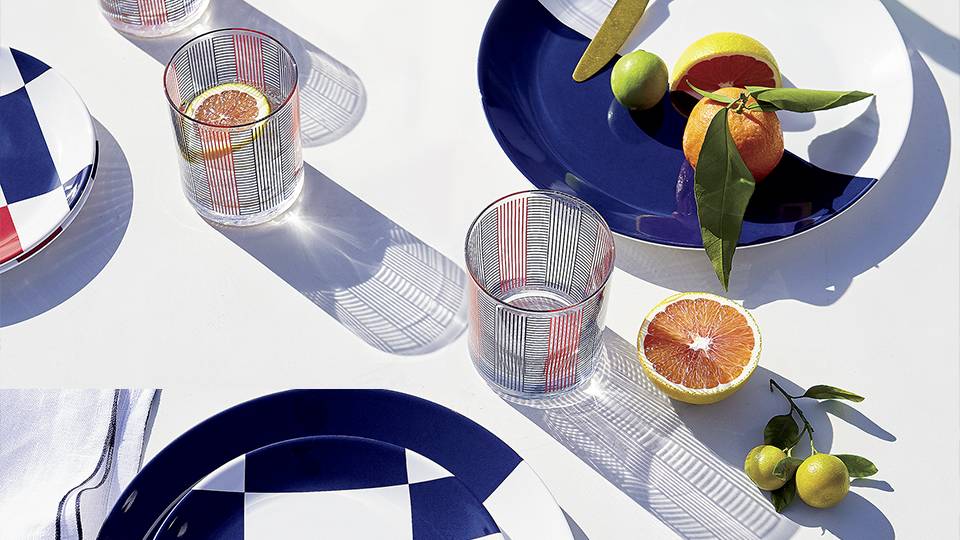 5. You didn't capitalize on the free decor outside your back door.
Spring flowers always feel welcome after a cold winter. Now is your chance to show off the buds from your own garden. Clear and clean your garden paths, and wipe down any dirty planters. If your garden isn't blooming yet, bring in some faux branches, vines and trees to evoke the same feeling. Cherry blossom branches in natural clay vases are perfect for side tables or as a centerpiece. Pull out table linens and napkins that complement the floral centerpiece, and set out edible flowers (lavender, lilac, or hibiscus buds) at the self-serve bar. Bonus tip: Freeze small edible flower in ice cube trays with water for drinks.
6. You forgot lights for the after party.
And we all know the best parties have them (lights and after parties). Large floor lanterns can contain a mix of flameless and lit candles. For walks in the garden, plant tealight holder stakes into soil on the edge of garden path or into planters themselves to set the mood. For warm evening ambiance at dusk or after dark, pull out twinkling string lights. Gently wrap them around potted ferns, bushes and trees. If you have an overhang above your deck, position them there to create the illusion of dining and drinking under the stars (while still having enough light to see friends' faces). Drape string lights down the center of a table or cluster them in clear vases. If you have a pool that's already filled with water (even if it's not open for swimming yet), float flameless candles in tealight holders to create the dreamiest scene.
---
Did we leave anything out? Share your party wins and fails with us at #mycb2.
Looking for more outdoor party inspiration? Check out our collection of outdoor entertaining pieces, from weather-resistant placemats to stylish outdoor glassware.