What was the design and renovation process like?
The space is small and it's on the main floor, so it's the bathroom all of our guests use. I wanted them to walk into it and feel like they were transported to a sexy boutique hotel bathroom in a big city.
I knew I wanted to paint it really dark. Both of our bedrooms are already painted black, so I felt like I needed to change it up. I picked out this geometric white, grey and black marble tile that I knew I wanted to use, and I felt like a really dark green would give the vibe I was looking for.
I came home with 9 different greens to test. My husband already thinks I'm a little nuts, but I wanted it to be the perfect shade. I painted the entire bathroom—ceiling and all—and it didn't feel dark enough to me. So I painted it all over again. I will go all the way with paint to make it the exact perfect shade.
My husband is really handy. I don't know if it's a Midwest thing, but he grew up learning how to frame houses and loves building things. He can pretty much figure out how to make or fix almost anything, which is helpful. Everything except the toilet and vanity cabinet is new. My husband also used to work at a granite and marble business, so we picked out a slab of marble and had it cut to fit our vanity. We ordered a sink and faucet and he put it all together.
The mirror, light and all of the fixtures and drawer pulls are black, brass or marble. Even though it's dark and black and green, I wanted the brass elements to warm it up. I also got low wattage bulbs to keep the vibe sexy.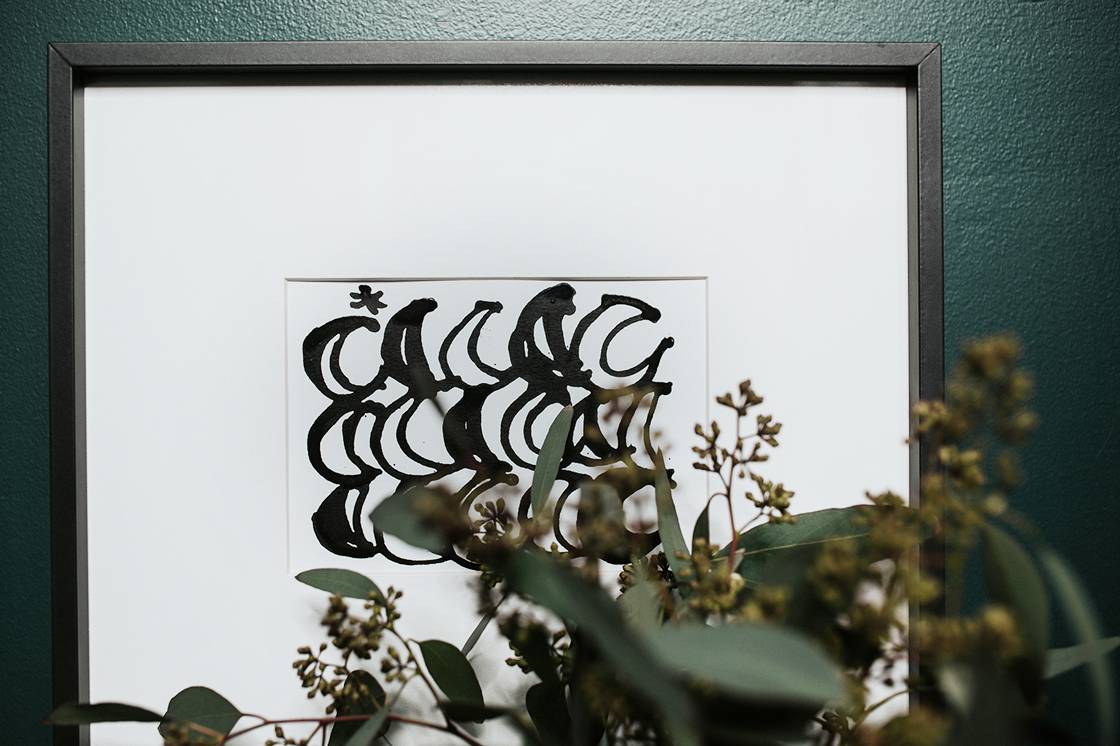 Love that you have art in the bathroom. Any tips for choosing art pieces for "unexpected" spaces?
Oh yes, art is important in every room, even the bathroom! I knew I wanted black and white photographs in the bathroom. It worked with my color palette and honestly, I already had some that I loved that weren't hanging, so they worked perfectly in the bathroom. Two of the photographs are of women in bathing suits so that goes with the sexy vibe.
The piece behind the toilet is actually one of my own paintings. I don't want my home to be filled with my work, I want it to be filled with the work of other artists, but having your own work comes in handy.
Everything down to the trash can is something I want to look at—that's why it's photogenic.