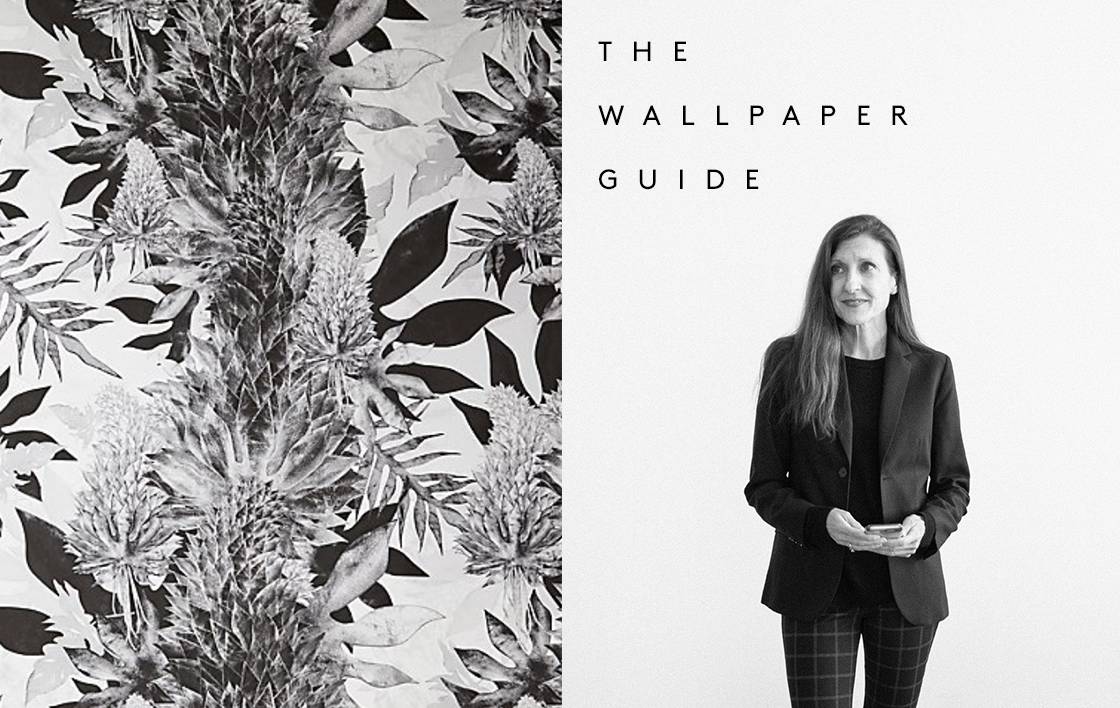 Wallpaper can trace its roots back to ancient China and the invention of paper itself, with
modern wallpaper
beginning to rise to prominence around the 16th century. So when we say this is one of the most timeless and enduring ways to add depth and intrigue to a room, we're being quite literal about it.
In fact, wallpaper has seen something of a resurgence recently, nodding to nostalgia while mingling with contemporary ideas. From vintage-inspired prints to trendy wallpaper designs, it's one of the quickest ways to transform a space.
And while it's transformative, we know that wallpaper can also feel intimidating—so we tapped our Senior Director of Visual Merchandising Sara Harter to demystify the process and offer her expert advice.
"The designs and surface patterns [of wallpaper today] are so fresh and modern, more interesting. Wallpaper can truly transform a room, more than even a coat of paint," says Harter.
With Harter's help, we've rounded up modern wallpaper ideas for every room in the house to inspire you and prove that this timeless technique has the ability to redefine spaces from basic to bold.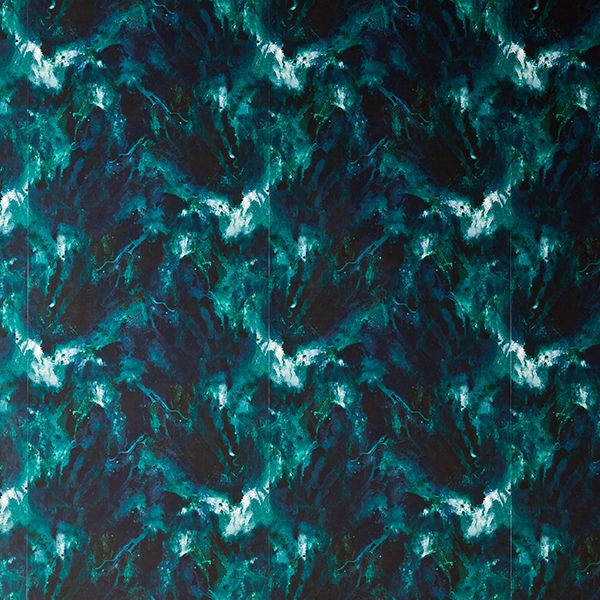 Modern Wallpaper Design Ideas for Every Room in the Home
From statement murals in the living room to a bold accent wall in a powder room, there's an application for wallpaper in every room of the house. Throughout history, wallpaper has adorned spaces with elegance and artistic flair. Storied fashion brands even stepped into the scene, proving wallpaper adds the perfect luxe touch to homes.
Bedroom Wallpaper Ideas
Some early wallpaper ideas were pulled from lush tapestries the aristocracy would display throughout their homes, including the bedroom. Whether you want to lean into that moody opulence or prefer a cleaner, more minimal look, there's a wallpaper to suit any style of bedroom.
Expert Tip:
We know picking the right color and tone can be intimidating. Harter notes that "if you are hesitant, start with what you know you like and are already invested in—a favorite color or a neutral."
Design Ideas:
It's like a nice surprise each time you step into the room.—Sara Harter
Bathroom Wallpaper Ideas
Brighten up the bath with a statement wallpaper. In such an intimate space, you may only need one wall to say it all.
Expert Tip:
Working with modern wallpaper might seem daunting. Take a breath and start small. "Just do a single, focal wall as opposed to an entire room," recommends Harter. "A common approach that I love is to use a super bold pattern in a small bathroom. It's an opportunity to try something uncharacteristic because you don't have to look at it 24/7. It's like a nice surprise each time you step into the room."
Design Ideas:
Make a modern wallpaper accent wall, which has the power to totally transform powder rooms and primary baths alike. Try our artistic Whirling Dervish Panel White Wallpaper, or go for a more playful look with our Jellyfish Black Wallpaper.
If you decide on the wallpapered accent wall, look for a self-adhesive wallpaper. Since you won't be covering the entire room, this is a great, easy option. Plus, it's ideal for renters: a self-adhesive backing makes it removable.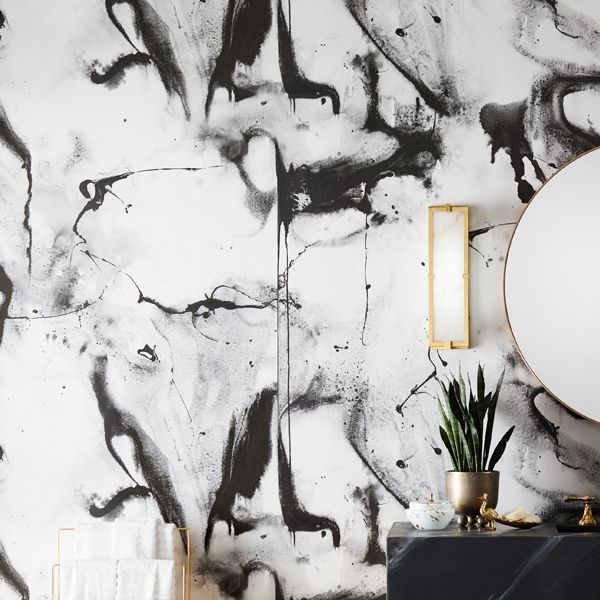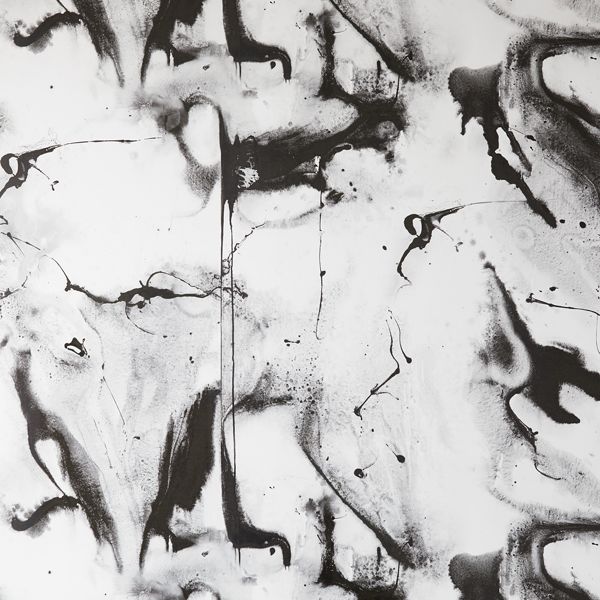 Kitchen Wallpaper Ideas
Wallpaper in the kitchen can be a delightful surprise for you and your dinner party guests alike. It's a great way to spice up an otherwise utilitarian room.
Expert Tip:
Harter shares one of her favorites: "I love the Venation collection, it's a modern botanical that is bold and dramatic, yet somehow subtle at the same time."
Design Ideas:
Pick a wallpaper with a bold pattern, but consider keeping the color neutral so it doesn't completely overwhelm the rest of the room. Check out our Venation Black Wallpaper for a daring, elegant pop. Added perk: it subtly evokes the look of layered oyster mushrooms.
Other opportunities to add wallpaper to the kitchen include backsplashes, nooks, behind the sink or in unsuspecting corners where a fun botanical or mid century wallpaper would fit nicely.
Living Room Wallpaper Ideas
Design with layers to add depth and even look to adding in a unique style of wallpaper with a botanical or MCM influence to liven up this space.
Expert Tip:
Consider how the wallpaper will work with your existing furniture and decor. As Harter notes, "It is important to think about the other elements that layer the room. For example: do you have patterned upholstery and how will that play against the wallpaper?"
"I am also a fan of any of the natural fiber wallpapers—hemp, sisal or abaca. The natural fibers take the color so well and add a depth and texture not easily achieved with paint."
Design Ideas:
Add interest with textured wallcoverings; look to our Moonstone Neutral Sisal Wallpaper to add depth and sophistication. Pair with decor and furnishings that have a smooth or rigid finish to get the full range of textures in the space.
Bring the outdoors indoors with nature-inspired and floral-patterned wallpaper. The botanical elegance of our La Coperta Wallpaper is perfect to layer in with a myriad of decor and interior styles.
Consider adding in midcentury modern design. MCM wallpaper designs boldly inject an iconic style with striking geometric patterns and classic-cool prints.
It is important to think about the other elements that layer the room.—Sara Harter
Ceiling Wallpaper Ideas
Reach for new design heights by extending wallpaper to the ceiling. Getting creative up above can give an expansive look to rooms, making the space appear larger and higher. Often underutilized, this fifth wall is a blank canvas for expressing your style and tying the room together.
Expert Tip:
"Wallpaper can be very impactful on the ceiling," Harter says. "It can enhance the architectural details or, in a room without those architectural details, it can add the interest you feel is lacking. It can also provide a dramatic or colorful backdrop to your pendant lamp. A bold ceiling is a great way to offset neutral walls."
Design Ideas:
Ceiling wallpaper is perfect in rooms that might have shelving, wall art or decor against the wall, not allowing for wallpaper to be displayed fully and as proudly.
If you're working with a good size space, opt for larger prints and choose colors that complement the surroundings to create a cohesive look.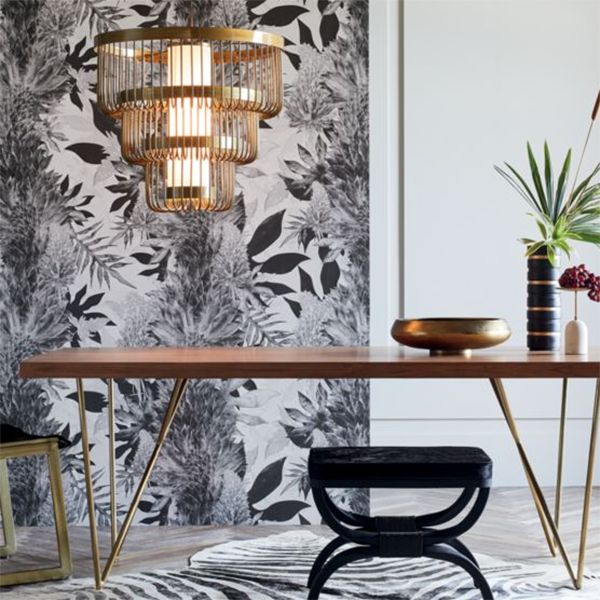 FAQs about Modern Wallpaper Trends
Is wallpaper trending right now?
Absolutely; we're not convinced it ever went out of style. The versatility of modern wallpaper designs brings a depth and richness spaces are craving.
What wallpaper style is most popular?
Contemporary wallpaper is the most popular today; it works beautifully in both modern and classic homes. Botanical-inspired wallpapers are a close second.
Where is the best place for wallpaper?
The best place for wallpaper is wherever you'd like to make a design statement. While we're partial to it in bathrooms and bedrooms, wallpaper can be a welcome addition to entryways, living rooms, kitchens, dining rooms and offices.
What color is best for wallpaper?
We suggest opting for colors you know you love—bold patterns feel much more approachable in your favorite color scheme. Muted tones and neutral colors seamlessly blend in with other decor and won't feel too busy, while a pop of color adds a bold design punch.
Should I wallpaper one or two walls?
You can wallpaper as many walls as you'd like. We suggest wallpapering only one wall if the space is intimate or if you're using a louder, busier print. Cover them all, and even the ceiling, if you're really looking to make a statement—but we suggest opting for a neutral pattern and muted tone if that's the route you take.