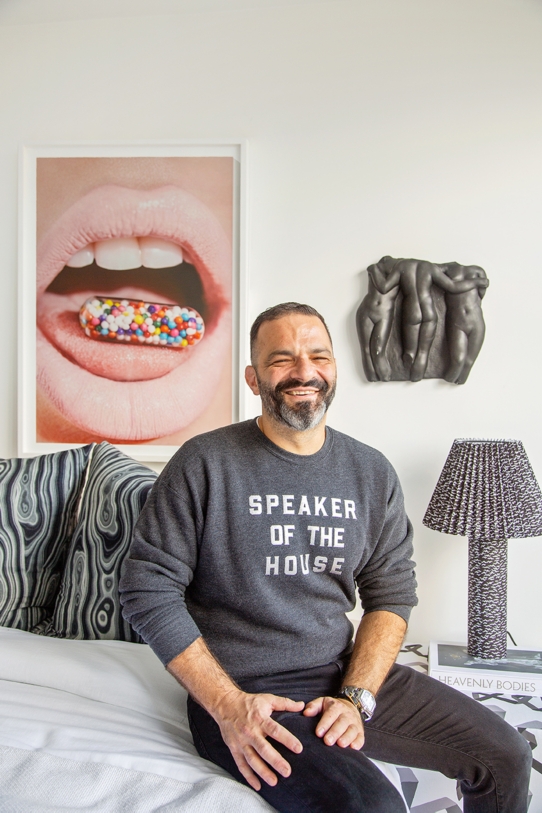 "Location, location, location" might be the first rule of real estate, but when it comes to selling multimillion-dollar properties in a market like New York City, you could probably rank "staging, staging, staging" at number two. No one knows this better than Jason Saft, founder and chief magic maker of
Staged to Sell Home
, one of the city's premier boutique home staging and marketing firms.
A quick scroll through the @stagedtosellhome Instagram shows photo after photo of drool-worthy homes, full of inspiring vignettes even if you're not trying to navigate the NYC real estate market at the moment (though if that is indeed the case, Saft and his team are experts). Luckily, for those of us who just want to steal the Staged to Sell Home look and transform our own spaces into high-design showstoppers, Saft has plenty of home-decorating tips to take you to the next level.
ON WHAT MAKES STAGING UNIQUE
Home staging, according to Saft, is as much about a visual marketing strategy as it is about design. "While design principles, approach and style are universal, home staging is more theatrical in nature. You are creating the idea of a lifestyle," he explains. The ultimate goal is to create memorable moments that evoke emotion and ultimately drive interested buyers to purchase. It's also much faster than traditional interior design, with Saft and his team often creating fully staged homes in a week or less.
The way Saft approaches staging a home is also a good starting place for home design generally, depending on what your goals are. "The first thing I do is identify the flaws and key selling features. It's essential to understand the best and worst aspects of the home and then formulate a visual makeover strategy to mitigate the flaws and accentuate the home's best assets," he says. Playing up what you love about your home and minimizing what you don't? We'd say that applies pretty universally.
ON STATEMENT PIECES
To take a room to the next level, Saft turns to lighting, rugs and oversized art. This is one instance where bigger is often better: larger pieces help to create a foundation and layers within a room, while soft lights and plush textiles give a room its warmth and soul.
When considering statement furniture and decor, "I'm obsessed with shape, form and high functionality," Saft says. "The silhouette of a piece is what makes it a statement." Neutral pieces can provide wow moments as easily as loud patterns and colors, if they're sculptural or unique in other ways.
Design needn't be so serious all the time, either: "I also look for pieces that add a dose of humor and make people smile, like the Snake Table Lamp," Saft says.
Naturally, we couldn't resist asking Saft what his favorite CB2 pieces are. "I live for the entire Peekaboo line. The console is a design workhorse: it's budget friendly and transcends time periods. I'm actually sitting at one now, along with the super sexy and comfy Foley Mink Chair."
Speaking of chairs, Saft cites the fan-favorite Gwyneth Boucle Chair as another go-to, saying it "works with everything and adds elegance to any space." We've also noticed the Kara Mann Scrunch Table Lamp popping up in many of Saft's most-liked Instagrams. He notes that the lamp "pairs like a dream with the Stature Chair," so it's no surprise both pieces top his favorites list, too.
Quick Fire
Soundtrack of your life: Madonna, Neko Case, Nina Simone, Blondie
Coffee order: Tall, dark and strong
Cocktail order: None, I'm proudly (but not annoyingly) sober
We'll never catch you without: My CB2 credit card (I live for the reward dollars)
Guilty pleasure: my daughter
Style icons: Madonna
Favorite designer: Nate Berkus
You'll never get sick of: anything acrylic
Your current state of mind: hopeful
Favorite place to travel: Italy
Where you'd most like to live: Portugal
On your nightstand: Athena Calderon's Live Beautiful and Kara Mann's Scrunch Lamp
Your greatest extravagance: Scented candles (I need a 12-step program for them)
Most treasured possession: My grandmother's candy dish
Talent you'd most like to have: I'd like to fly, but I'll settle for being a respected painter
Most overused word or phrase: Oh my god
Tea or coffee: Espresso in coffee
Staged to Sell Home Favorites