Curate Your Collection
Take things slow. At least half of the fun in designing a gallery wall is collecting art that speaks to you. So, whether you settle on prints, paintings, photographs or a combination, don't worry about acquiring your whole collection at once. It's a process.
If you're not sure where to start, choose something you like to look at. Another option: find colors that fit your space. There's no wrong way to choose art.
One idea is to use your gallery wall to tell a story of your adventures and experiences, and print photos from your favorite trips for a personalized touch. Not a photographer? Buy prints online, or stroll through a few art galleries or thrift stores in your area to get a feel for what you like.
It's okay to start small. Hang one larger piece in a central location and build on it over time—adding medium and smaller pieces alongside it as you find them out in the wild. If you change your mind about placement, you can always swap things out and find homes for them in a different room.
Prefer a more casual relationship with your prints, paintings or photos? Rather than adhering them to the wall, try arranging art on a shallow wall shelf or hanging photographs from clips. Then, rearrange or remove to suit your evolving taste. You don't have to get too attached, unless you want to.
Arrange in Advance
Before hanging your gallery wall, do a trial run first. The easiest way is to arrange your pieces on the floor before making any holes in your wall. Move them around until you find the right flow. Not confident in your ability to use a level and drill? No worries, that's what professional help is for.
If you're taking the plunge yourself, hang frames at eye level—57-60 inches from the ground or 6-8 inches above furniture. Whether you have your full collection at the ready or just a couple pieces on hand, balance different sizes for maximum impact.
To maintain balance, try adhering to the following ratio: follow every extra large piece with two large, two medium and three small ones to fill in the gaps. Keep the spacing between each picture consistent. Trust us, it will tie even the most eclectic collection together. If you have the wall space for it, wider spacing makes each piece stand out.
So, your landlord won't let you drill into the walls? No problem. Just look for larger pieces you can lean from the floor or a credenza. Aim for height to make an impact.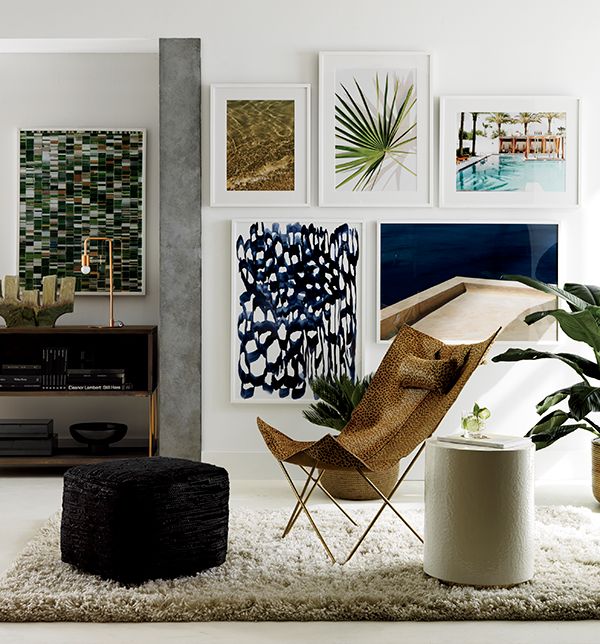 Keep it Simple with Coordinating Frames
Make a Statement with an Eclectic Salon Wall
Room-Specific Gallery Wall Ideas