Spooky season, season of the witch … whatever you want to call it, this time of year makes us want to break our our crystals,
tarot cards
,
sage
and other forms of woo woo wellness. And since we love any excuse to entertain, we also thought it was the perfect opportunity to invite people over for a full moon ritual party. We even made a
playlist
just for the occasion.
October 2020 plays hosts to two full moons this year (so spooky!), including a rare Blue Moon on Samhain, aka Halloween. There's always the option to celebrate the new moon, too. The new moon represents beginnings and fresh starts, while full moons signify completion and manifestation — but both are excellent reasons to have a party. So dip your toe into the full moon magic pond, get a little mystical and set the stage for an enchanting moon gathering with our tips:
DECOR: CREATE A SACRED SPACE
Bring in good vibes and good design by creating an altar to set the stage. We promise it's not as intense as it sounds. Start by gathering items you love, or ones that bring a sense of peace and tranquility. We like to collect things that touch on different senses: lots of candles (scented or otherwise), sage or palo santo for an energetic lift, pictures of loved ones, crystals, flowers and so on.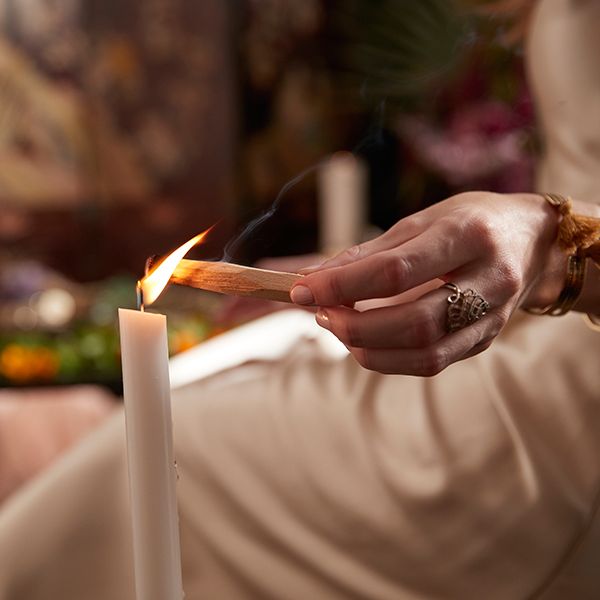 For our full moon party, we laid out lots and lots of candles, an
abundance of moody fall florals and incorporated as many
vintage pieces as we could find, like tea cups and other
goodies from The Savoy Flea. Old things tell great stories
(even if you have to make them up).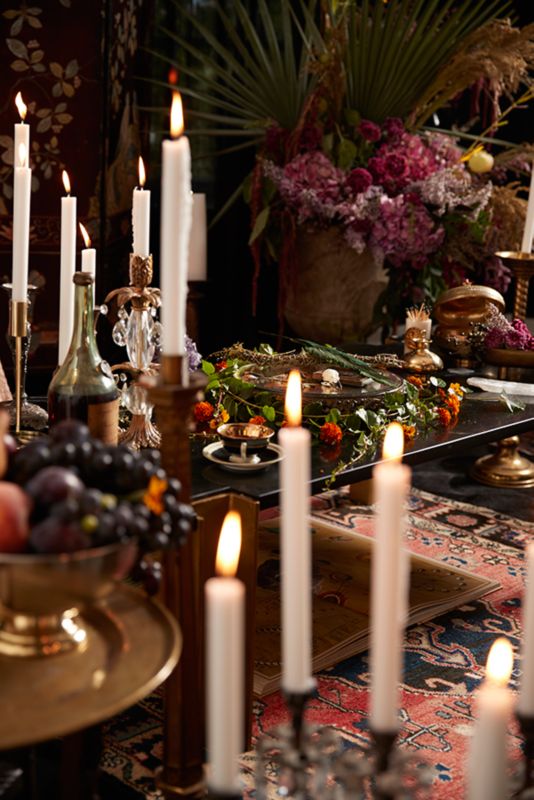 FOOD AND DRINK: SERVE IT UP
Here's a witchy little secret: just pick up some snacks from your favorite local grocery store and dress them up for your full moon gathering with fancy garnishes. We topped bakery-bought cakes with edible flowers and seasonal fruits like figs and deep red and purple grapes. Pomegranate seeds would also make an especially appropriate snack or drink garnish; it all feels very Persephone, Queen of the Underworld. Bonus points for serving punch out of vintage tea cups.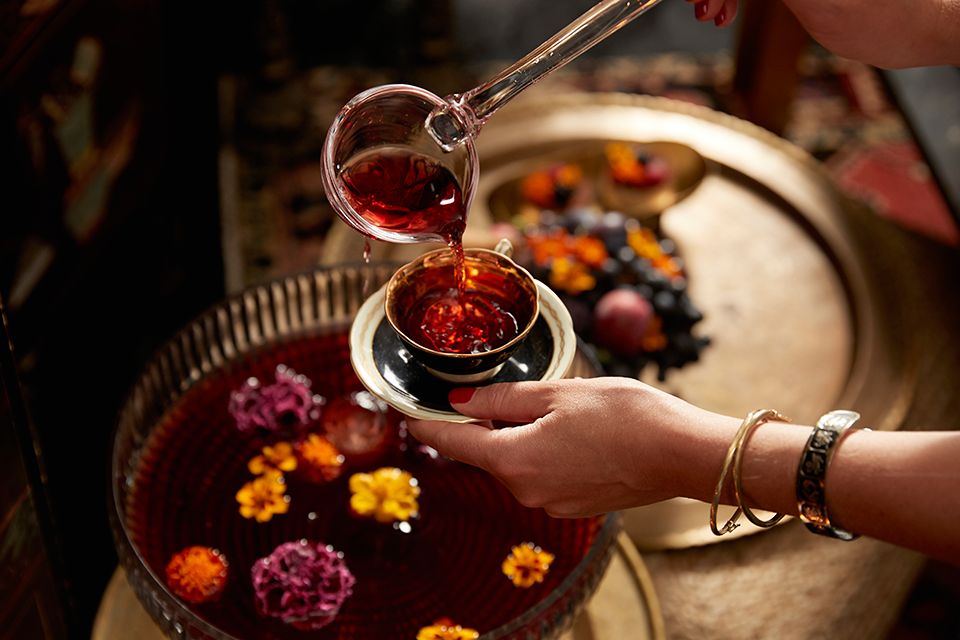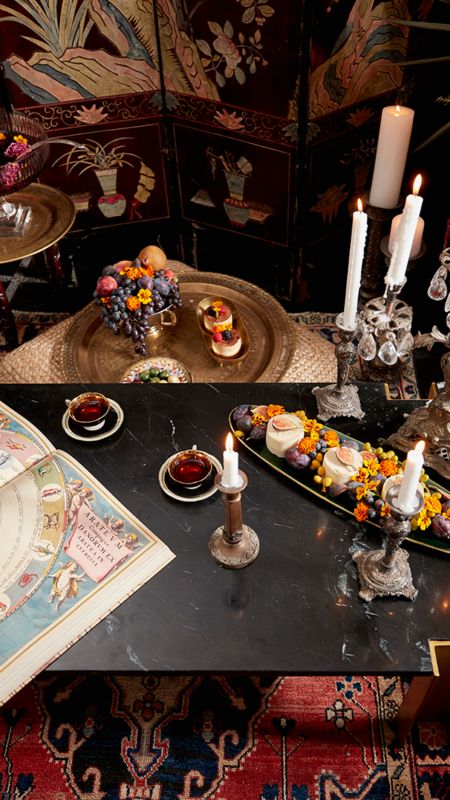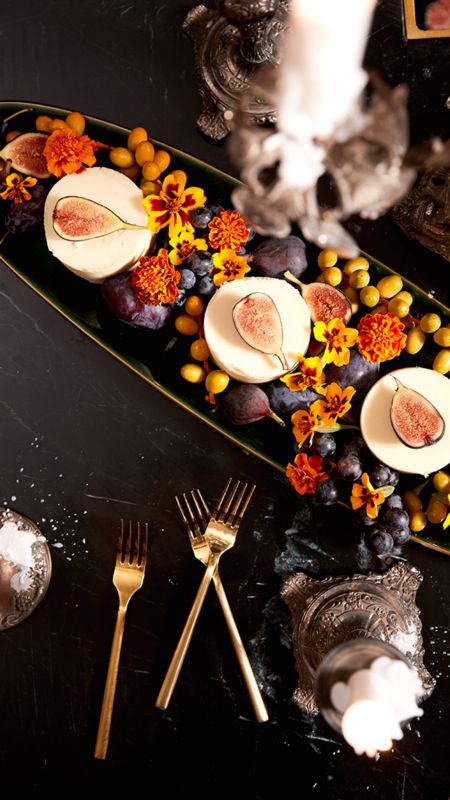 A FULL MOON RITUAL: PRACTICAL MAGIC
This is where the "ritual" in "full moon ritual party" comes in. We like to harness the power of the moon and guide the month ahead by setting intentions, writing them down and literally burning away that which does not serve us (safely, of course). The lunar cycle is all about growth and change after all.
Begin the ritual by inviting your guests to write down something they want to let go of or leave behind. We went with "mean witches" but it can be anything: self-doubt, debt, anxiety, clutter, stress, whatever is on your plate right now. Make sure you have water on hand to extinguish quickly if needed! We like this cute little holy water pot for that purpose.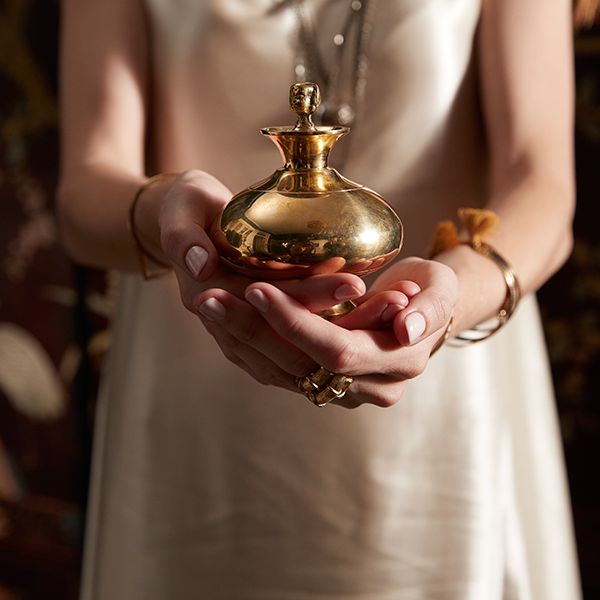 Burn, baby, burn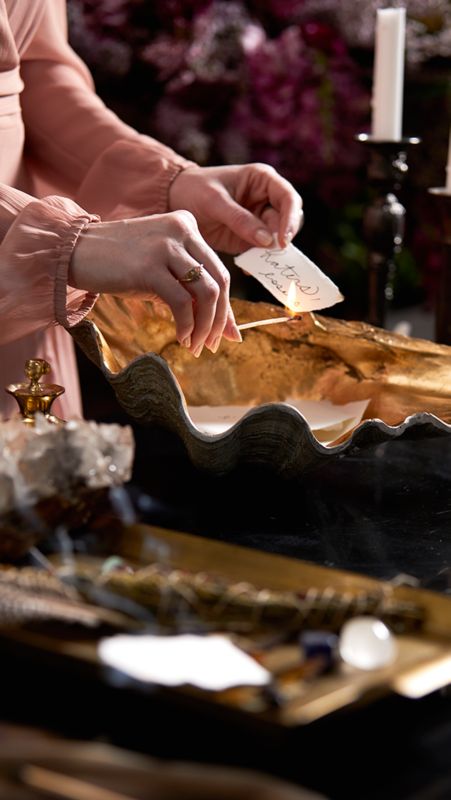 PLAY YOUR CARDS RIGHT
Curious about tarot? We used a Celtic Cross for our party, but even newbies can dive in with a simple three card spread. You could even do one for the group to represent your moon party and set a collective intention.
To begin, the person getting the reading should set an intention and ask for guidance. You can ask about relationships, career, family — practically any topic. As you formulate your intention, it's important to remember that tarot cards do not actually predict the future. They simply illuminate a given situation and can sometimes reveal truths or deeper feelings you may not have come to on your own.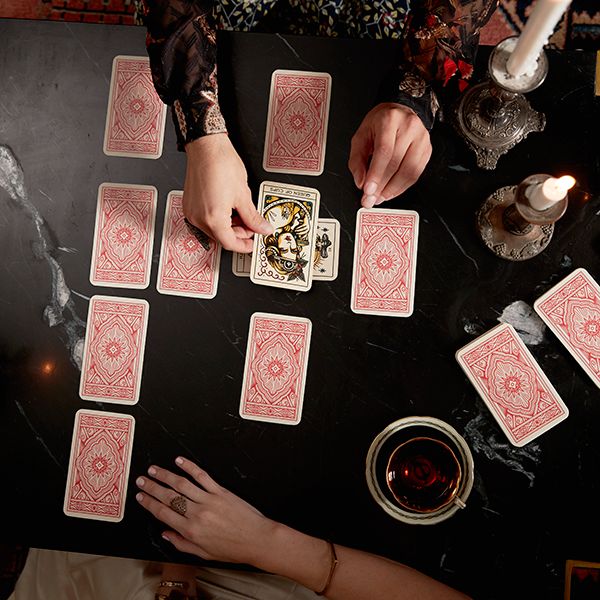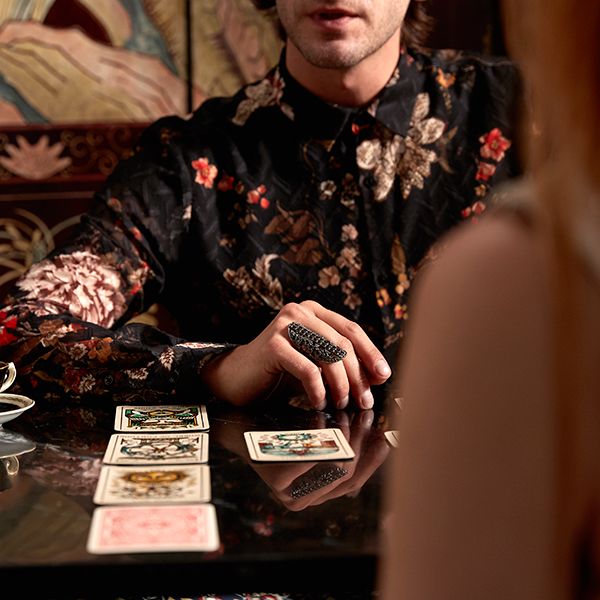 For a three card spread, the reader shuffles and cuts the deck and selects three cards (hence the name). These cards can represent past/present/future, situation/action/outcome, mind/body/spirit … the list goes on. Try interpreting the cards based on your gut reaction before you rush to Google or a guidebook for information. If one card needs more clarity, feel free to pull additional cards until the reading feels complete.
Keep in mind, too, that this is a party and the whole thing doesn't have to be so super-serious. If you're hosting a full moon ritual gathering for Halloween, think more "Hocus Pocus" and "Practical Magic" than Salem Witch trials. It's a fun, updated take on a more traditional black-and-orange Halloween party: no costumes required, just an open mind and a little magic.