Modern floating wall shelves have become a staple of interior design, whether the style of any given room leans minimalist or embraces all-out maximalism. Their popularity is due to their versatility: Floating shelves create display and storage options without using valuable floor space, and the right ones can make a design statement on their own. Many interior designers appreciate the clean, uncomplicated look that floating shelves provide in the living room, bedroom, office or bathroom.
First, here's what makes floating shelves different from traditional bookcases or shelving units. Essentially, a floating shelf hangs on a wall with no visible support; it's typically attached to the wall through concealed mounting hardware. The result is a clean, uncluttered look that can help make a room feel more open and airy.
If you're considering floating shelves for your home or are looking for wall shelf ideas, it helps to understand how to style them beautifully. Here, a few design tips for styling modern floating shelves for each and every room of the house.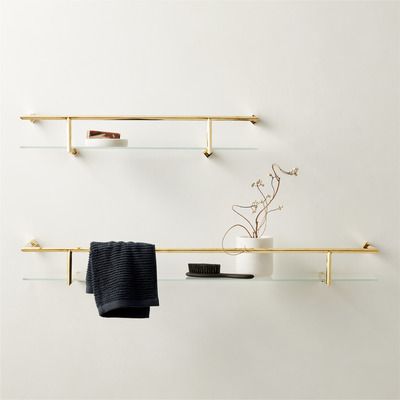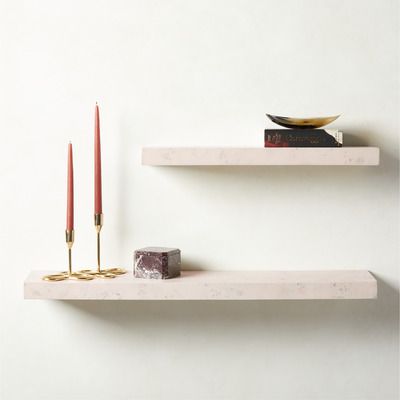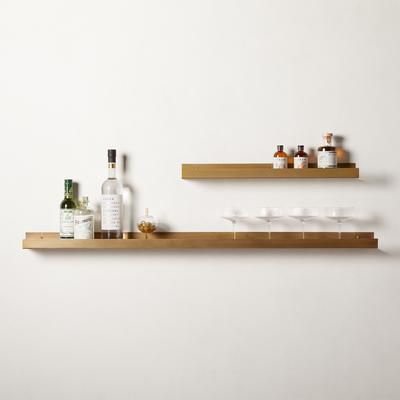 Floating Shelf Arrangement Ideas
Deciding on the right floating shelf arrangement may seem like a daunting task, but a few principles of design can make it easy. Of course, floating shelves look best when their silhouette and materials complement the existing decor of the room. (For instance, try a brass wall shelf in a space filled with art deco furniture.) Once you've chosen a style of floating shelves that is harmonious with the rest of your space, consider these floating wall shelf ideas below.
Focal Point
Floating shelves look best when they're at eye level, so they become a natural focal point of the room. Positioning shelves at eye level immediately draws attention to the items on display. The ideal number of floating shelves depends on the size of the room and the scale of the shelf. In a smaller space, a single floating shelf may visually anchor the entire room, especially if it (or its contents) contrast with a bold colored wall or wallpaper. Or if you're blessed with high ceilings and large walls, you may prefer mounted floating shelves above one another—perhaps even from floor to ceiling—to create clean lines and a dramatic moment. And don't be afraid to style your shelves in a corner–sometimes this can be the best and most attractive space for shelving if you don't have wide open walls to work with.
Asymmetry
If you have multiple floating shelves, consider staggering them slightly in an asymmetrical position. For example, if you have three floating shelves, place them in a horizontal line with the middle shelf above or below the others. Be sure to use a level when installing each shelf so they're perfectly straight.
Choosing the Best Decor for Floating Shelves
After you've decided on the positioning of the floating shelves, it's time to style them. Creating a well-styled shelf may seem as simple as choosing your favorite items to display, but interior designers rely on key strategies to make floating shelves look chic and cohesive.
One technique used by design insiders relies on asymmetry to create visual interest and flow. It's especially useful when styling multiple shelves. Envision an "X" across the shelves and stagger similar pieces (i.e., those of the same size, same shape or same color) so they are not directly on top of or below one another. This creative and intuitive strategy creates balance and makes for perfectly styled shelving every time. Read on for floating shelf design ideas.
Decorative Objects
Styling with decorative objects and home accessories is an easy way to bring your personal interests into your space. For a harmonious look that feels considered, edit your floating shelves decor by theme or color family and play with scale. For instance, you may want to style your floating shelves with treasures collected over years of travel—a woodblock print from Kyoto, for example, alongside a bud vase plucked from a Parisian flea market. Or, for more minimalist floating shelf decor, you might prefer choosing a color, then assembling a small collection of items in varying tones of the hue. Items of different scales, textures and transparencies will add visual interest to your shelf.
Styling tip: When placing your items, always start with the largest ones. Position them in the aforementioned X pattern to let your eyes easefully move through each vignette. Fill in empty spaces with medium accessories next, then add smaller ones. (Books, stacked horizontally and vertically, can help here as well.) Don't feel the need to fill every square inch of your shelf. Negative space helps each item be seen.
Plants
Plants add some, well, life to your shelf design. Cascading plants like pothos add a romantic touch while small succulents look contemporary and clean. Or, if caring for plants isn't your forte, introduce decorative modern vases for an elevated look—then fill them with maintenance-free (but stunningly realistic) faux botanicals, dried florals and grasses.
Books
It's easy to show off your literary collection with a modern floating bookshelf. Keep your favorites at arm's reach and look to sculptural bookends to stylishly keep books upright. Stacking books both horizontally and vertically creates a dynamic feel. This styling technique also allows you to elevate smaller items that may otherwise get lost among larger ones.
Styling tip: Keep like-colored book covers and similar sizes together for a cohesive look. Or, try the trend of turning them all backward—it's a low-commitment way to freshen up the room.
Photos
Floating shelves are an ideal place to display framed photographs. Not only does it allow for swapping out pieces whenever the mood strikes, but it creates clean lines for a streamlined design.
Styling tip: For a cohesive look, style your shelf with photos in frames that match the same tone of wood as the shelf itself.
Styling Floating Shelves By Room
Kitchen Floating Shelf Ideas
Open kitchen shelving is popular for showing off dishware and drinkware such as wine glasses and coffee mugs, but it also has functional benefits. Floating kitchen shelves keep frequently used items within reach and can allow a stunning backsplash tile to shine through. Here are some ways to style your kitchen shelves.
Mix and match natural textures to create depth. Wood accents such as coffee and sugar jars, knife holders and small wooden bowls pair well with stacks of stoneware, china and glassware. This modern wooden shelf contrasts beautifully with ceramic dishware and includes built-in storage for small kitchen accessories and tools.
Floating kitchen shelves are also a clever place to display cookbooks. In addition to keeping favorite recipes handy, stacked books add clean lines to the space.
High ceilings provide more room to play. Opt for higher shelves to expand the look of the room; arrange artwork, glass pitchers and other rarely used items to be admired.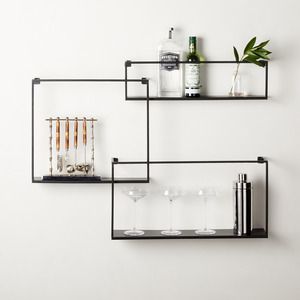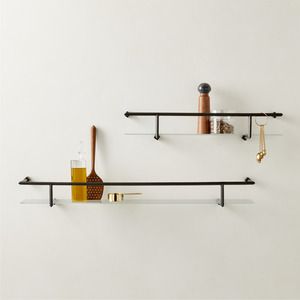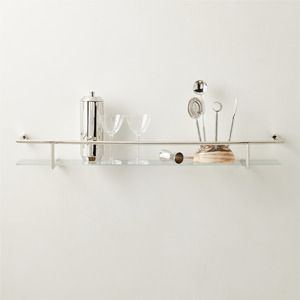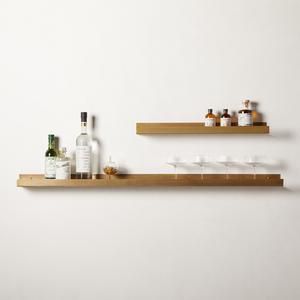 Living Room Floating Shelf Ideas
Whether your taste leans minimalist, maximalist or somewhere in between, we've got floating shelf ideas for living room. Living room floating shelves are less about functional storage, and more about displaying decorative items that represent who you are.
Curate some of your favorite books—novels, yes, but art books also make a stylish statement. Stack a few on each shelf and use them to elevate decorative bowls, vases or candle holders. Another option: Go classic with upright rows of books and bookends.
Floating shelves can be an excellent showcase for fine art or modern art prints. Shelf ledges with lips are perfect for leaning a few framed artworks or photograph prints against the wall. Arrange your pieces according to your style: let the frames overlap a little for a lived-in look, or space them out evenly for a minimalist moment.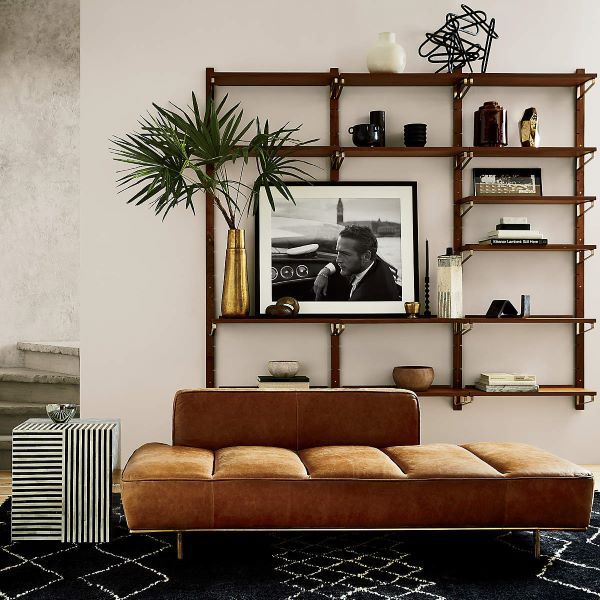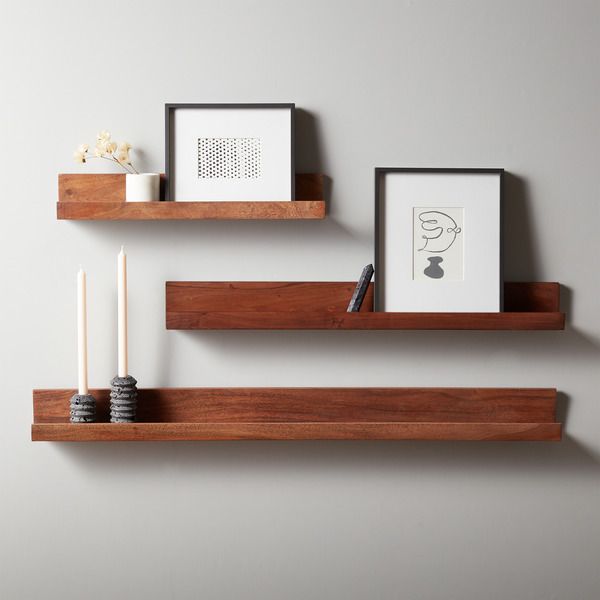 Bathroom Floating Shelf Ideas
Many bathrooms have too little cabinet space, but floating shelves can greatly expand your options while elevating the look of the room. By using vertical space to your advantage, you can create new spots for storage and decoration—even in a small space. Read on for floating shelf ideas in the bathroom.
Style shelves with woven baskets or cotton bins that hide bulky personal items. Keep small necessities such as cotton balls and hair ties in clear glass jars.
Fill shelves with folded towels, vases and apothecary items. Add in greenery, such as a low-maintenance pothos plant, for color.
Maximize the space by placing shelving over the toilet or bath. Not only will this give you more storage, but will liven a space that is otherwise usually left empty.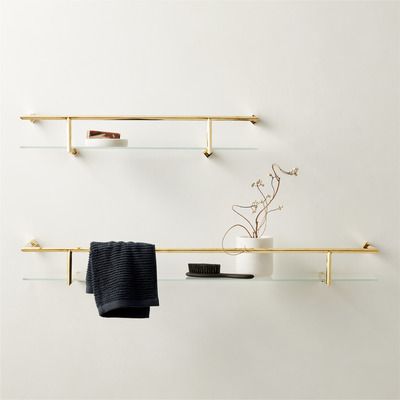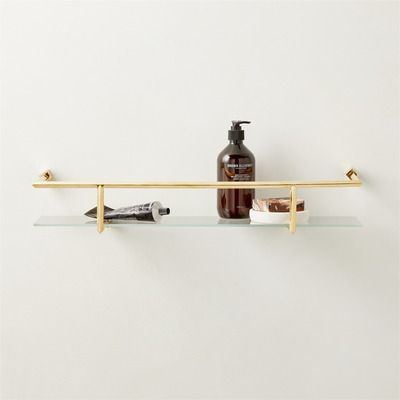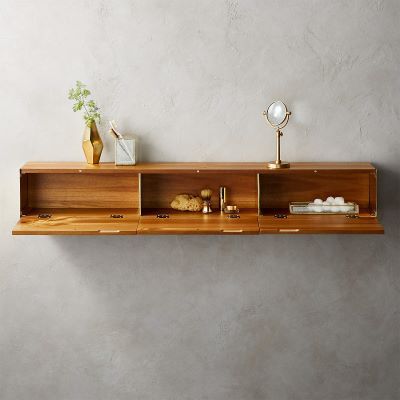 Office Floating Shelf Ideas
The home office is typically overflowing with books, papers and tech accessories. Floating shelves for the home office not only creates the opportunity to store office necessities in one spot, it also can become a focal point of the room itself. By styling floating shelves in your office—and moving lesser-used items to those shelves—you can keep focused on your tasks with a clutter-free desk. Try these ideas:
Swap an old-fashioned bookcase for floating shelves filled with decor like sculptures, clocks, books and plants.
Bring in mixed materials to create visual interest. We love pairing brass with wood and stone with glass.
Conceal office clutter in stylish storage boxes, keeping them within easy reach on a low shelf. Boxes made of natural, substantial materials such as burl wood and marble look beautiful when arranged on a floating shelf.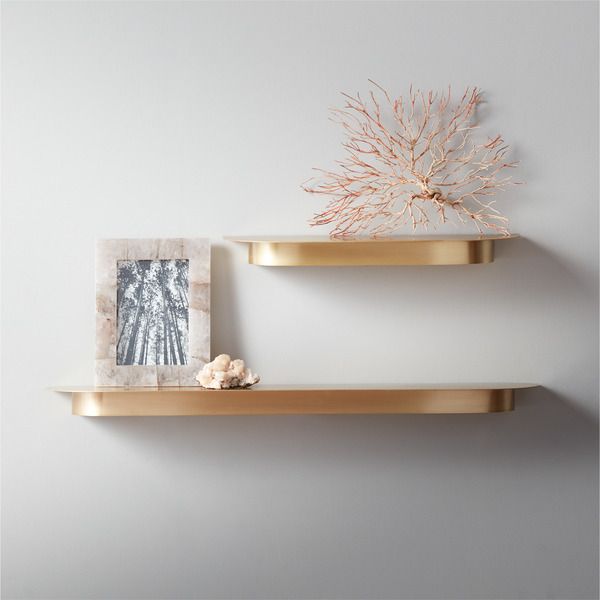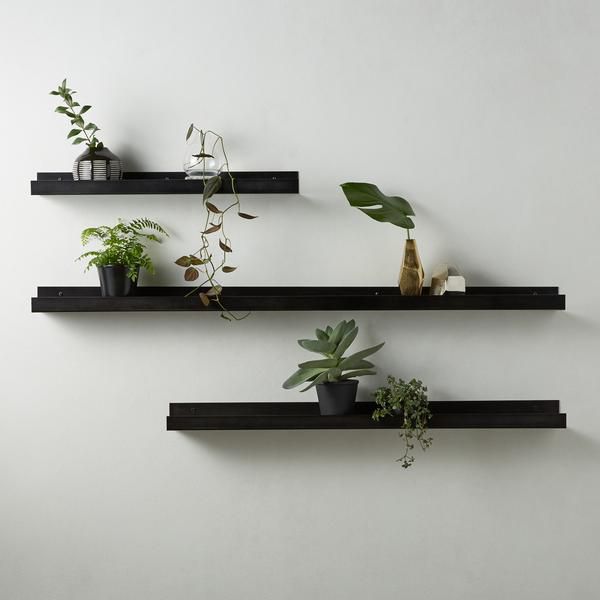 Bedroom Floating Shelf Ideas
Looking for floating shelf bedroom ideas? Save precious room on your nightstand and dresser by displaying bedroom accessories on shelving.
Functional items like alarm clocks and lamps look more intentional when surrounded by a few decorative touches like photos, candles and dried florals.
In the absence of a headboard, style a floating shelf above the bed.
FAQs About Styling Floating Shelves
Are floating shelves still popular?
Yes, floating shelves are a timeless way to add sophisticated visual intrigue and stylish storage space to any room.
What should I put on floating shelves?
Style your floating shelves with your favorite decor or functional items. Picture frames, books, plants and decorative objects can all showcase your personal style. A mix of small and larger objects looks better than a collection of similarly sized items.
How much space should be between floating shelves?
We recommend spacing shelves 11 to 17 inches apart for visual flow and to give items on the shelves adequate space. Feel free to stagger them or keep them in a straight line, depending on your preference.
What height should floating shelves be?
Like artwork, floating shelves look best when they're eye level, about four to five feet from the floor. If you're hanging shelves above furniture, measure about ten inches from the top of the desk or couch. If placing shelving over a kitchen counter, they should be approximately 16 to 24 inches from the counter.
Is there are weight limit for floating shelves?
It depends on the product. A standard floating shelf can carry between 15 to 30 pounds. Be sure to read the product descriptions when making a purchase.