Year after year, there tends to be a styling moment in our holiday shoot that makes our jaws drop. This season that moment comes courtesy of
David Anger
, who created this DIY Christmas garland that absolutely steals the show. There's a reason it's going to be our
December catalog cover
.
Anger's design goes beyond the basic evergreen to incorporate neutral florals that are at once unexpected and perfectly seasonally appropriate. "Candlelight and floral cures all, especially during the holidays. In the dormant winter months we crave light, nature and fragrance," Anger tells us. "This garland offers a subtle and welcoming bouquet stemming from evergreen and eucalyptus. Even the dried hydrangea possess earthy fragrances, and twinkle lights add sparkle during the shortest days."
Before making a full-time career out of styling, Anger was a journalist and writer for architecture and interior magazines, training both his visual eye and his storytelling skills. He still uses those skills today as the host of the design-driven podcast The Sunday Gent, talking to leading curators, academics and writers. "I think about the story of a photo shoot, how the merchandise and design can enrich people's lives," Anger says. "Styling for CB2 is the best. It's a design-focused company with quality yet accessible merchandise, with a current pulse. They give stylists enormous freedom to create beautiful, inspiring environments to savor." (And no, we did not prompt, bribe or cajole him to say any of that.)
"My interest in horticulture started early," he continues. "My grandmother tended an amazing rose garden and my parents always nurtured flower beds and boxes and vegetable gardens. Nowadays my husband Jim and I have so many plants our house verges on hospital gift shop status."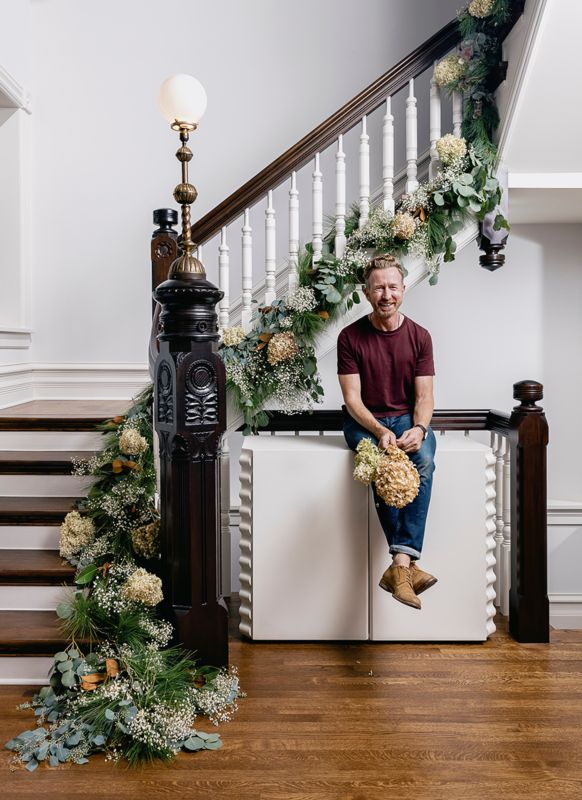 A stylish DIY Christmas garland
Begin with the evergreen garland. Buy more than you might need, so it can swag.
Add twinkle lights before putting the garland in place.
Next, place the garland along the banister.
Once the garland is in place, let eucalyptus overflow.
Finish with hydrangea statements.