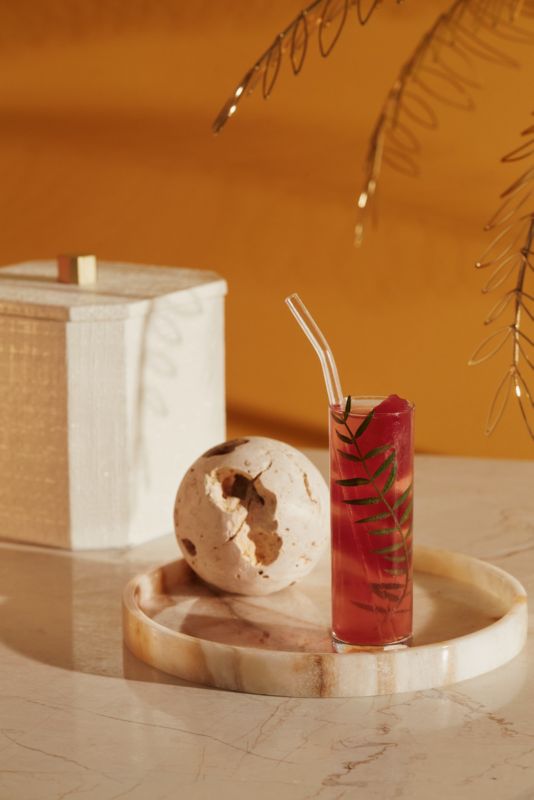 The Dancer + Grapefruit Hibiscus Cubes
THE DANCER
The Dancer needs to get dressed up tonight and you're creating her look. Embrace the disco attitude of excess and go wild with the garnishes, because sometimes more is more.
Makes 1 cocktail
4 or 5 Grapefruit Hibiscus Cubes
2 oz [60 ml] vodka, tequila, or mezcal
Soda water or tonic water, for topping off
Place the Grapefruit Hibiscus Cubes into a Collins glass. Add your liquor of choice and top off with soda water.
GRAPEFRUIT HIBISCUS CUBES
Makes 24 cubes
1⁄2 cup [20 g] dried hibiscus flowers
Strips of zest from 2 large grapefruits
8 oz [360 ml] freshly squeezed ruby red grapefruit juice, strained
24 dashes Peychaud's bitters
4 drops orange flower water
Two 1-1⁄4 in [3 cm] cube trays
In a large heatproof glass measuring cup, combine the hibiscus flowers, grapefruit strips and 16 oz [480 ml] of just-boiled water. Let steep for at least 5 minutes. Using a fine-mesh sieve, strain into another glass and let cool for about 10 minutes. Stir in the grapefruit juice, bitters and orange flower water. Pour the mixture into the trays and freeze until solid, about 4 hours.
Harry's Bellini + Bellini Balls
HARRY'S BELLINI
Let it be known that the classic Bellini is not served in a Champagne glass, but a tumbler. Stick to tradition and ditch the stemware so you and your gang won't end up feeling like ladies who lunch.
Makes 4–6 cocktails
Bellini Balls, 5 to 10 per glass
One 750 ml bottle prosecco, chilled
Scoop the Bellini Balls into assorted glasses and top with prosecco.
BELLINI BALLS
Makes 80 mini spheres
Two 1⁄2 in [1.25 cm] mini sphere trays
6 oz [180 ml] White Peach Nectar
Place the trays on a quarter sheet pan. Using a culinary syringe, fill the trays with the nectar, just to the top, not too full. Transfer to the freezer and freeze until solid, about 2 hours.
WHITE PEACH NECTAR
Makes 1 cup [240 ml]
1 white peach, pitted and sliced
1 oz [30 ml] freshly squeezed lemon juice, plus more as needed
In a blender, combine the peach slices, lemon juice and 2 oz [60 ml] of water. Purée and strain through a fine-mesh sieve. If necessary, add slightly more water or lemon juice so you have at least 6 oz [180 ml].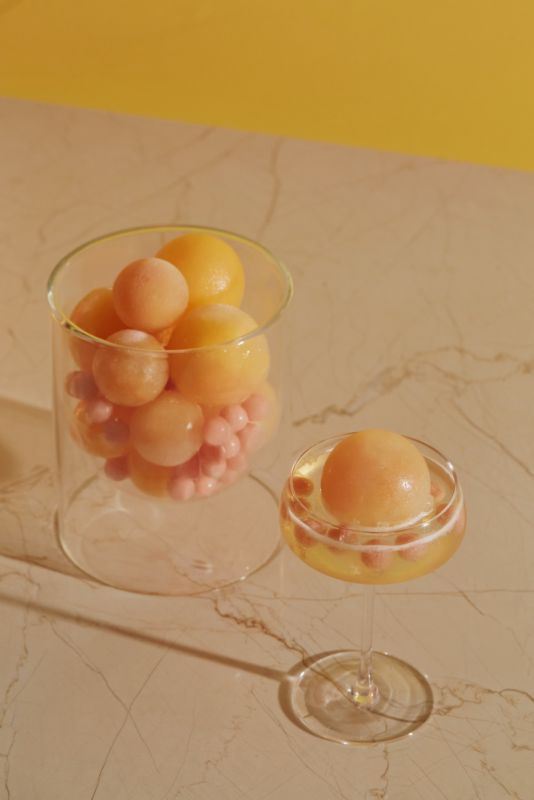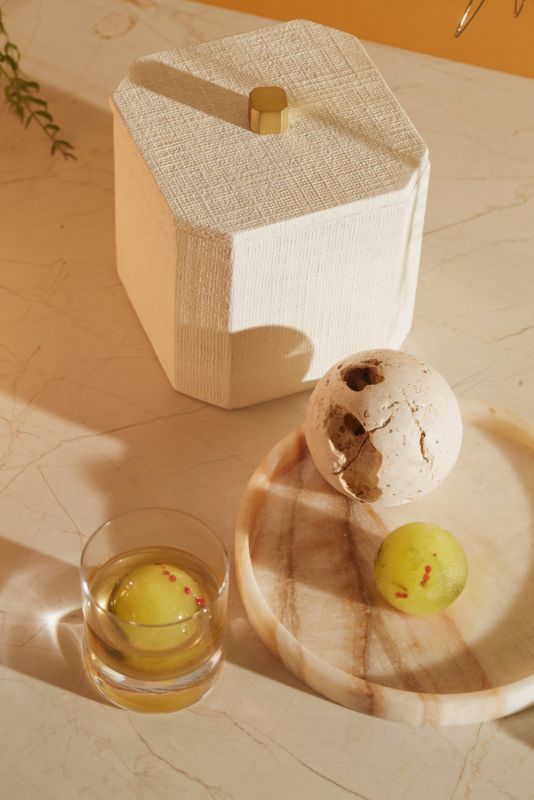 The Dinosaur + Pickle Brine Spheres
THE DINOSAUR
Looking not unlike an ecosystem in which you might find a tiny dinosaur, this wild combination is a slow sipper for those who enjoy a pickleback shot from time to time.
Makes 1 cocktail
1 Pickle Brine Sphere
2 oz [60 ml] whiskey
Cornichon, for garnish (optional)
Place the Pickle Brine Sphere into an Old-Fashioned glass and top with the whiskey. Garnish with the cornichon, if desired.
PICKLE BRINE SPHERES
Makes 4 spheres
8 oz [240 ml] dill pickle brine
4 oz [120 ml] freshly squeezed lime juice, strained
4 oz [120 ml] freshly squeezed lemon juice, strained
24 to 32 peppercorns, preferably a mixture of black, green, white and pink
4 dill sprigs
Four 2-1⁄2 in [6 cm] sphere molds
In a large glass measuring cup, combine the pickle brine, lime juice and lemon juice. Put 6 to 8 peppercorns into each mold, then top each with a dill sprig, twisted into circles if necessary.
Assemble the molds, then, using a culinary syringe, fill each with the pickle brine mixture (leaving space at the top for expansion, which will help the peppercorns not gather together at the top of the sphere) and freeze until solid, about 6 hours.
White Negroni + Rose Cubes
WHITE NEGRONI
Makes 1 cocktail
1 Floral Cube, made with edible roses
1-1⁄2 oz [45 ml] dry gin
1 oz [30 ml] Dolin Blanc
1⁄2 oz [15 ml] Suze
Place the Floral Cube into a double Old-Fashioned glass to temper.
In a mixing glass filled with plain ice, combine the gin, Dolin Blanc and Suze. Stir for 45 seconds, then strain into the glass over the cube.
FLORAL CUBES OR SPHERES
While it may be tempting to freeze edible flowers or herbs in an everyday ice tray, the clarity of these cubes is what truly sets them apart, so a clear cube mold is a must. Edible flowers are becoming easier and easier to find at grocery stores and farmers' markets. They're also easy to grow at home.
Makes 4 cubes or spheres
4 edible flowers, about 2 in [5 cm] long
2 in [5 cm] clear cube or sphere mold (preferably Wintersmiths)
Place 1 edible flower into each mold compartment. Fill the mold with water and freeze until solid, about 30 hours.
Remove the cubes or spheres from the mold, polish them and keep frozen until ready to use.
DISCO TIP: Keep buoyancy in mind when placing the flowers inside the mold. Face them downward to ensure that the bloom freezes toward the inside of the cube, rather than up against an edge.
Shop Disco Cubes-approved cocktail supplies