We show you how to paint your own paper like a pro.
Self-adhesive wallpaper is a dream come true for commitment-­phobes and renters. But self-adhesive wallpaper that's DIY­-able? Now that's downright dreamworthy. We recently transformed a wall at a catalog shoot into a striped mural, and here were sharing our secrets. You'll need some pro supplies and patience, but once you get going, it's only a matter of time until your DIY wallpaper masterpiece will be complete.
Materials:
DIY self-adhesive wallpaper
Pencil
Paint tray
Drop cloth
Level
Large ruler
Triangle
4 foam paint roller
Painter's tape, sensitive
Base paint, as desired
Metallic paint, as desired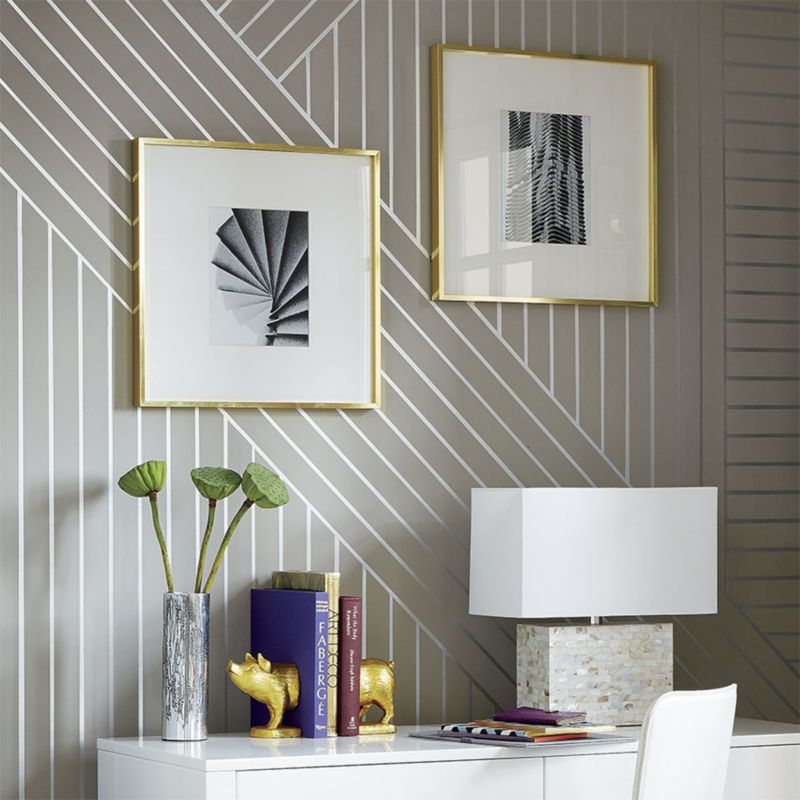 Instructions:
1.
Chat with a CB2 sales associate or use our online calculator to determine the quantity of DIY self­-adhesive wallpaper needed to cover the desired area. Following the instructions on the packaging to prepare your surface and apply the wallpaper.
2.
Paint the entire area of wallpaper with a base/background color, then let it dry for at least 24 hours. We used Benjamin Moore Gray Blue BM­1501 in eggshell finish.
3.
Using the dimensions of the desired wall, sketch the design or draw it on a computer. For best results, print a test sheet to scale so you can judge the final appearance of the design. Note: Basing the design on 90 and 45­degree angles will make it easier to create. Also, the width and quantity of lines will determine if the pattern looks heavy and busy or light and airy. We used 2″ wide painters tape for the wider lines, alternating with 1/4″ thin lines.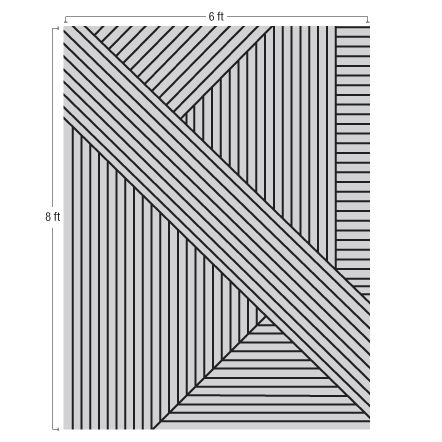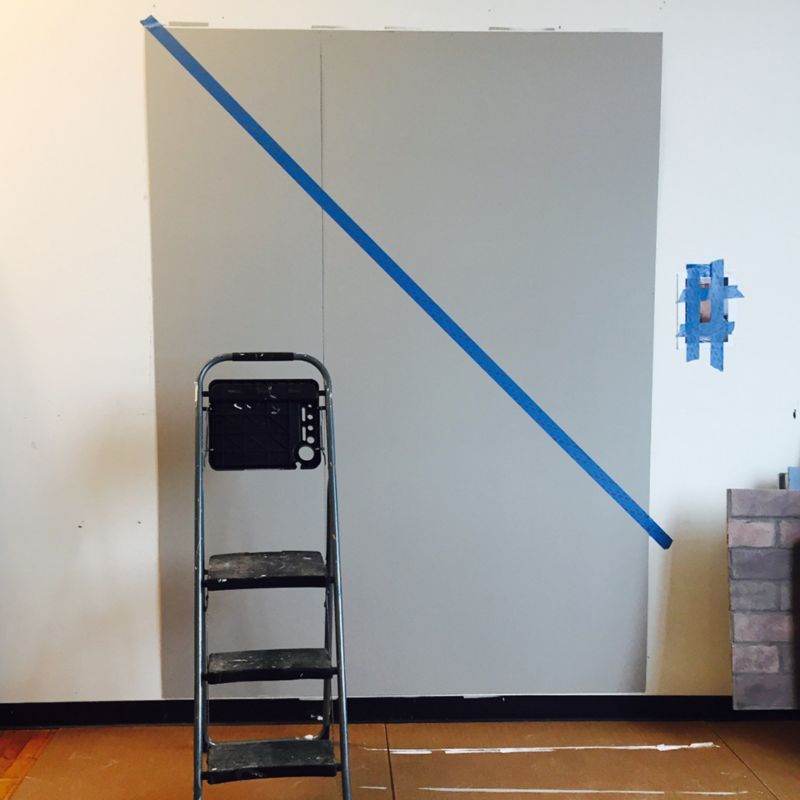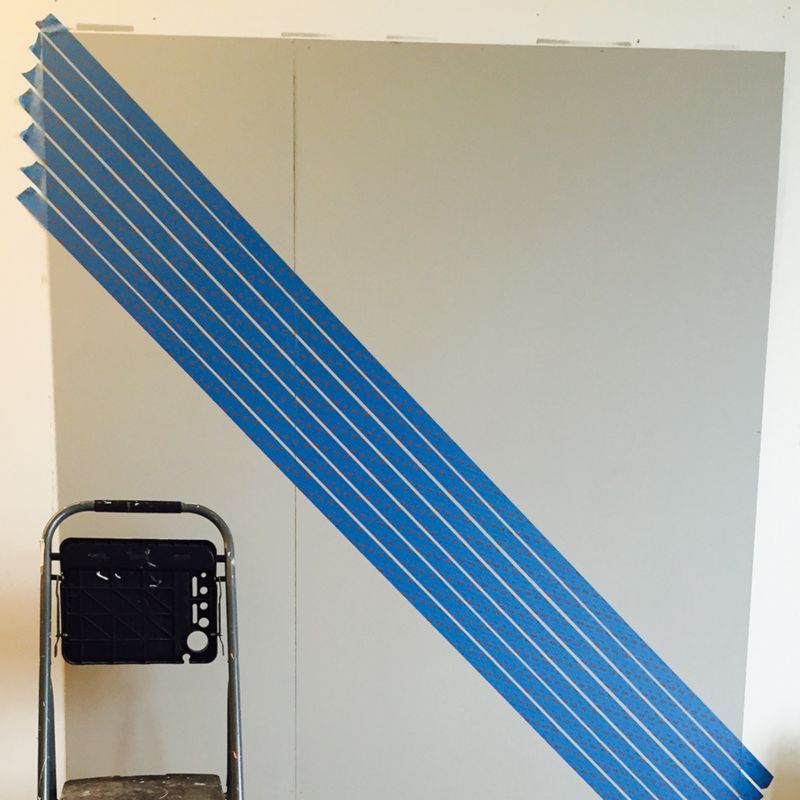 4.
To translate the design, use a ruler and a pencil to measure and draw the first diagonal line that cuts across the entire wall. This line anchors the overall design. From the top left hand corner, create a 45­-degree angle using a rafter square and a large level. Adhere and press the painter's tape against this line, then mark off a 1/4″ from its edge and continue marking off the middle diagonal section line by line.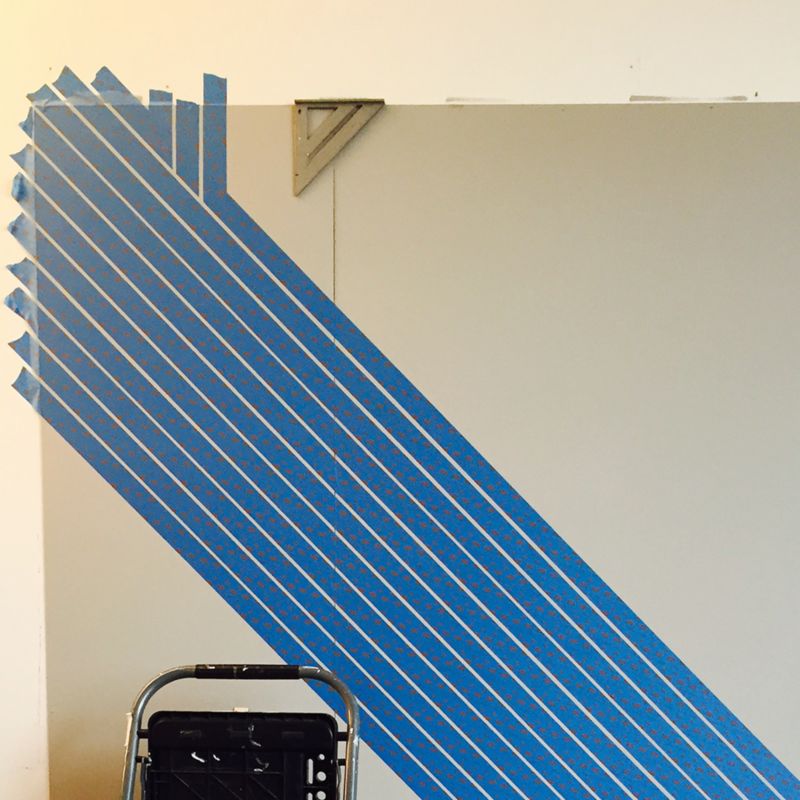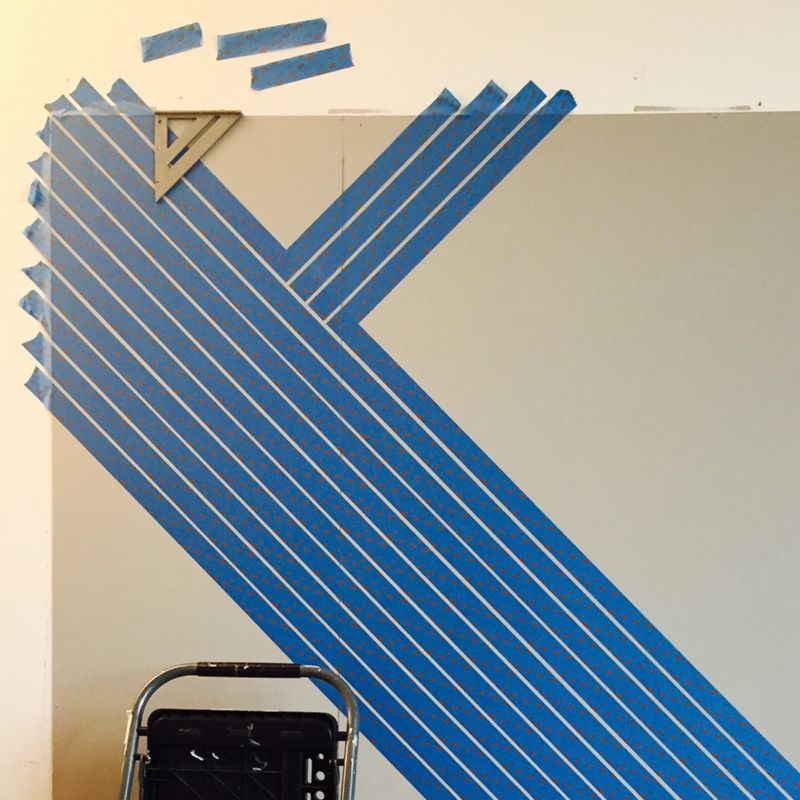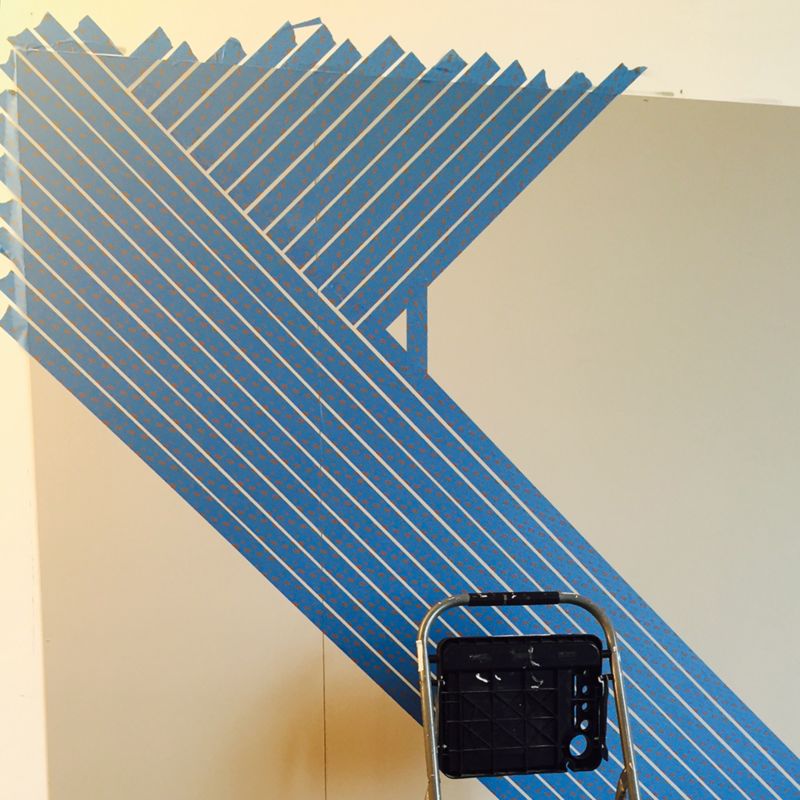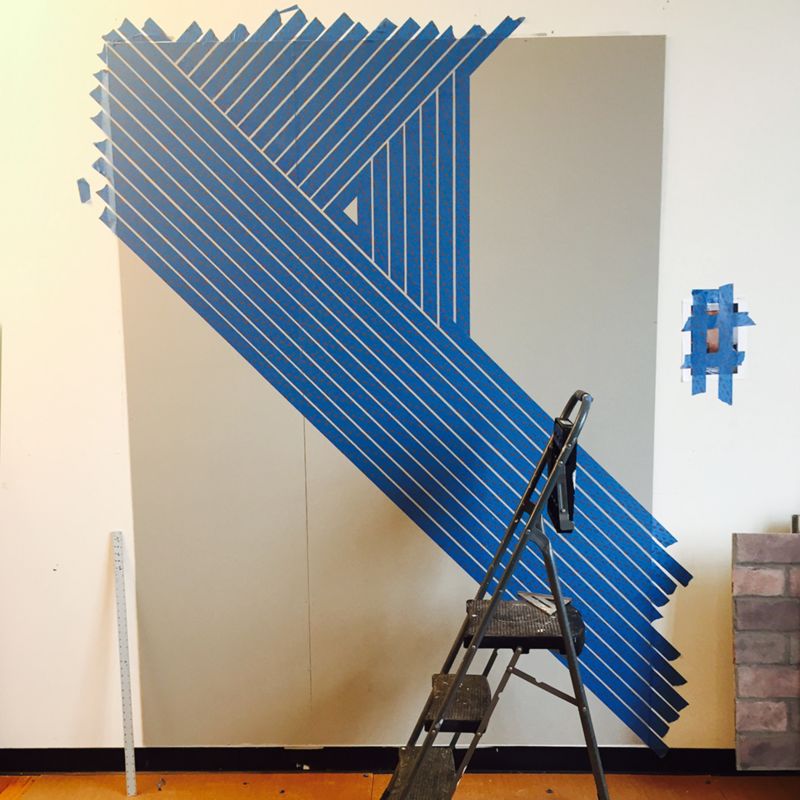 5.
For second, third and subsequent lines, make small pencil dots to measure them out (these markings will be less visible than solid pencil lines). Note: Small differences likely won't be seen. However, to be more exact, adjust the width of the stripes on the last section—a 1/4″ to 1/2″ difference shouldn't be visible to the eye.
6.
Measure, mark and tape all subsequent angles and lines. Once the complete pattern has been translated to the wall, fill the negative spaces with painters tape but exposing the 1/4″ lines to be painted. Note: By pressing firmly on all edges, a good seal will be created which will prevent paint from bleeding under the tape. For an exceptionally crisp line, speak with a paint specialist about a clear glaze application along the edges of the tape.
7.
Once the wall is completely taped, paint the exposed lines with a small foam roller—we used a metallic silver made by Modern Masters, ME 150, applied in three light coats with two hours of drying time between each coat.
8.
Let the paint cure for 24 hours, then spot check to make sure it's dry to the touch before removing the tape and before placing any furniture against it.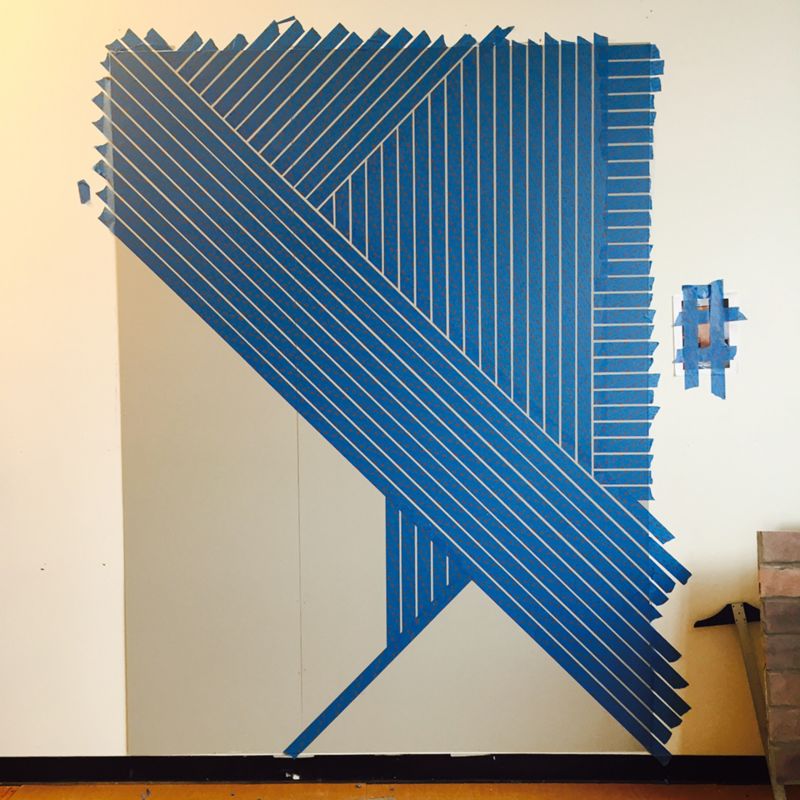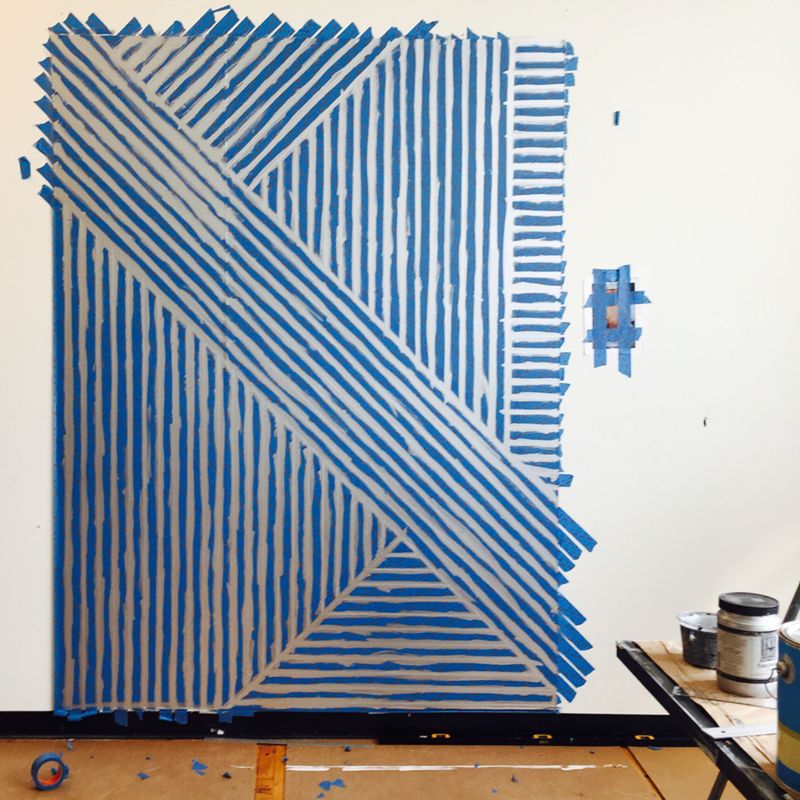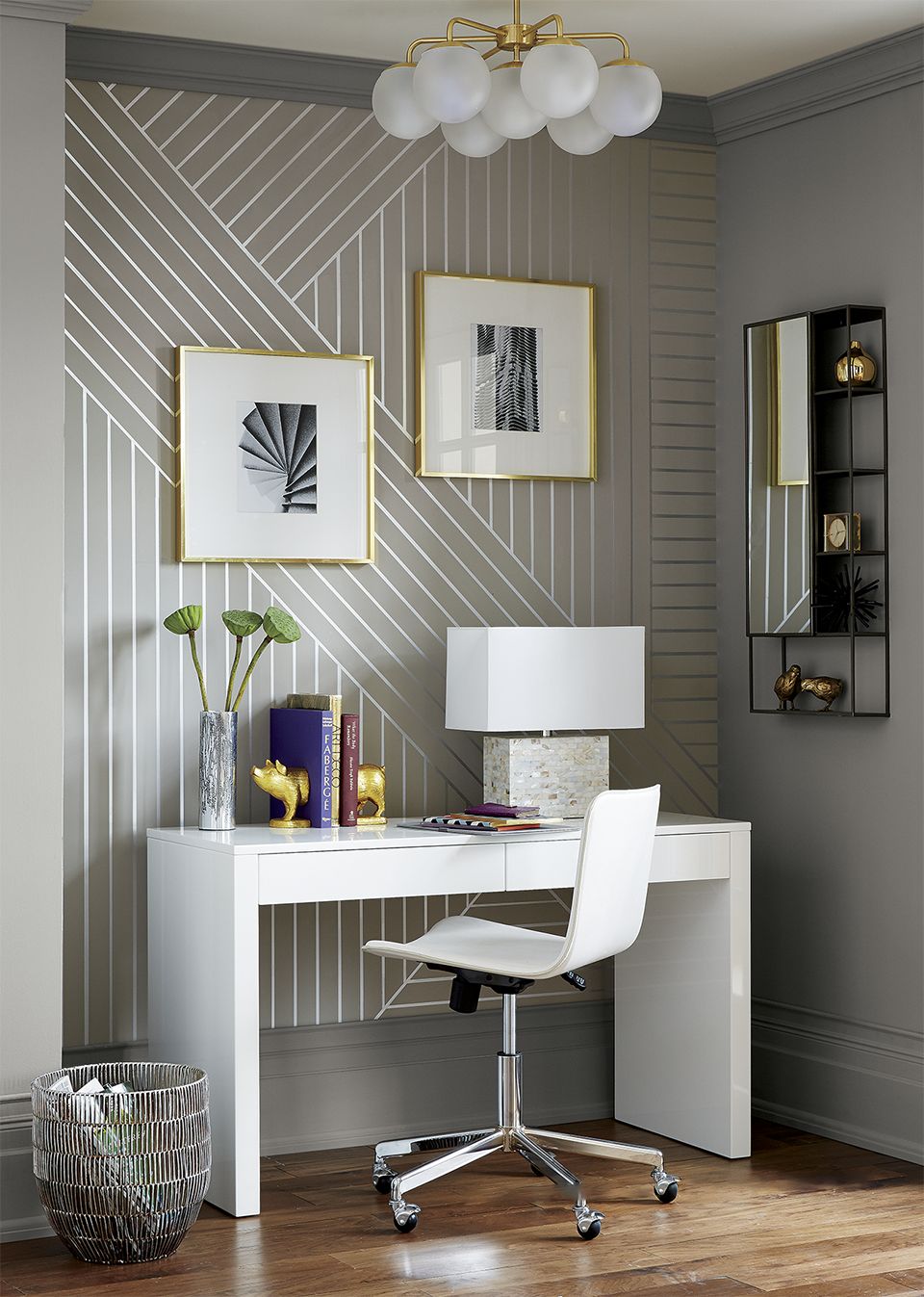 Looking for more DIY inspiration? Check out our CB2 Pinterest board to get started on your next project.