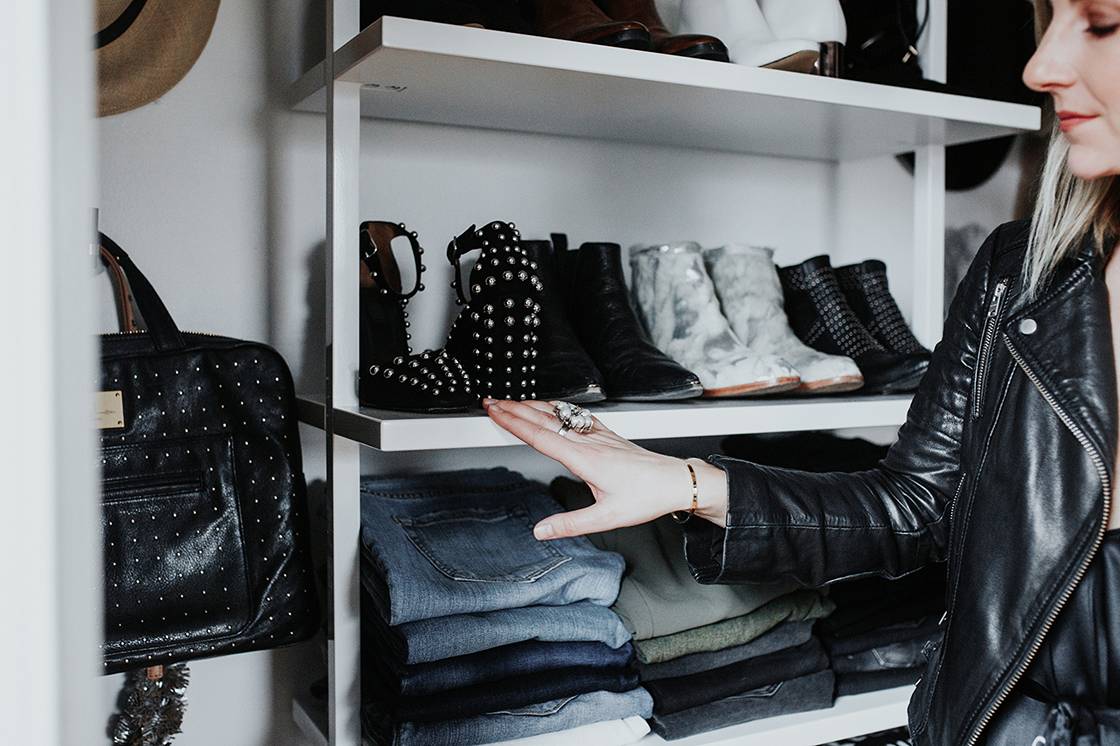 Does opening your closet doors spark joy and excitement, or anxiety and dread? We firmly believe that your clothes deserve a home as cool as they are, and blogger and artist Meg Biram makes a strong case for putting as much thought into your closet styling as your sartorial choices.
There's something so energizing about a perfectly neat, styled wardrobe, and it goes a long way toward solving the whole "closet full of clothes and nothing to wear" conundrum so many of us face every morning. Below, Meg shows us how to achieve closet nirvana in your own space.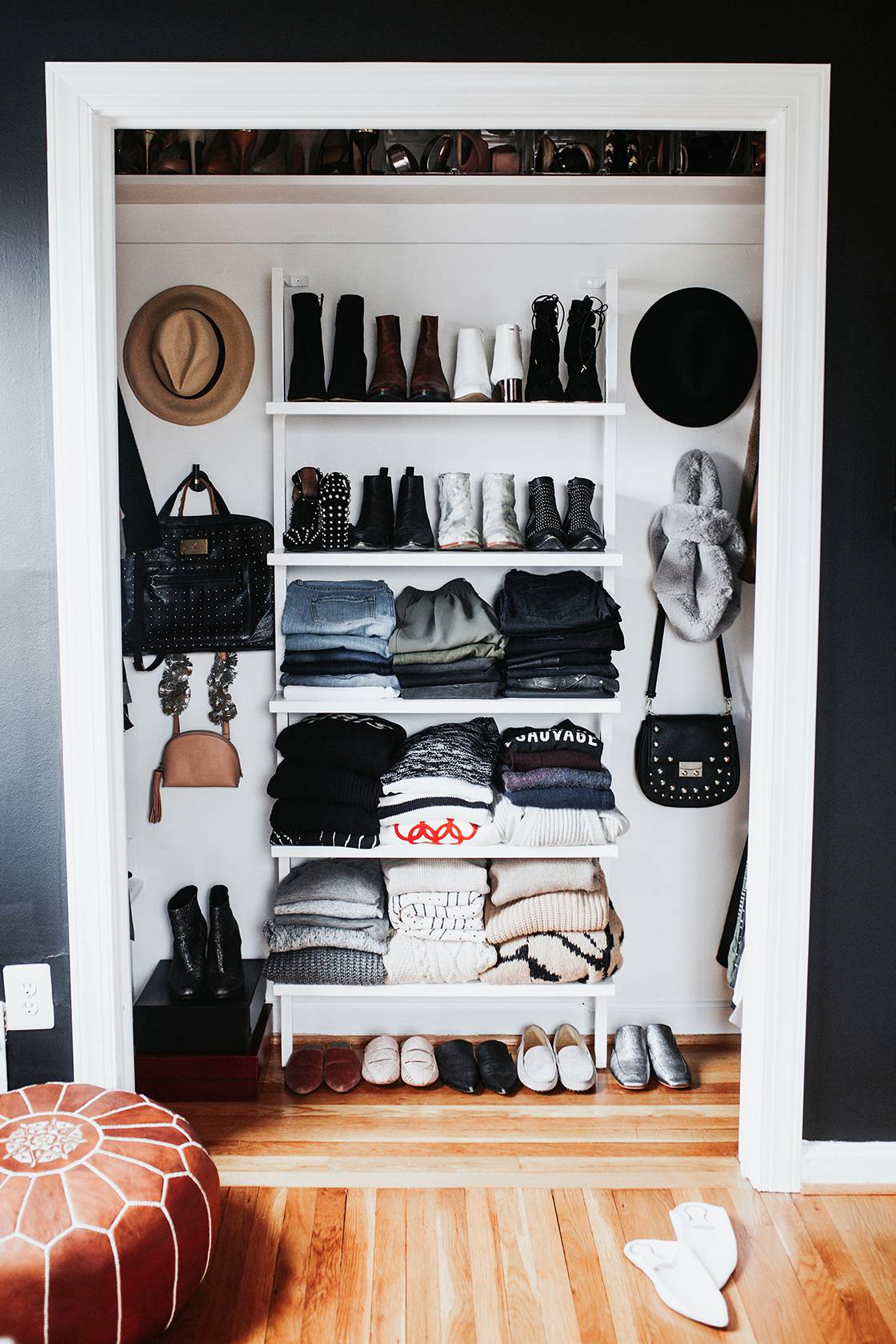 EDIT //
"You might think I have a lot of clothes because of my job, but I actually don't," Meg explained. "I don't shop much, and I'm really good at paring down my wardrobe regularly." The goal? Only keep those pieces you actually love. An edited closet already feels loads lighter before you even get to the organizing and styling.
Consider your lifestyle during closet clean-outs, too. "I love fashion, but not only can I not afford my designer taste most of the time, I just don't need a ton of clothes," Meg said. "I don't go to a ton of fancy events, I work for myself and, honestly, I spend most of my time in either workout clothes, loungewear, jeans or my painting clothes."
CUSTOMIZE //
Think about how you actually use your closet. What pieces do you reach for time after time? What needs to be easily accessible, and what can be stored farther out of reach? Then, look for storage solutions and closet organization ideas that suit your own particular personality.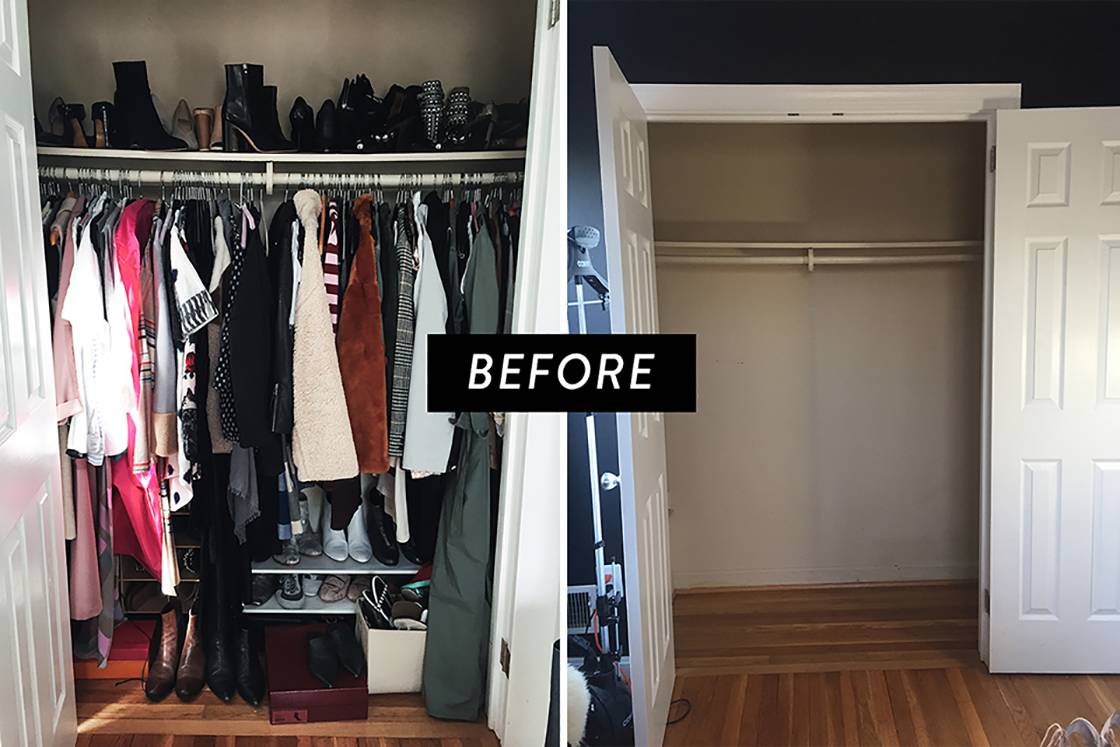 Before, Meg's closet was basically a blank slate, with a layout that's probably familiar to many: one long shelf and hanging rod. Meg wasn't using all the hanging space, and a lot of vertical space was wasted, so she and her husband decided to remove the center hanging rod and install hanging rods on each side of the closet instead.
That left a lot of blank space in the closet's center. "I wanted a shelf in my closet for pants, sweaters, shoes and bags. Because the closet is narrow, I knew I would need a shallow shelf with open sides, otherwise it would be really hard to reach in and access my clothing on the sides," said Meg. "I searched for hours on every furniture website looking for the perfect shelf, and I found it. It's the wall-mounted bookshelf at CB2."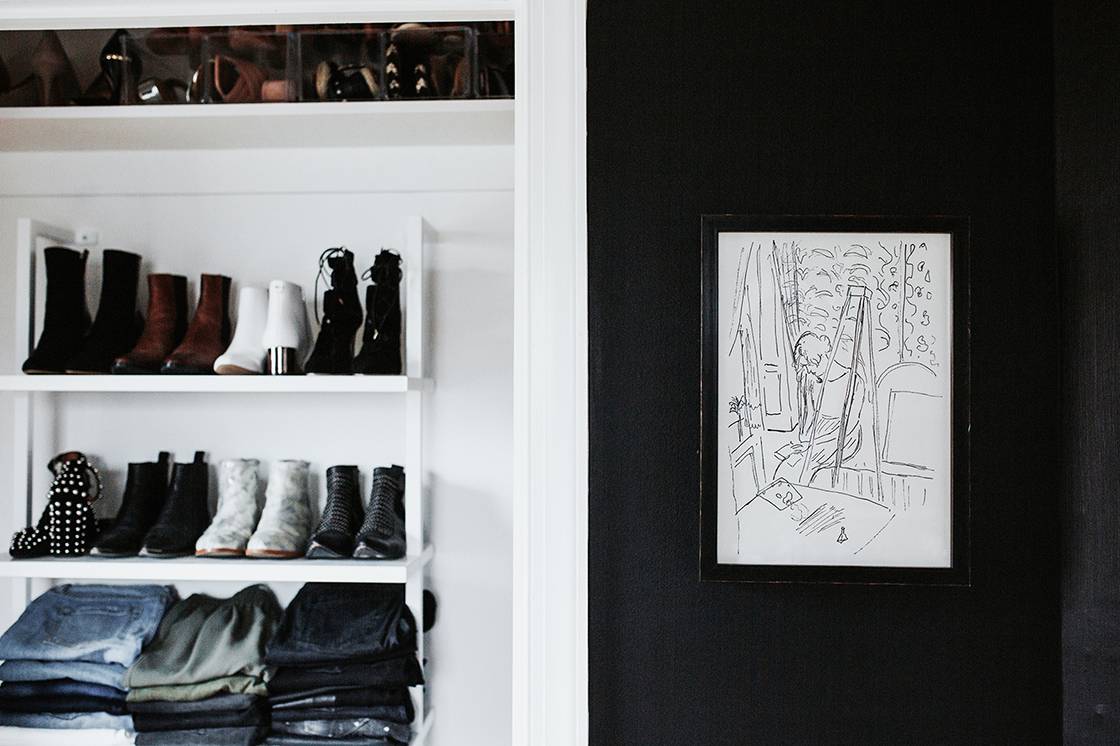 The top shelf of the closet houses Meg's off-season shoes and larger bags, and she stashes underwear, loungewear and workout clothes in a small dresser. Hats and smaller bags are displayed on four wall hooks, while bulky winter coats get stored in another closet.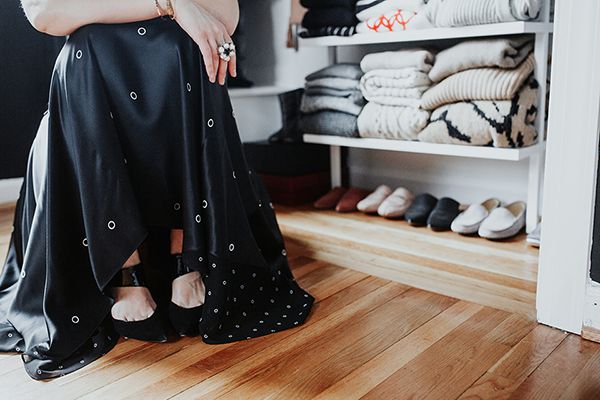 "Besides the closet, I also have a dresser in our bedroom, and I have my coats stored in my husband's closet. That's it. No more clothes hiding anywhere! I try to keep my wardrobe really pared down."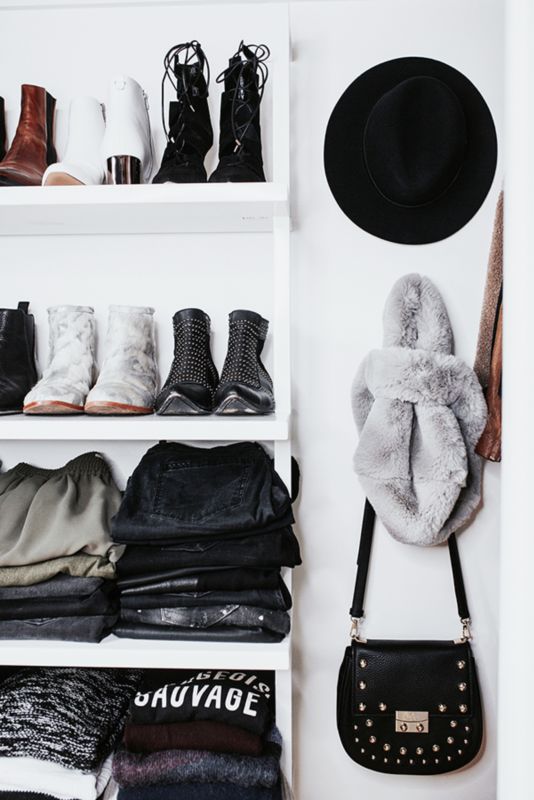 SHOWCASE //
We adore the way Meg used our Stairway Bookcase as the centerpiece of her small reach-in closet, showcasing folded items and her most-worn shoes of the season. She decided to remove the closet doors to open up her small home office a bit more, and the lack of doors is a great motivation to keep things super tidy.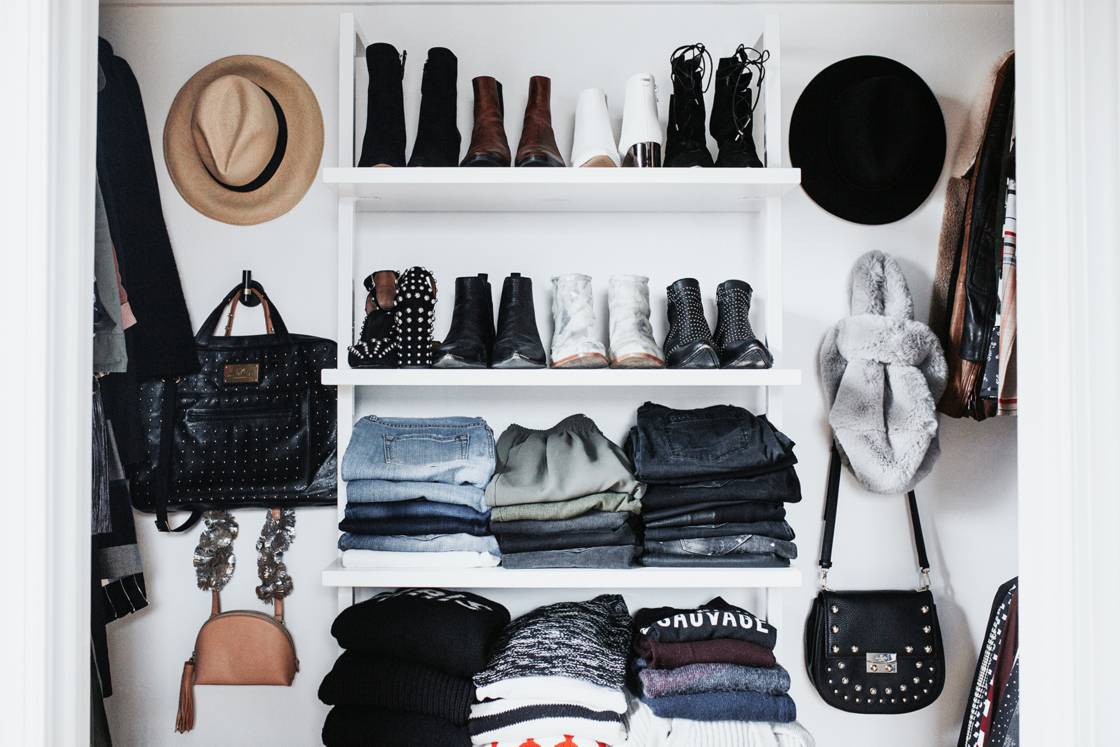 A wardrobe on display also encourages a critical eye: "I don't really want to look at and store stuff I don't wear, so it gives me extra incentive to be more honest with myself about what I should get rid of," explained Meg.
"I honestly couldn't be happier with how the renovation turned out," Meg said. "My husband said it looks like a department store!"
We were so inspired by Meg's closet we created our own version (above). Stunning, right? Shop closet essentials inspired by Meg, including a chic photo for inside- or outside-the-closet inspo. We wouldn't say no to that bench + hide rug combo, either.