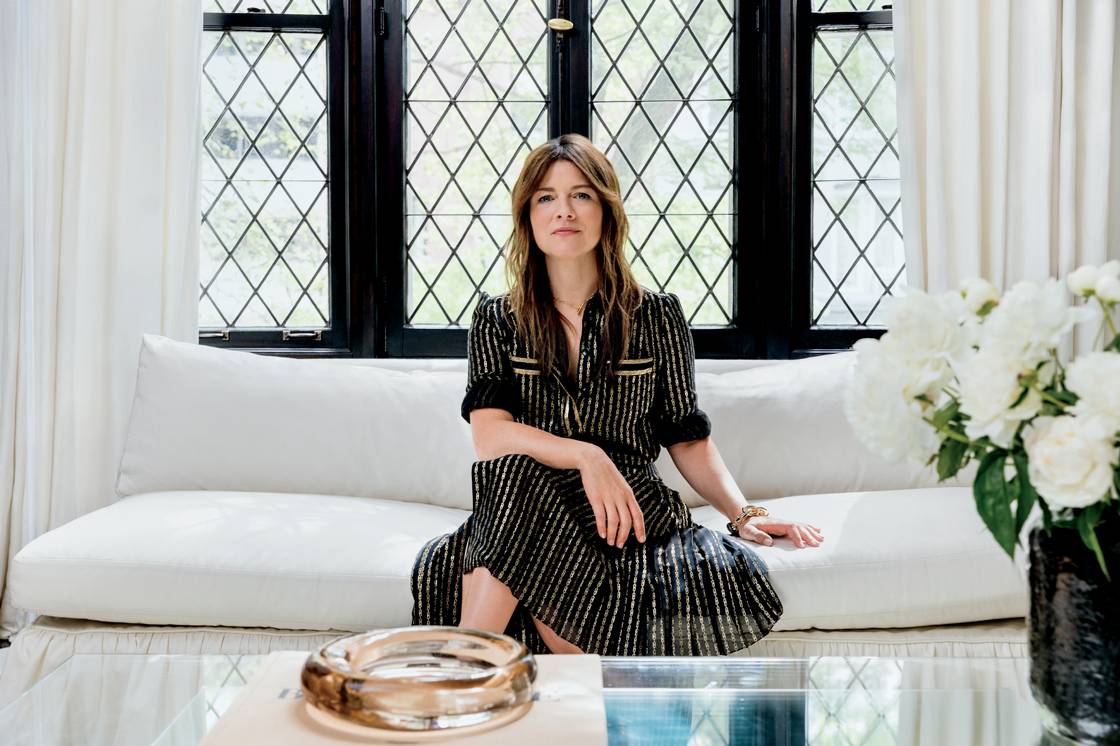 Kara Mann's work has been described as edgy, subversive and even goth, but if there's something you should know about Mann herself, it's that she's disarmingly approachable and genuinely, effortlessly cool. Her go-to drinks? Champagne or Miller Lite—and it's not a bit, either. The renowned Chicago interior designer genuinely enjoys drinking beer straight out of the can.
"I would definitely categorize myself as a high-low girl in the way I dress, the way I live and the way I drink," the mastermind behind CB2's newest collaboration says. That approachability and livability extends to all of Mann's projects, whether it's revitalizing a historic hotel or designing a multimillion-dollar home. The theme clearly carries through to her new CB2 collection, which has a surprising vintage inspiration: the 1980s, brought back in a distinctly Kara Mann fashion. But perhaps it shouldn't be so surprising given her background as a stylist and the resurgence '80s influences have enjoyed on recent runways.
"When I think of the '80s, there's a playfulness about it, something really loose and weird and funky, but always with a little bit of grit," says Mann. "I've always loved that push and pull. And fashion in the '80s gets such a bad rap, but it was awesome. It's all about the design; you just have to make it your own. Don't shy away if you like something."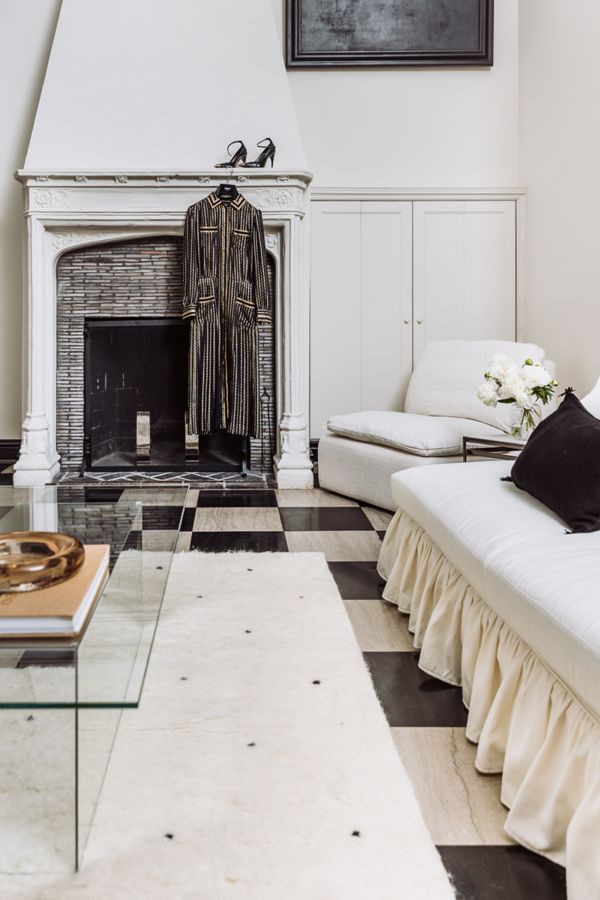 The contrast between two opposing themes or ideas is a hallmark of Kara Mann's signature style, which is never confined to any one aesthetic. "My style is constantly evolving. I like what I like and let my gut instincts lead the way," she says. "My designs are edgy but soft, masculine and feminine, contemporary yet full of vintage finds. If I had to generalize though, I would say I like things to be easy—in how they look and how they feel."
Mann's journey to becoming an interior design dynamo is refreshingly down-to-earth, much like the designer herself. "I studied fine arts in college and wanted to be an artist. I worked as a stylist then went back to school for interior design," she explains. "I put my head down and was just focused. Ultimately it came down to me being a total workaholic. I love it … some days."
It's how I approach people: We're all cool. I am not a lone wolf by any means.
Her approach to design is much like her approach to life: creative, considered, thoughtful, but always with a casual, lived-in feel that's never precious. Or, as Mann puts it, "There's nothing that's not thought through to the nth degree but it's also like yeah, sure, whatever." Indeed, never take yourself too seriously might as well be Mann's motto, in life and in work—even as her firm doubled in size from 2019 to 2020, with offices in Chicago, New York City and Los Angeles, attracting high-profile projects and clients along the way.
"I'm super collaborative, so I end up with clients that are a little bit more relaxed. I don't really care about pedigree. It's kind of how I approach people: We're all cool," Mann says. "I am not a lone wolf by any means." Her CB2 collection also draws on that collaborative spirit, inviting people to live with it and have fun incorporating it into their homes, even as it pulls inspiration from Kara's own experience designing her dream teenage bedroom in the '80s.
"I keep thinking back to that kind of coming of age, coming into the world and who you are and how you express yourself," Mann continues. "That's the opportunity in design: to be creative and reinvent things. Just like Madonna. She always reinvented herself."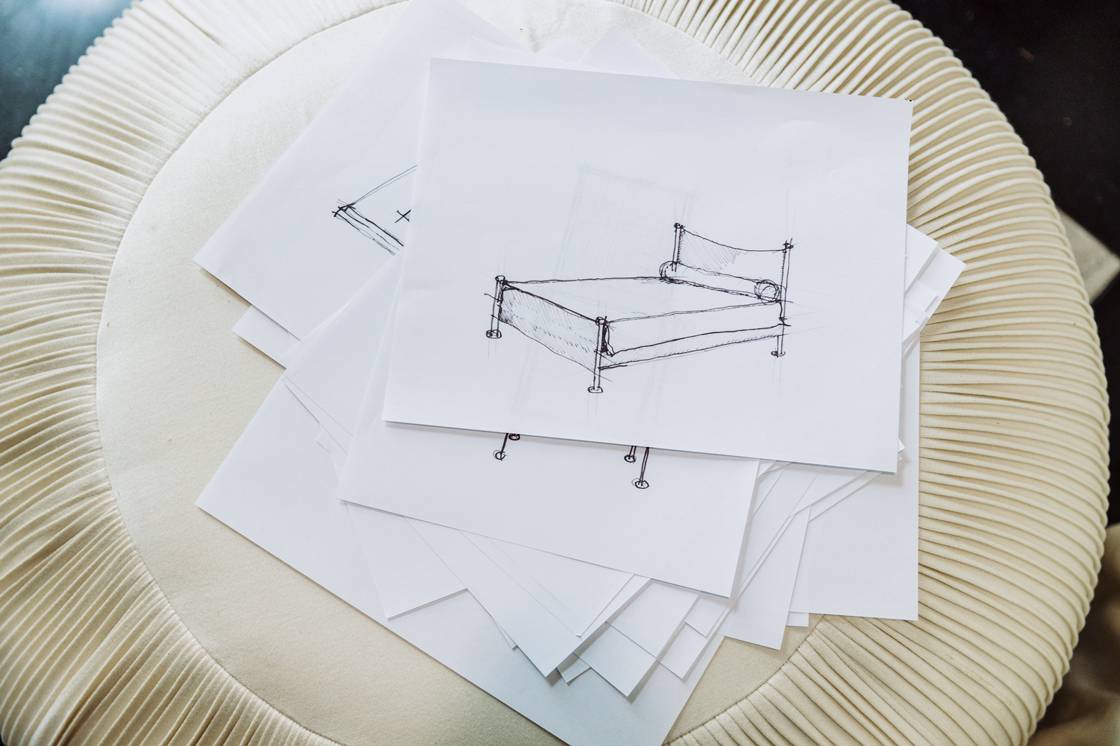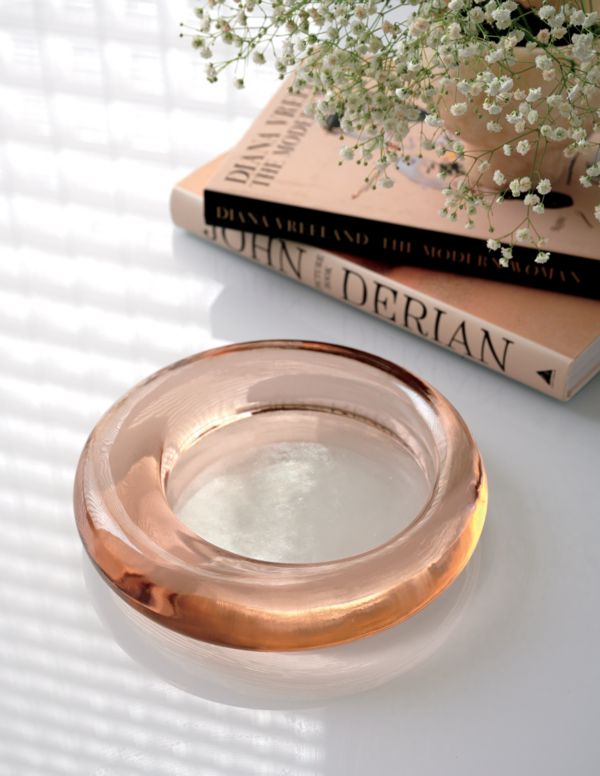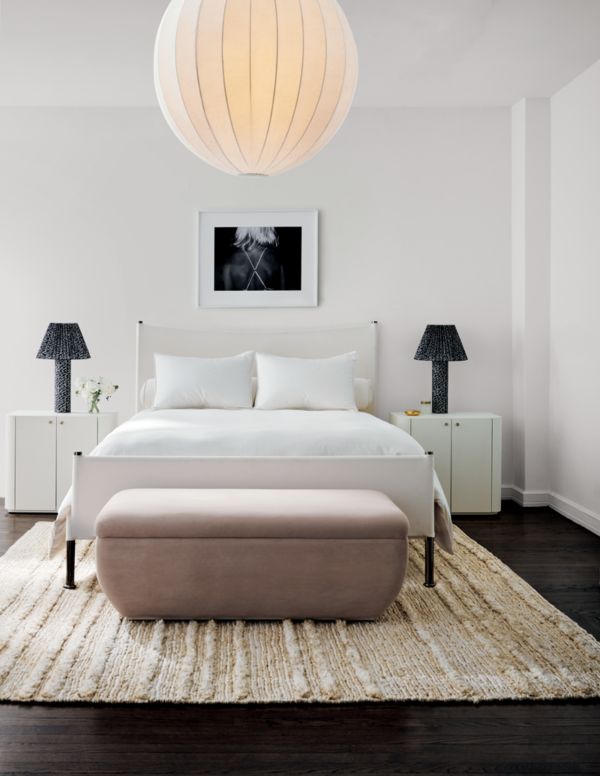 THE ART OF CONTRAST
The CB2 Kara Mann Collection reinvents a decade that people tend to have strong opinions about, which in turn makes the collection itself a lot more interesting. Though Mann admits it's not a new idea to bring back a decade, her signatures are woven throughout in a way that feels like a breath of fresh air: namely, contrast and a tonal color palette (or lack thereof).
"I always love mixing disparate things together. It creates a really cool energy," Mann says. "Masculine and feminine, things that feel sort of hard-edged with something that feels very soft and lush—it creates a moment of balance."
That balance and contrast might be best exemplified in Mann's preferred color schemes, which, like so much of her work, feel easy and simple at first but reveal careful consideration upon closer inspection. "Black and white are polarizing in a way, but when you hit it with a little bit of softness, they feel just right together," she explains. "To make a black and white palette feel really rich, you have to tone both colors in a certain way."
Mann's use of color may be sparse, but it's specific. The whites are warm and soft—"We always call it oyster because there's a sort of luminosity to it."—while the blacks are more muted. Working on the opposite ends of the color spectrum allows for subtleties in the colors Mann does use to come through, like the "dirty pinks" seen throughout this collection. "I always like to add a little dirt to all my colors," Mann says.
FORGET THE RULES AND FEEL IT OUT
When asked if she has any advice for those in the process of discovering and refining their own style, Mann's reply is to the point: "Don't follow trends, and trust your gut."
"I don't really believe in design rules," she continues. "It should come from within, and I don't think you've got rules inside you." Sure, it can be helpful to follow basic design principles around things like symmetry/asymmetry and balance, but Mann contends that it's more about knowing when to use those principles and when to ignore them. "When people say there are certain rules you have to follow, you're put in this box and it stops being a true expression. And I think that design should be a true expression."
Two principles Mann does consistently lean on? Composition and editing. "[Composition] can sound like a scary word if you're not a designer, but it's about balance and the way things layer together," Mann explains. "Put it together and play with it. You'll find that balance, whether it's a difference in height or size or something that's soft and subtle against something that's hard edge. That's where the magic gets created."
I don't really believe in design rules.
Mann is also a huge proponent of editing to help hone in on your particular taste and style, but admits that it can be one of the hardest things for people to do, especially for themselves. She recommends looking for similarities in what you're drawn to, "pulling back the lens" to find what is consistent. "I've always believed that everything should have its own substance. It should be poignant on its own," Mann says. "Editing is all about holding back, and it's hard to do that. I mean, it took me ten years to finish my own apartment, so there."
However, there's one golden design rule Mann does adhere to: "The most important principle of a home is to just have fun. I think that's it. People tend to take design too seriously, but it should be fun and comfortable and an expression of how you live," she says. "There's no formula except if you like it. Find your own irreverence, lean into imperfection, push the boundaries to find your new favorite."
QUICK FIRE
Work in silence or with background noise: Background music
Soundtrack of your life: Rihanna's "Work"
Go-to coffee order: Black coffee with oat milk
Go-to cocktail order: One too many margs
We'll never catch you without: Mascara
Guilty pleasure: Twizzlers
Style icons: Kate Moss, Catherine Deneuve
You'll never get sick of: Walking along Lake Michigan
Your current state of mind: Nobody needs to know that
Favorite place to travel: Anywhere without wifi
Where you'd most like to live: Northern California
Last thing you binge-watched: Schitt's Creek
Your greatest extravagance: Real estate
Most overused word or phrase: That's cray!
Tea or coffee: Coffee
City or country: 50/50
Vintage or new: Both. It's all about the art of contrast!