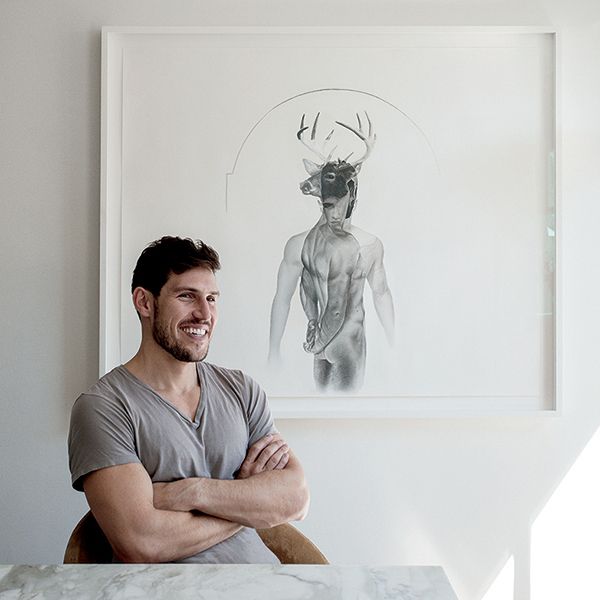 Interior design is functional, yes, but it's also inherently personal – and no one knows this better than the award-winning designer behind our latest collaboration, Charlie Ferrer. Charlie traveled across Europe to curate a selection of one-of-a-kind vintage pieces for CB2, collecting rare and unexpected finds from a variety of designers and eras in a way that's a little unexpected, a little unfamiliar but totally eye-catching and beautiful.
Clearly, Charlie has impeccable taste, and we wanted to learn as much from him as we possibly could. So we thought: why not get to know him a bit better through a few of his favorite things?
An agenda around eclecticism
We asked Charlie to share a selection of pieces from his personal collection that were representative in some way. "I kind of make this incessant point about my agenda around eclecticism, so I've tried to select objects here that would demonstrate a range of styles and materials and uses," Charlie explains. "Some things are organic, some things are more machined, some things are bright and shiny, others are more matte. So I think this little sampling speaks to a certain level of playfulness." The result? A high-low mix that speaks to Charlie's ethos of not being too precious about collecting vintage pieces.
"Ceramics and pottery I find — not an overlooked medium, but maybe an underappreciated one. Their affordability, their uniqueness, their functionality, their charm, all those qualities make them appealing. This one is really appealing to me because it combines a very classical silhouette with more 20th-century-feeling glazes."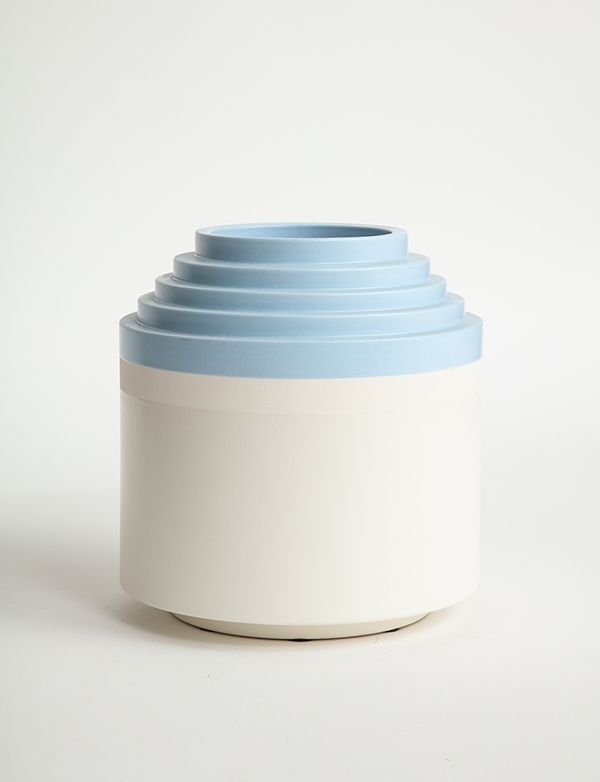 "This is a piece of studio pottery by Ettore Sottsass, an Italian architect and designer and one of the pioneers of the Memphis Style, which is this quirky, postmodern style. They're super playful forms that are geometric and quirky and they use a lot of desaturated colors, like this blue or pink or yellow. It's cheeky, but it's also very elevated."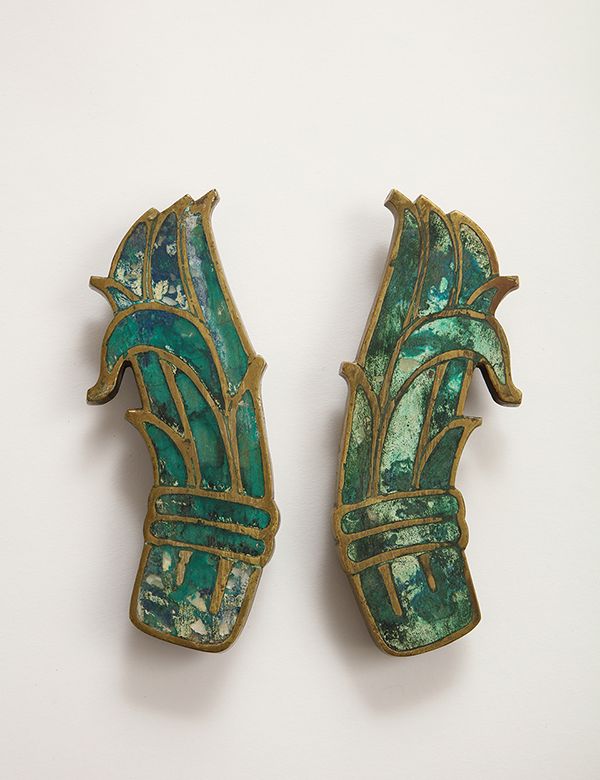 "These door handles are awesome just as objects. I bought them out of an antique store in Hudson Valley. They sit on a shelf, but I'm waiting for the right opportunity to use them in a furniture or architecture application. It's a great way to create a high drama moment very easily. Imagine a lacquered wet bar and putting these on there to finish it off, it'd be amazing."
"I'm not taking myself too seriously here by showing you a crystal and a beat-up ashtray and a random pair of door handles."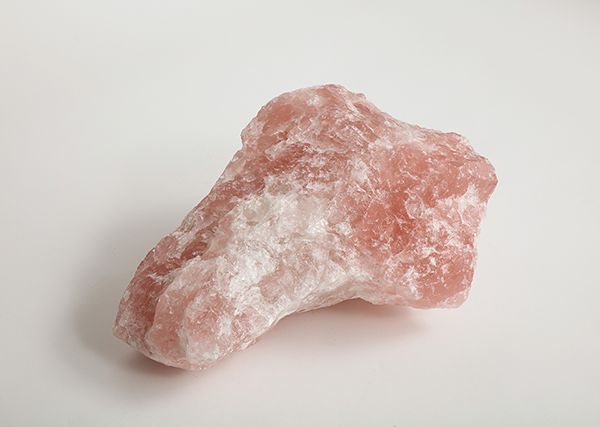 "Crystals have found their way into interiors and the decorative arts at different times in different ways. This one struck me because it looks like a gigantic piece of Himalayan sea salt. It's rose quartz and associated with the nurturing of the heart, so I like that narratively speaking. And it just sticks out at something otherworldly. It's plopped down right next to my bed and it just kind of sparkles and chills out there."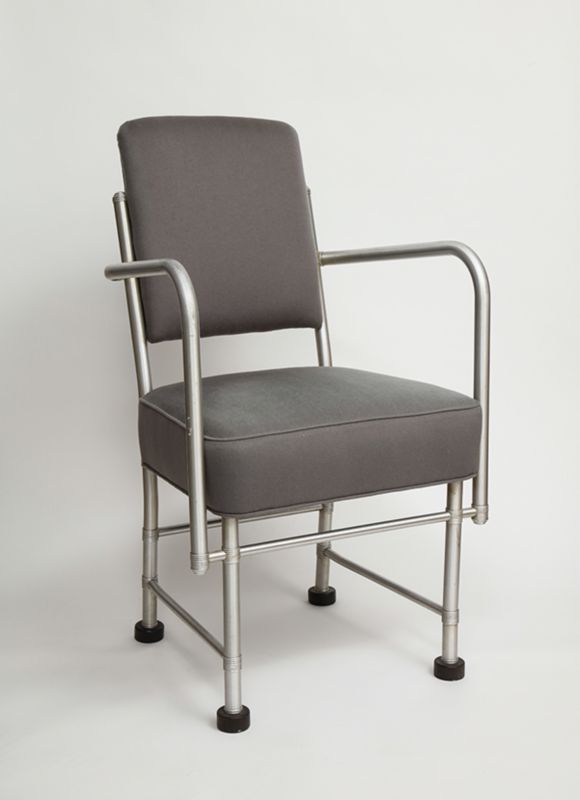 "This chair is by an American designer named Warren McArthur. The style is called Machine Age, from the '30s into the '40s. It's kind of refined industrialism in a way. And then he puts the feet, these rubber kind of bases, that are just like, what? Is that supposed to be there? It's so weird and specific that's it's really cool and beautiful. And it's very comfortable."
"This occasional table is a great example of taking something that has seemingly no value and elevating it to a place of refined design. I bought the brass frame at a flea market for 50 bucks, it's probably from the '50s or '60s, and then I had this glass custom made to give it new life. I love everything that's going on here: this mix of materials, this play between super precise sharp glass that's new and this deep saturated blue and the more patinated, banged-up brass frame."
"Introducing brass brightens and activates a moment that may be dull in an interior. Whether it's a box or a pair of brass bookends or a brass dish, there's a kind of consideration around how that contributes to the palette. It's about a balanced mix."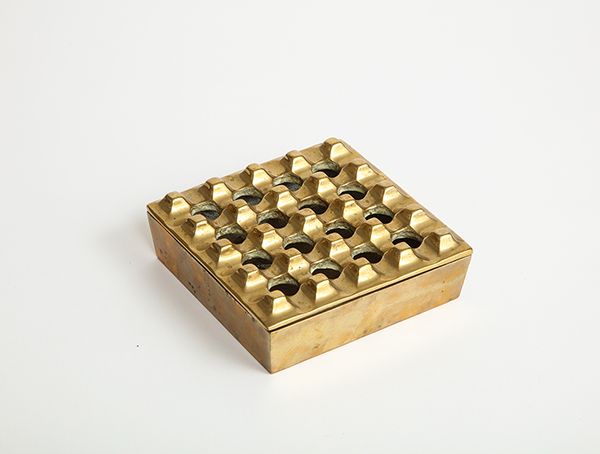 "This is Swedish, it's by Beck & Jung from the '80s. I like the repetition of a pattern in grid formation, and to have it in brass is slightly unusual. It was designed and used as an ashtray, but I don't smoke. It's just sitting on a stack of books. Polished brass like this is a nice thing to layer in. It adds some bounce to a darker corner or a bookshelf that needs some levity."
Training the eye
We asked Charlie if he had any advice for those who know they're drawn to vintage design but might find the wide range of styles, eras and designers overwhelming. "I would recommend the same thing I would recommend to any aspiring art enthusiast. Start training your eye by going into shops, by going to fairs, by going to markets, by going online. The design trade is a lot warmer and friendlier than it used to be. The art world can be intimidating; I feel like design is a little bit more user-friendly."
Luckily, there's a huge range of resources available to aspiring collectors. "The auction houses publish their catalogs online," Charlie explains. "You can go on and, in the privacy of your own home at your own speed, you can click through catalogs and familiarize your eye with a range of materials, all different periods, all different price points. And then you can venture out to a fair or a shop or a gallery. The auction houses also do previews, where basically everything that's in the catalog is on the floor for people to see before they bid."
"There's no harm in walking into a shop and asking questions of the dealer," he continues. "And there's something to be said about tactile engagement with objects as well."
Of course, one way to engage with vintage objects and design is through the CB2 x FERRER collection, available exclusively in stores. Charlie thoughtfully chose one-of-a-kind pieces to reflect the personality of every store's home city, from architectural designs in Chicago to a slightly more glamorous mood on the West Coast. Learn more about the collection at cb2.com/vintage.
This interview has been edited and condensed. Charlie Ferrer Photo by: Matthew Williams | Artwork by: Taner Ceylan