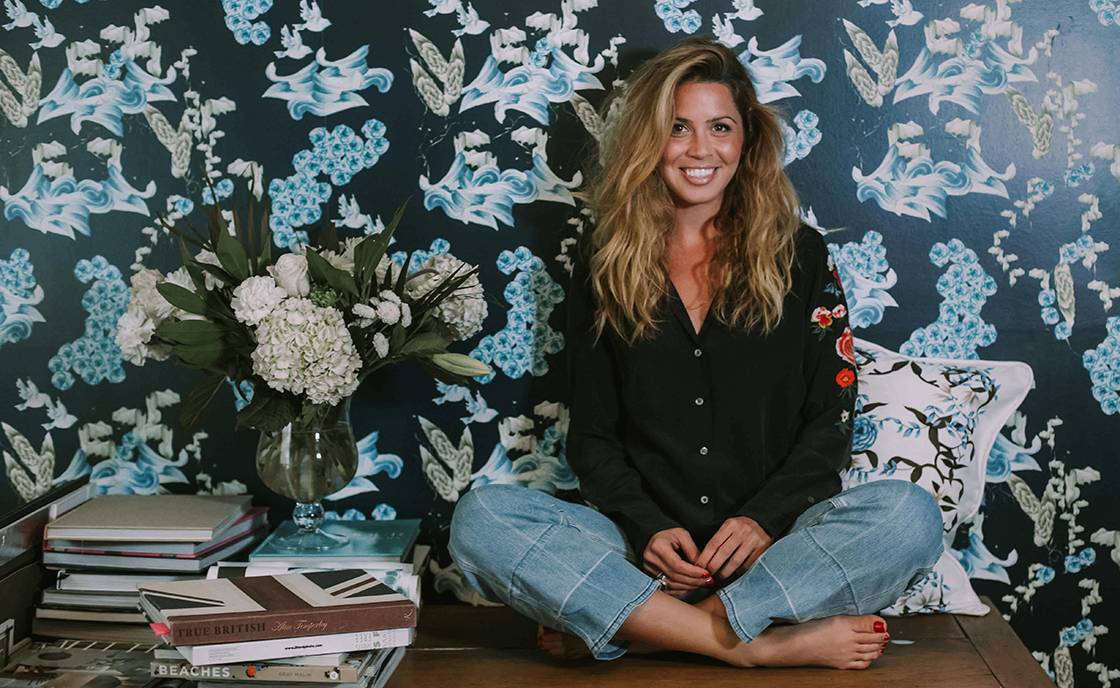 Photo by Prevail Project
Some people might think they can rest easy after none other than Jennifer Lopez is photographed with their work. But for
Candice Kaye
, the founder and creative director of Candice Kaye Design, it's just one more step on her continued road to success.
The moment in question occurred when the actress was celebrating the opening weekend of her film Hustlers at Papi Steak in Miami, just one of the many "It" restaurants featuring Candice's designs. You can spot her work all over Miami, NYC and her native Toronto. Each project has its own unique vibe, but each is distinctly Candice Kaye: bold, nature-inspired and a little bit vintage. Now, you can bring her signature style home with our exclusive textile capsule collection — and maybe even have something of your own J.Lo moment (though we cannot supply the five-tier cake or star athlete fiancé, sorry).
Moments like these don't just happen, though. It took Candice years of studying, hard work and networking to get to this point, and she has no intention of slowing down. We sat down with the artist and textile designer to get the inside scoop on her work, her inspirations and how it all comes together.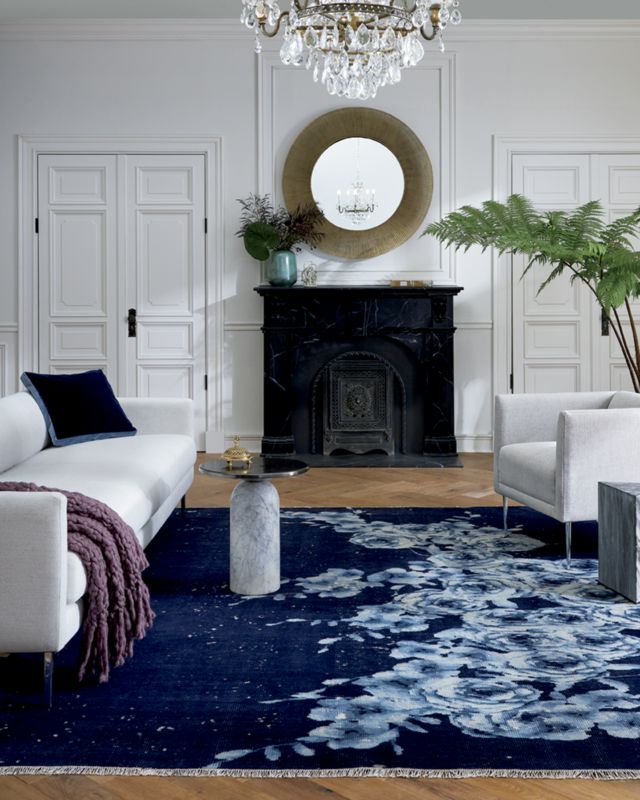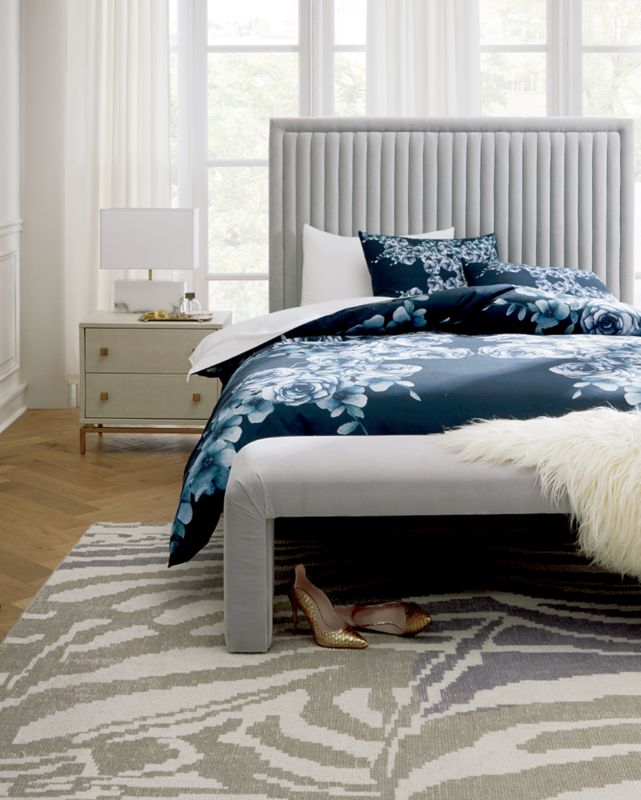 Wait — so, what exactly is textile design?
"Textile design can be broken down into two parts: the literal creation of the surface (fabric, rugs, wallpaper, tile, etc.) and textile surface design, which is the print that can be applied on top of the surface. I like to do both. It's important to me to understand how something is built in order to create the perfect design for it.
For instance, when creating a rug the design will depend heavily on the knot count, the type of weave you're using and the material. There are many different types of wool and silk in a rug. A quick example is the difference between mill spun and hand spun. Hand-spun wool or silk has a much rougher texture than mill spun. Creating a rug with these two textures can give the rug depth and interest. … It is fascinating to me to be able to work with the different materials to create an interesting piece of work that tells a story."
"Scale is very important — if not the most important part of textile design." — Candice Kaye
Does your personal style influence your work?
"My personal style can relate to my approach to design, actually. Sometimes I like to mix two patterns to create the unexpected. … I do the same thing when designing. I like to mix two patterns or layouts together that wouldn't normally go together. I am not afraid of color. Scale is very important — if not the most important part of textile design. I feel like CKD has nailed the perfect scale."
Sel Rrose Montauk
What inspires you?
"Books. Travel. Peace and quiet. I love design books. I can spend hours and hours looking at photos. I am a very sensitive person. It is important for me to carve out time to be alone. Some of my best ideas have come from simple peace and quiet.
Traveling is my favorite (and most expensive) hobby. There is nothing like landing in a foreign place. Everything is new and nothing is expected. I come back a different person. Or maybe just a more evolved person. I'm working on a new project inspired by Lebanon. I have never been, which is frustrating for me. You just can't get the feeling from books like you can in real life. I'm tempted to book the flight."
"There is nothing better than creating a piece that I know just feels right."
— Candice Kaye
What's the process from idea to finished product?
"The first step is research. I'll sit for as long as it takes to find the perfect image for inspiration. The image has to have a feeling, or portray the vibe my client wants.
Once I find that image, I start to dive deeper. Most of the time the layout will just pop into my head. When I have an idea of the layout, I'll find the pieces to make that layout come to life. Sometimes it works the opposite way. I have the pieces painted, but I'm not sure how the layout will look as a whole. Once I scan everything into the computer and start playing around I'll start to watch the pattern come to life.
There is nothing better than creating a piece that I know just feels right. This is my favorite part of what I do. Everything CKD is hand drawn then hand painted by me. Once printed or woven onto a surface, it brings the surface to life in a much different way. The piece has a certain feeling to it that people can relate to."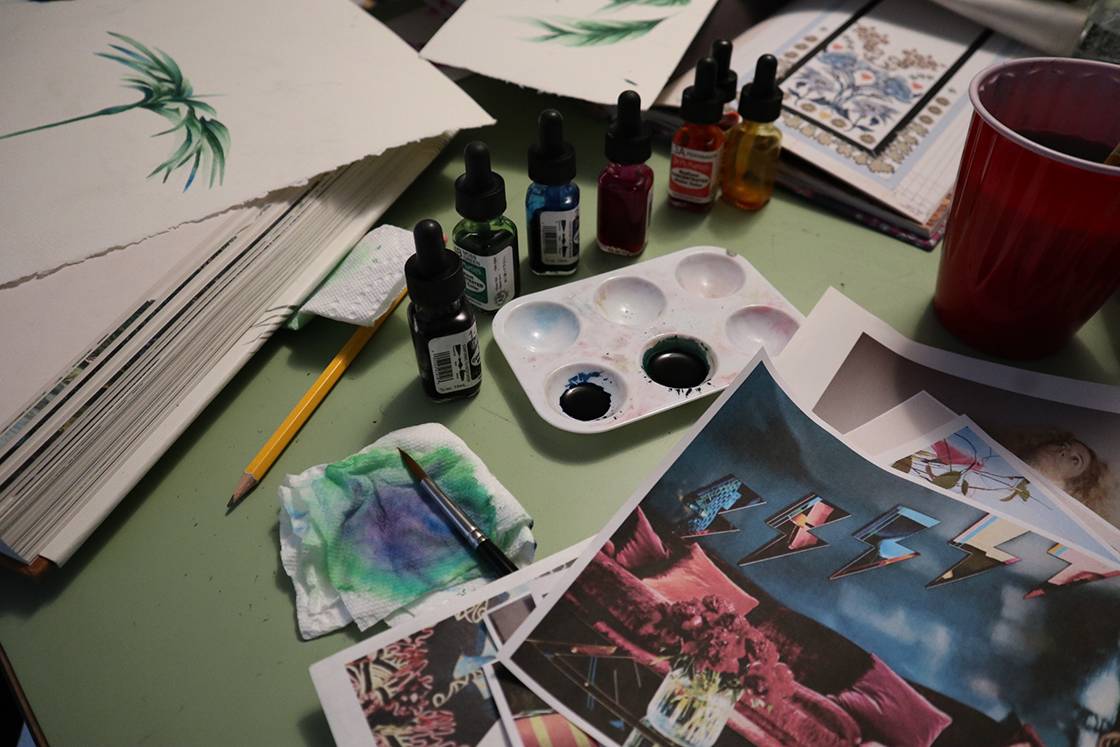 Studio must-haves and essentials for when you're working?
"I'm a weirdo who likes to have all of my stuff around me when creating. All my books, my paint, paint brushes, old inspiration images I've saved. Never know when I am going to need them!"
Who are your role models?
"Right now: Alice Temperly for how she has built her brand so effortlessly her own. Zimmermann for their craftsmanship. Virgil [Abloh] for carving his own space in the industry and bridging that gap between fashion and architectural design. Alicia Keys for her soulfulness. Peggy Gou for her fashion. I can go on."
Do you have any mentors?
"I do! Many mentors. I have mentors for my business, but I also have mentors for personal growth. Entrepreneurship is hard, but dealing with yourself and asking yourself the hard questions is also so necessary for building a successful life. Checking in with a therapist to make sure your mind and soul are right, or keeping those really great people around you that you can tell anything to and not be judged is so important."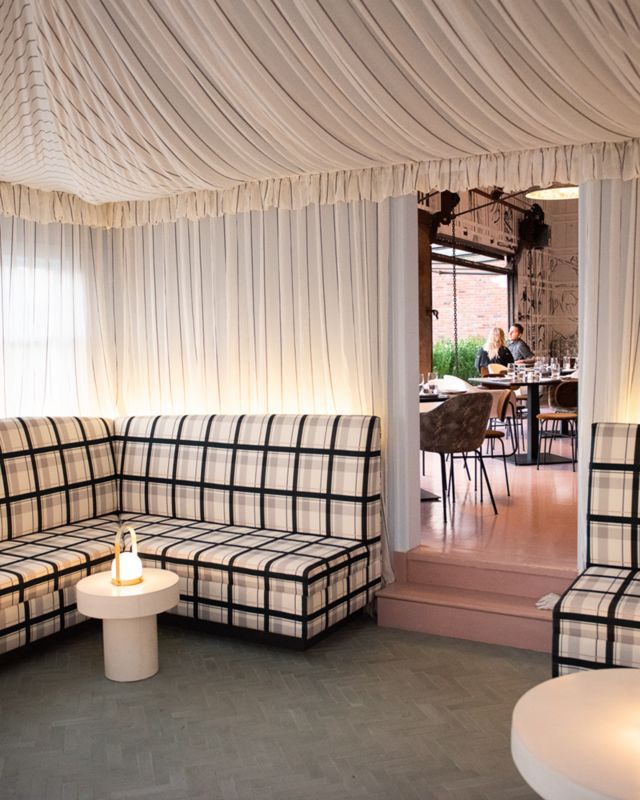 Sel Rrose Montauk
Favorite project?
"I love every single one of my projects the same. Each has taught me something, or pushed me outside my comfort zone. Sel Rrose Montauk in Montauk, New York wanted a bespoke print on their banquettes. To find commercial grade fabric that fit all codes, had the right amount of double rub count for a high-traffic area, was also stain resistant and water resistant that we could print on with no minimum quantity, oh AND pass the caulking test (color transfer test) was a mission. The designers were very particular with the feel of the fabric, we wanted to make sure it fit the Montauk Beachy vibe.
That project pushed me and showed me that anything is possible if you just go the extra mile. I also spent two weeks in Montauk hand painting the mural in the main floral room. The ceilings are 17' high with walls around 30'–40′ long. And I was alone. But I met so many people those two weeks I was out there. It was an amazing experience."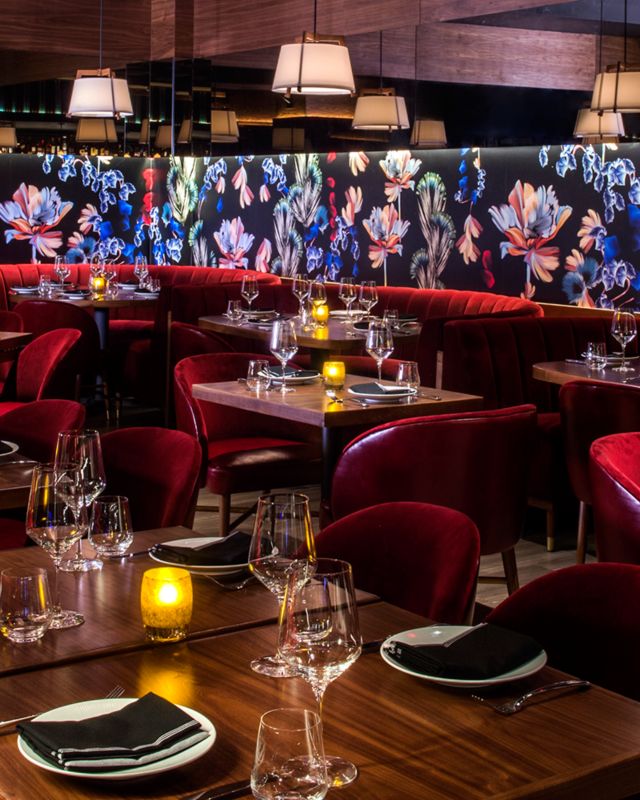 "Anything is possible if you just go the extra mile." — Candice Kaye
Photo by Seth Browarnik for World Red Eye
Papi Steak, Miami
Is designing commercial projects totally different than residential ones?
"Commercial vs. residential is very different. My commercial clients need to evoke a feeling and a vibe through the print that speaks to the concept. It needs to tell their story and what they represent.
My residential clients have a much more personal connection to what we create. The print usually comes from a story they told me, or a personal belonging of theirs. We did a willow tree mural for my clients in East Village, New York because her grandfather's nickname was tree. My job is to take this information and make it come to life in a beautiful way.
I am currently working on [a project for] another residential client in New York and she is a jewelry designer. We are creating a powder room mural for her that represents her love for gemstones. It's exciting to me that people are willing to bring me inside their homes. It's their personal safe place where they can just be themselves and put their feet up. It's a nice feeling to know I can make that experience more enjoyable for them somehow."
Biggest "pinch me" career moment (so far)?
QUICK FIRE
Concrete or marble? Concrete
City or country? Country
Dark or light? Dark (unless it's the morning, I love quiet mornings)
Red lipstick or nude gloss? Nude gloss
Tea or coffee? Coffee
Neutral or colorful? Colorful
Diamonds or pearls? Diamonds
Beatles or Stones? Stones
Still or sparkling? Sparkling
Sushi or tacos? Tacos
Pilates or yoga? Yoga
Vintage or new? Depends on what it is :)
This interview has been edited and condensed.