"Growing up, I was always fascinated by the origin of things.
I always wanted to pull things apart, to try to understand the deeper meaning of them, how they were made, and why."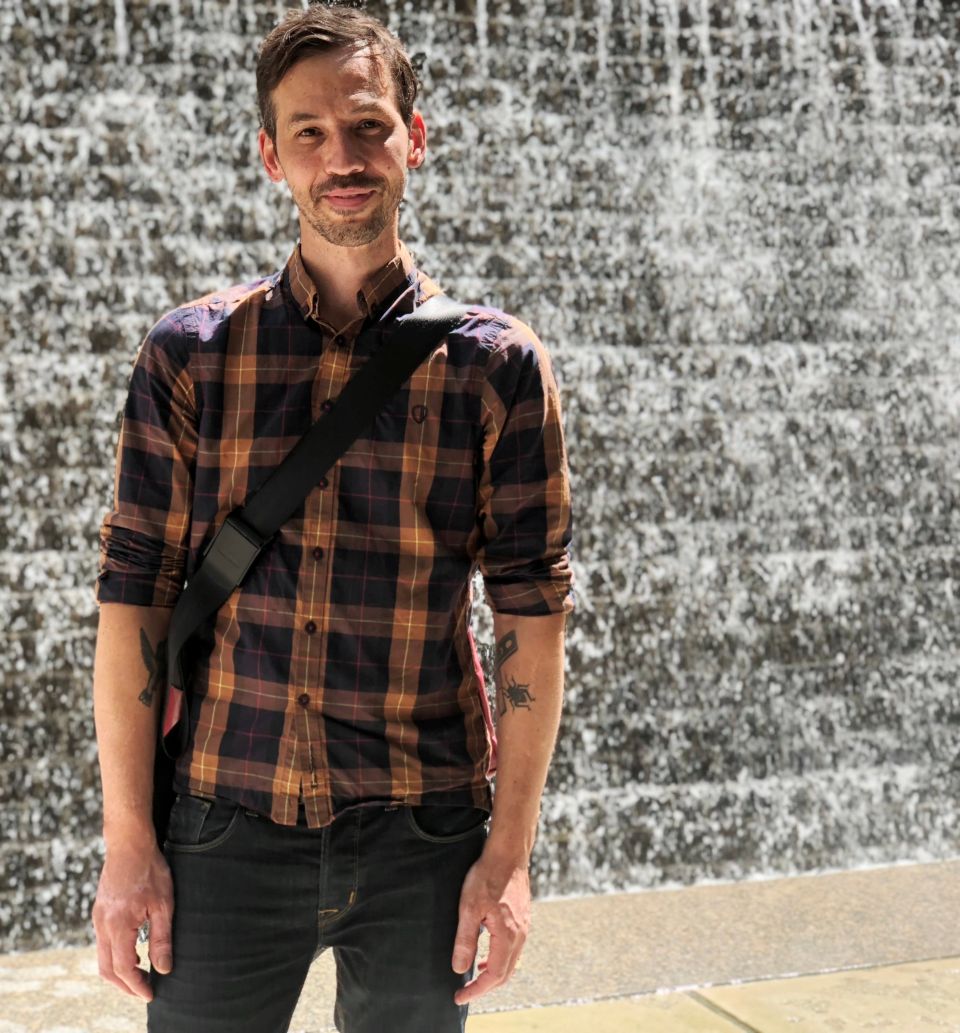 Caleb Zipperer
@calebzipperer
Where was your favorite place to live?
Savannah Georgia, circa 1999. I was in art school, living downtown, in a band, worked 4 days a week at an amazing restaurant called Café Metropole that was housed in a Greyhound bus station built in the 1940s. Café Metropole was next to the photo department at SCAD, and was a hub for creatives, outsiders, and eccentrics. Art, Design, Music, and food was my story at that time.
What's your favorite room in your home?
Ha! Living in a small apartment in Brooklyn, pretty much the whole apartment is the room. Just kidding. Our living room is my favorite room. My wife calls it a chair forest, which I love. Our living room holds all the furniture that I made back in the day as well as all the chairs that I have collected over the years. (aha! so no surprise that the first item we worked with Caleb to design for CB2, was the Walkway Chair…and the majority of the pieces he's designed for us are, chairs.)
In your opinion, what is the best designed item of all time?
If I wanted to be cerebral, I would say the arch. It is by nature beautiful. The shape is only what it needs to be to serve its function, and is magnificently simple in design.
In my life time, the Technics 1200 turntables. They are a great example of how a well thought out design can transcend design trends and have an enjoyable impact on humanity. They brought us music in a new fashion allowing DJs to blend tracks, creating a new counter culture of music lovers. These turntables remained unchanged and in production from 1972 to pretty much 2010. If there is nothing wrong with it, don't fix it. Design should be forward thinking, utilitarian and well built.
What are your sources of inspiration?
I tend to have my head in the clouds, as the saying goes. I am constantly just curious about everything that surrounds me. I like to walk around making observations and cataloging them in my memory.
"Get rid of things you don't need. Make sure you paint your walls a good white. It makes a difference."
What do you drive?
I drive a great old Italian bicycle. Also, a VW GTI.
What one item do you wish you owned?
My 1986 Saab 900 turbo. This was my college ride and I thought I was all fancy in it, but I really loved that car.
What are your interests outside of design?
I love listening to music, watching old films, collecting old audio equipment, reading old manuals, taking things apart, and fixing things. Also, I love cooking for friends and family.
Who are you design icons?
Patricia Urquiola, Louis Kahn, Pierre Paulin, Karl Springer, Hans Wegner, Jean Vendome, and Ettore Sottsass.
Form vs. function?
Form, function is a given.
What is your personal decorating style?
Modern eclectic. I like spaces that looked lived in. Just enough interesting things mingled around old furniture finds , dashed with some contemporary pieces. I like bold shapes and using color in unexpected places..
What's your favorite possession?
My Technics 1200 turntables.
What was/is your biggest indulgence?
My home. Every square inch was designed to express my concept of living–designing from the inside out.
What's the best career advice you ever received? Ever gave?
The best I received was: "Do what makes you happy because you could be doing it the rest of your life." Mine is: "Don't ever say no it can't be done."