Decorating lessons from an interior designer who tricked out a pair of modern apartments.
Sometimes great design really is a matter of black and white. Just ask interior designer Liz Klafeta of Bangtel, who transformed a pair of standard apartments in the Lincoln Park neighborhood of Chicago into sleek vacation rentals. Drawing on a sophisticated mix of unique furniture and playful accessories—much of which came from CB2—Klafeta carved out zen zones in the middle of a busy city (not an easy task to do). Not only are the spaces below available to rent for short or long-term trips, but they're filled with design inspiration for any home. Here, we asked Klafeta to dish on her favorite tips for using the versatile color palette.
1. Black and white is bold and beautiful. "It's fun and striking, yet inspiring," Klafeta says. Clean white walls and dark furniture and accessories create a match made in design heaven. At times, sticking to such a refined palette required Klafeta to get creative, like hiring an upholsterer to dye a bright orange chair and light grey couch both black. The pieces were then sealed so the dye wouldn't come off on guests' clothing. "It was an inexpensive fix, and enabled us to still use them in the spaces. BIG WIN!" she says.
2. Mix up your textures. "If I'm looking at items that are all one medium, it's mandatory for me to swap them out, then mix in some wood, upholstery or something mirrored, " she says. In one dining space, a metal table and triangle light by furniture designer TJ O'Keefe are softened by slipcovered end chairs for a cool, yet comfortable effect.
3. Display art smartly. Rather than install televisions on top of mantels, Klafeta propped up large pieces of modern art that make a statement. "When I saw Embrace by Jacob Thomas, I knew it had to be the focal point of the room. There was no other place for it," she says. "I'm also in love with the random installation of gorgeous collage art by Heather Gabel of Johalla Projects. Anna, of Johalla, did an amazing job at sourcing different sized frames, and it took Heather Gabel an hour or less to install it!"
4. Keep things light with games and fun accessories. "I'm a big fan of fun, so games and random fun items always make things a little less serious," Klafeta says. Plus, I think it's important to offer alternative and interactive activities. We're so technology-based and always on our phones, so I think it is important to bring it back to the old-school way of human connection!"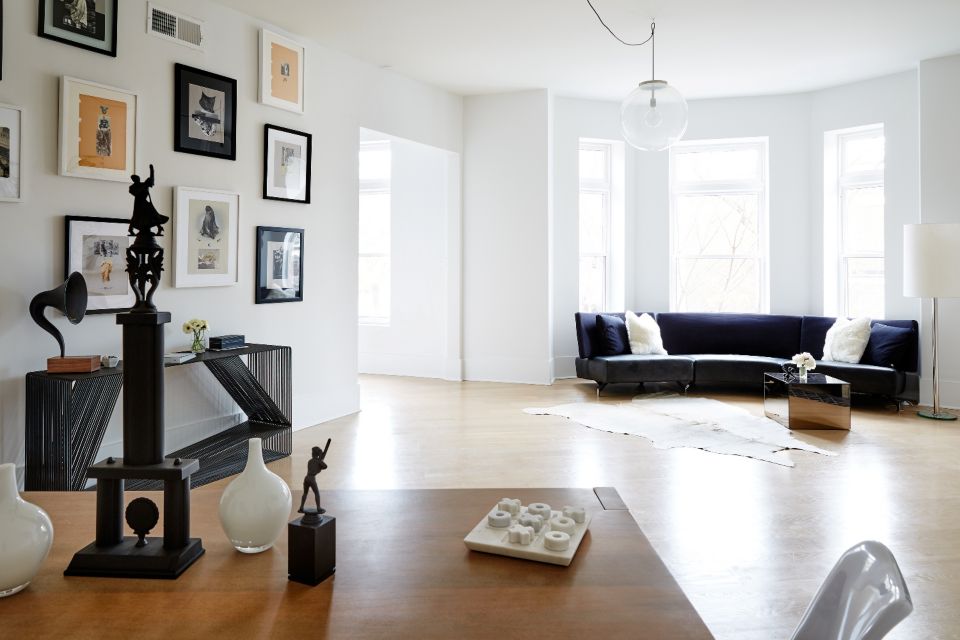 Photo by Aleks Eva Photo
5. Scale up and down. "With rooms so big, it's important to ground the space," she says. Working with units that are 1200 square feet gave Klafeta a ton of room to play, so she built a custom faux hanging bed, installed large pendant light fixtures, and set out a cool teepee. In two bedrooms, she opted for sleek black canopy beds to create drama and height without overwhelming the space.
6. Wallpaper makes a room go round. "Wallpaper is essentially wall-to-wall art, and I have always loved using it." She suggests looking for intricate wallpapers that tell stories and have really long repeat patterns, like toile. The bathroom wallpaper (she snagged it from Ebay) is titled the "Four Corners of the World," which she thought was beyond appropriate for a vacation rental bathroom.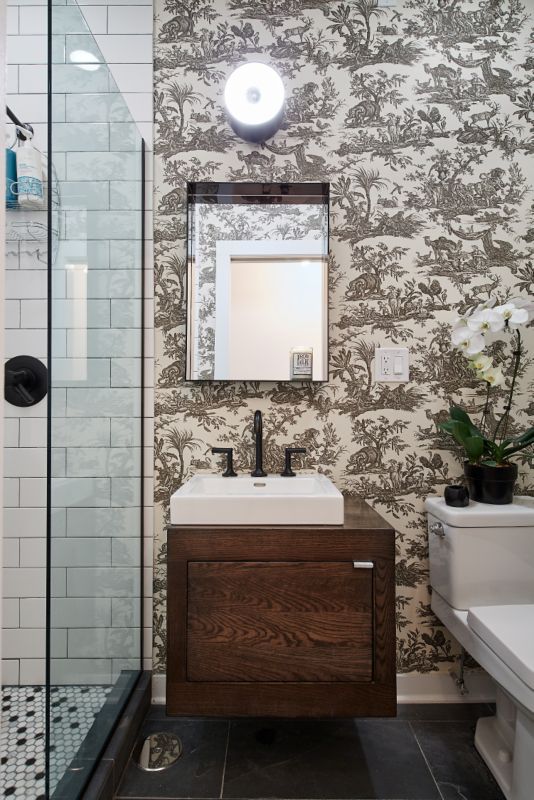 Photo by Aleks Eva Photo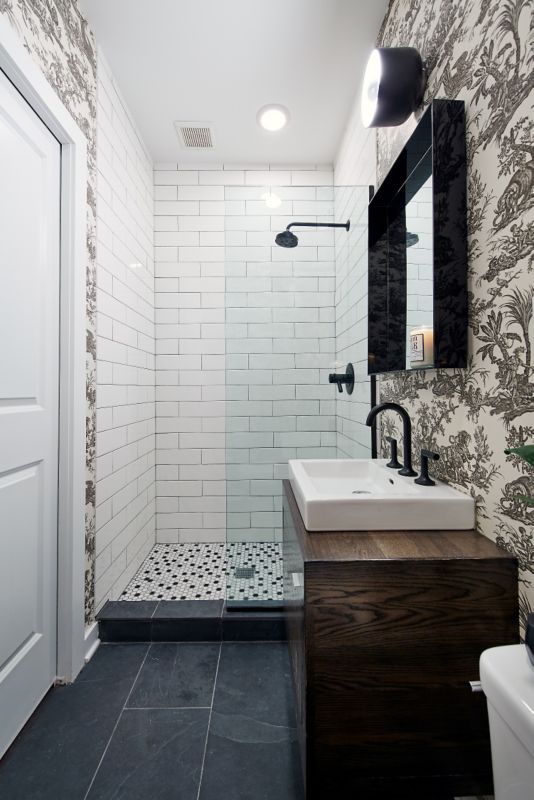 Photo by Aleks Eva Photo