Tell us your situation and our Business Sales team will offer ideas, products and interesting custom presentations. We do big orders, small orders and everything in between.
for large volume corporate orders contact:
CB2 Business Sales Office,
Monday - Friday, 8 am - 5 pm CT
Phone: (800) 606-6372
Fax: (630) 527-1016
contact us
restaurants/bars
Trendsetting tables and tabletop, barstools and barware. Lamplight and candlelight, wall mirrors and wall art. CB2 clients include the hottest new places from NY to LA to Miami. And we do great lobbies, powder rooms and spas too.
corporate gifts
Say thanks to associates and clients with a most unexpected, un-corporate gift from our modern design collection. CB2 prices fit even the most minimal of budgets.
model homes/offices
CB2 modern design moves properties. We showcase model condos, lofts, and townhouses, and outfit workspaces with furniture, accessories, rugs and lighting scaled to make spaces look and live larger.
special events
Our cool take on design adds a wow factor to the take-home momento at benefits and business functions. And CB2 amazingly low prices make quantities very do-able.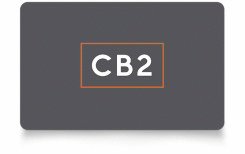 The coolest piece of plastic there is. CB2 Gift Cards are available in any denomination and are good for purchases in our stores, catalog, and cb2.com. And they arrive in a neat design folio.