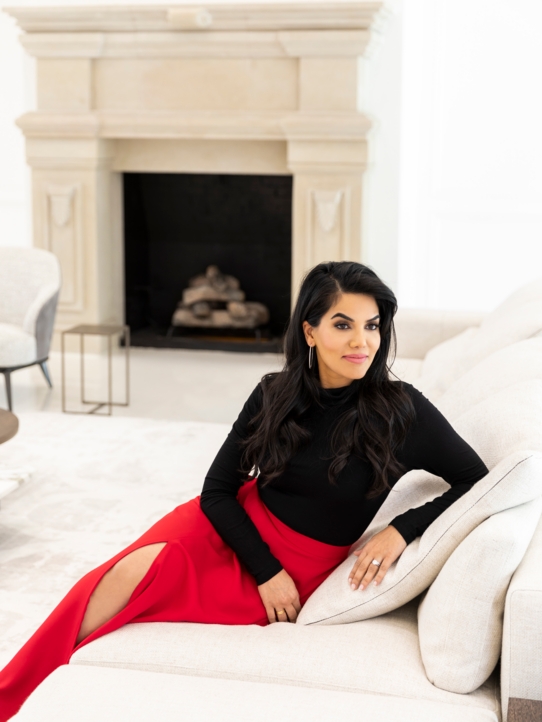 Nina Magon
isn't your typical
Houston
designer. "We go against the grain of Texas in general. You see a lot of very comfortable, southern, beige and white. We've tried to bring the drama, a more forward-thinking approach," says the Principal and CEO of her eponymous design studio.
She's been dubbed "Houston's most glamorous designer," and a quick perusal of her portfolio makes it easy to see why. For Magon, interior design is a platform to educate her fellow Texans about the full range of design styles and influences available to them—and her global perspective and lifelong love of luxury coupled with a drive and ambition to succeed make her just the person to do it.
The path to interior design was a winding one, however. Inspired by her family's business sensibilities and success in commercial real estate, she studied economics and finance at Southern Methodist University, but her creative streak never quite let go. "I've always loved fashion and opulent things," Magon says. "I realized that the luxury landscape of the world was widening and my true calling was to create environments that provoke emotion."
Magon's "refined, bold and daring" designs attract an international clientele—or, if they're not literally from another country, they're global citizens and jetsetters who want to know what's now and what's next. It makes perfect sense for Magon, who is Indian and whose parents moved to Canada shortly after their marriage. And that global perspective extends beyond Magon herself, who jokes that she has hired "the UN in my office." She's intentionally built a team with diverse backgrounds—from Houston natives to those hailing from farther-flung locales like Nigeria and Colombia—and brings forth their international perspective in every single project.
As is true of many designers, travel is a major inspiration for Magon, but she filters that through her own luxurious perspective and point of view, too. "Through travel, I've opened my mind and learned design techniques from various cultures to gain a global perspective," Magon says. "There are so many different design styles throughout the world. It's motivated me to discover more and create designs that blend the old with the new." Milan is a favorite destination, in particular touring the works and landmarked homes of the great Gio Ponti "to gather inspiration from the intricate details found in the ceilings and classical moldings that contribute to the beauty of his interiors."
Her work spans both commercial and residential spaces, all with a signature sense of bold sophistication and refined materials. In fact, when asked her favorite project, Magon cites her first-ever hospitality venture, 51fifteen Cuisine and Cocktails inside of Saks Fifth Avenue in Houston. "51fifteen will always hold a special place in my heart because it's the first restaurant I've ever worked on, and it propelled me to the luxury market of hospitality design," Magon says. Now, her projects include high-profile restaurants, resorts, boutiques and more throughout Houston—as well as some of the area's most stunning homes.
How does Magon make it all work? We asked her for advice, and her reply was simple yet impactful: "Be bold and authentic. To get noticed, you must go against the grain and constantly educate yourself to become a better version of yourself." Words to live by, indeed.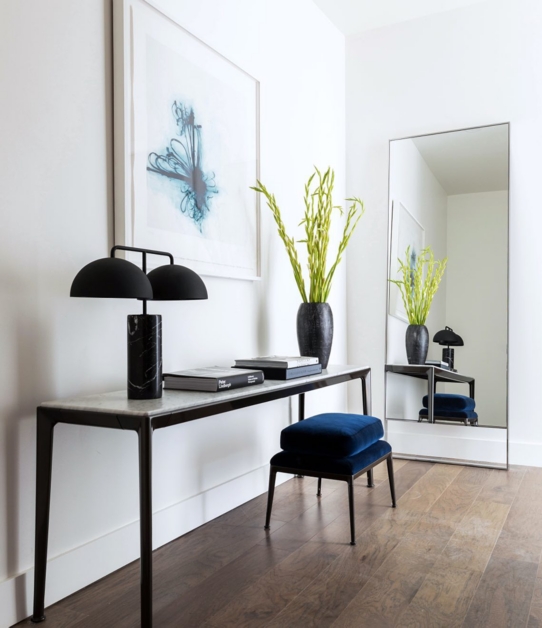 Quick Fire
Work in silence or with background noise: Background noise
Soundtrack of your life: "Vivir Mi Vida" by Marc Anthony
Coffee order: French press with oat milk and honey
Cocktail order: Grey Goose Vodka Soda
We'll never catch you without: My phone
Guilty pleasure: Online shopping
Airport reads: My email
Style icons: Versace
Favorite designer: Peter Marino
You'll never get sick of: Latin beats and Spanish guitar
Your current state of mind: Focused
Favorite place to travel: Madrid, Spain
Where you'd most like to live: Miami
On your nightstand: A picture of my kids
Last thing you binge-watched: Game of Thrones
Your greatest extravagance: Traveling the world
Most overused word or phrase: "That's perfect"
Tea or coffee: Tea
City or country: City
Vintage or new: New