We're continually inspired by fashion, music, art and literature, but sometimes nothing beats the silver screen — and 2018 was a pretty great year for movies. Whether it was a groundbreaking superhero epic or quirky tale of duelling courtiers in 18th century England, our favorite films of 2018 were united in their sense of spectacle. So we decided to pay homage and bring the stories to life through movie-inspired decor.
A Star is Born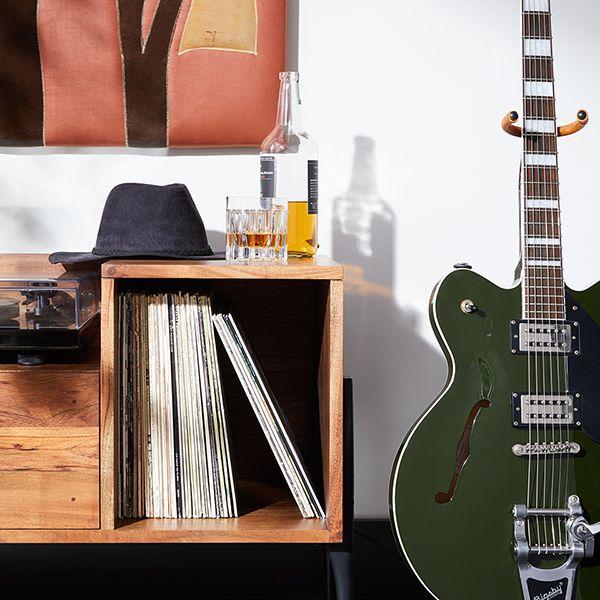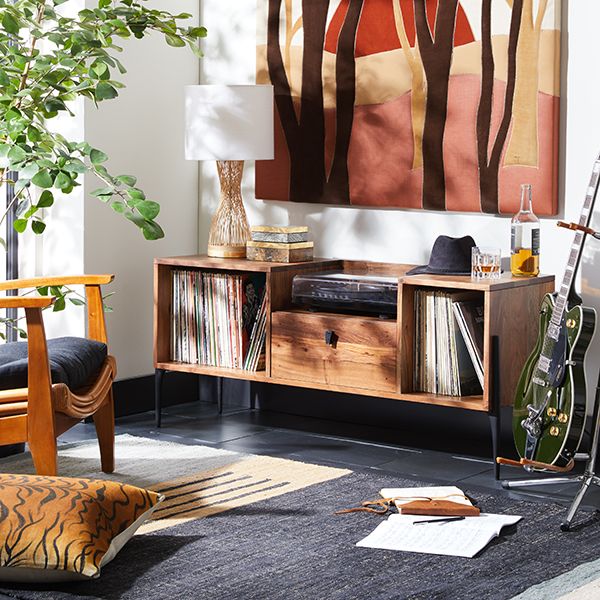 "Shallow" was practically inescapable after Bradley Cooper's take on "A Star is Born" debuted in fall 2018 and it's been stuck in our heads ever since. There were so many moments we loved in this classic Hollywood tale, like the drag bar where Ally belts out "La Vie En Rose," but we decided to draw our inspiration from a combination of Jackson's rugged rockstar style and the home he shares with Ally and their adorable dog, Charlie (who also happens to be Bradley Cooper's dog IRL).
We couldn't resist throwing in a hat reminiscent of the one Jackson wears throughout the film and a songbook that calls to mind Ally's lyric notebook. Recognize that guitar? Yep, it's the same Gibson Memphis style that Jackson plays.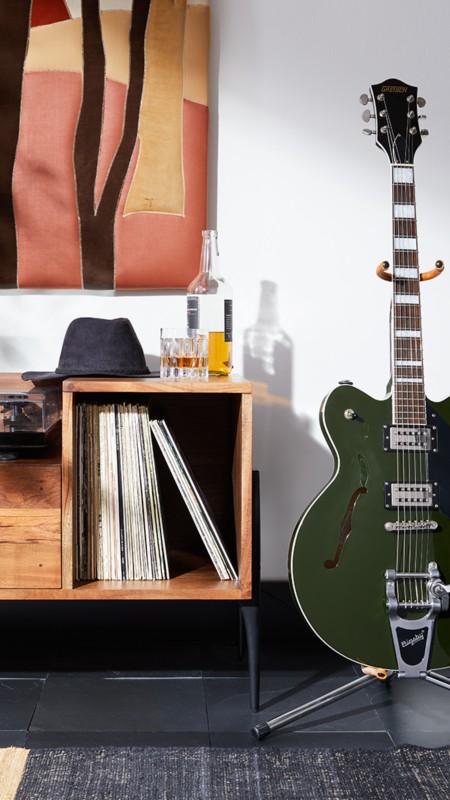 Black Panther
Sure, T'Challa's got the suit and the title, but his little sister Princess Shuri ran away with "favorite Wakandan" for us. (It doesn't hurt that she's probably one of the only people in Wakanda who can serve T'Challa that much sass.) We might not have Shuri's genius, but we feel like we could get a little closer in this workspace inspired by her high-tech, brightly colored lab deep under the mountains. Wakanda Forever, indeed.
Crazy Rich Asians
Judgmental extended family aside, who wouldn't want to enter the world of Nick Young for a day or two (or more, if we're being totally honest)? "Crazy Rich Asians" was full of scenic eye candy, but we were particularly taken with the over the top "royal wedding of Asia" with all its lush botanicals, glowing lanterns and rich details.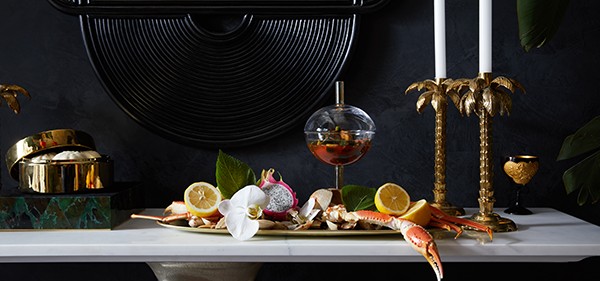 Ultra-luxe materials like marble and brass and a black and red color palette feel super high-end, and we also added some floating lotus flowers in tribute to that amazing moment when the church aisle fills with water.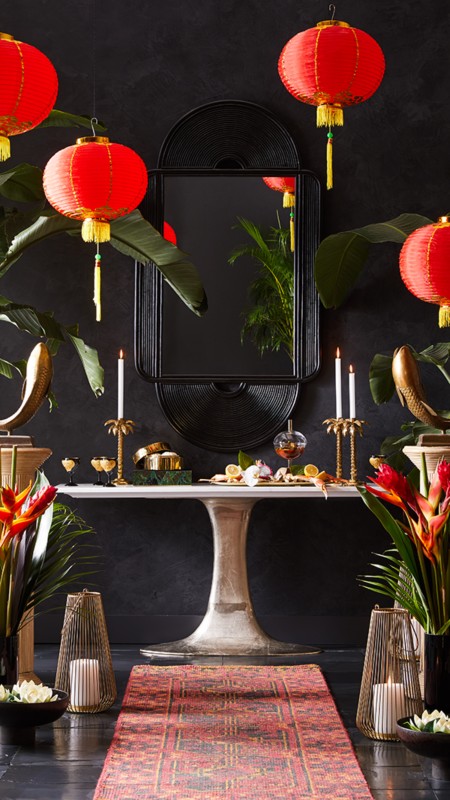 The Favourite
"The Favourite" isn't your standard period piece. It's a lusty story of palace intrigue set amongst 18th century English splendor that's witty, vulgar and more than a little dark — which is exactly what we love about it. To get the mood of Queen Anne's court, we combined vintage-inspired pieces like our Chinoiserie Rug and Palace Round Brass Box with actual vintage candle holders and vases from one of our favo(u)rite Chicago shops, The Savoy Flea.
Bohemian Rhapsody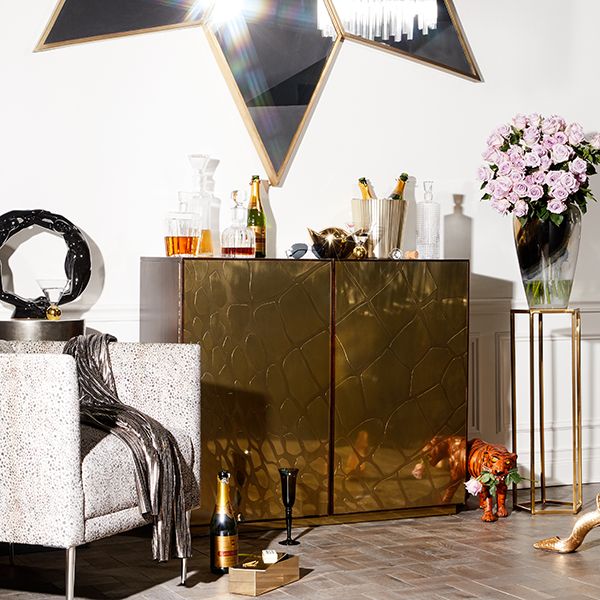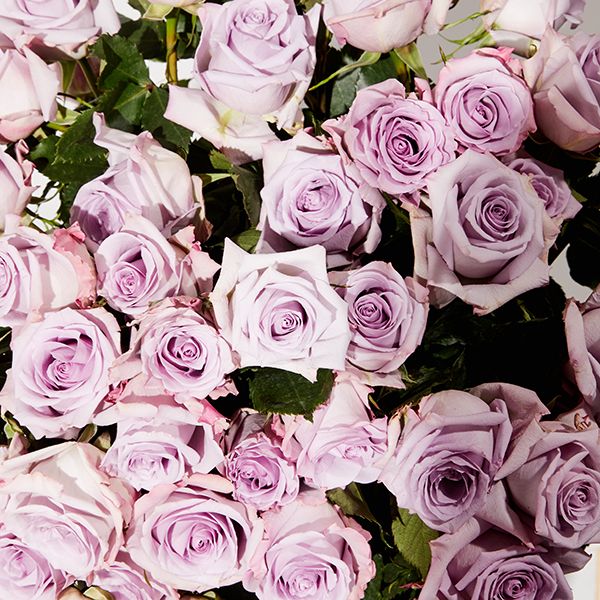 Freddie Mercury was the consummate entertainer, both on stage and in his home. He knew how to throw a killer party, and if "Bohemian Rhapsody" is anything to go by, even the next morning had definite rock 'n' roll glam — champagne bottles, abandoned heels and all.
This is another one where we had a lot of fun with details, like Freddie's signature aviator shades propped on the bar. Oh, and the tiger statue is a nod to both his well-documented love of cats and the lyrics to "Don't Stop Me Now."