For many of us, the holiday season means lots of quality time spent with the whole extended family – but what about the people you actually enjoy spending time with, your chosen family? (Sorry, biological fam, we still love you.)
We wanted to do something a little different and out of the box for our friends this year, but still fun and not so involved that it's impossible to pull off. So we partnered with blogger Meg Biram and mixologist Devin Kidner to help us bring to life a unique holiday get together and gift exchange: a twist on high tea that's sure to become a new holiday tradition.
Meg was inspired by a recent visit to Phoenix's Bitter and Twisted Cocktail Parlor. "They had this tea milk cocktail that I was just obsessed with, and I wanted to recreate it for my friends," she said. "So instead of having your typical holiday party, I thought it'd be fun to just change it up and have like a chic granny boozy tea party."
PUTTING THE BOOZE IN BOOZY TEA PARTY
Naturally, hosting a great boozy tea party is crucial to this holiday get-together, and the drinks are a huge part of that. Luckily, we know a mixologist who knows a thing or two about creating cocktails. Devin Kidner of Hollow Leg put together this tea cocktail recipe for us:
Ingredients:
1 1/2 oz black tea-infused vodka (see below)
1 oz apple brandy
1/4 oz honey, or more to taste
One slice tangerine peel, pith included
Fresh ginger
Add the first 3 ingredients to cocktail shaker and dry shake (i.e. without ice) until the honey is well-combined. Muddle in a large piece of fresh ginger and tangerine peel.
Can be served chilled, by shaking over ice, or warmed, by gently heating on the stove until steaming.
To make black tea-infused vodka:
Place two black tea bags in 8 oz of vodka and let sit overnight, or longer if you want a stronger tea flavor.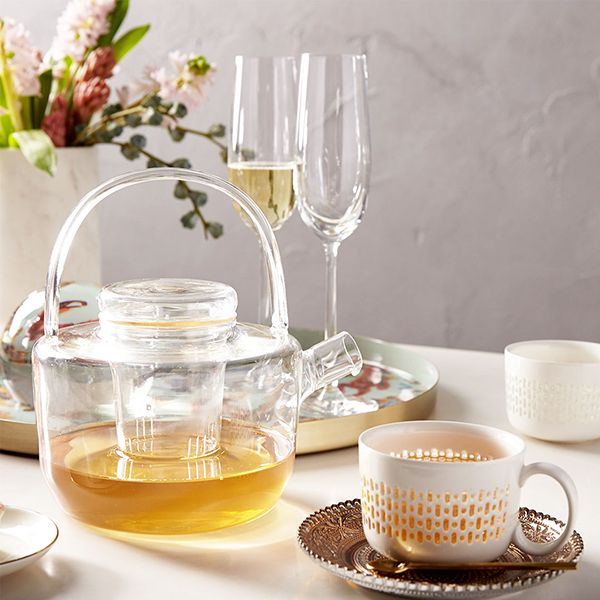 We recommend having some champagne on hand as well and picking up a couple different pastries from your local bakery to serve your guests. Petit fours and tea sandwiches? Very granny chic.
FAVORITE THINGS GIFT EXCHANGE
We love a good gift exchange, but shopping for everyone can get overwhelming. So if we're putting a twist on high tea, why not put a twist on gift giving while we're at it, too? We love Meg's "Favorite Things" gift exchange idea.
The gist of it is this: instead of giving everyone a different gift, buy your favorite thing for all your friends. Then, you leave with all your friends' favorite things, and they get to take home one of your favorites!
For example, Meg is a big hot chocolate fan, so she brought her favorite blend with a mug for each of her friends.
Another idea: a favorite around the CB2 office is the GSD notepad Meg created. It's fully customizable and would be super cute to give as part of a girlboss starter kit with other chic office supplies and necessities. You can download the template here, and take it to any local copy shop to create a notebook or notepad.
For more holiday tips from Meg and Devin, be sure to check out our IGTV series, CB2 At Your Service.