Our recipe for the one-pot party favorite with a seasonal twist.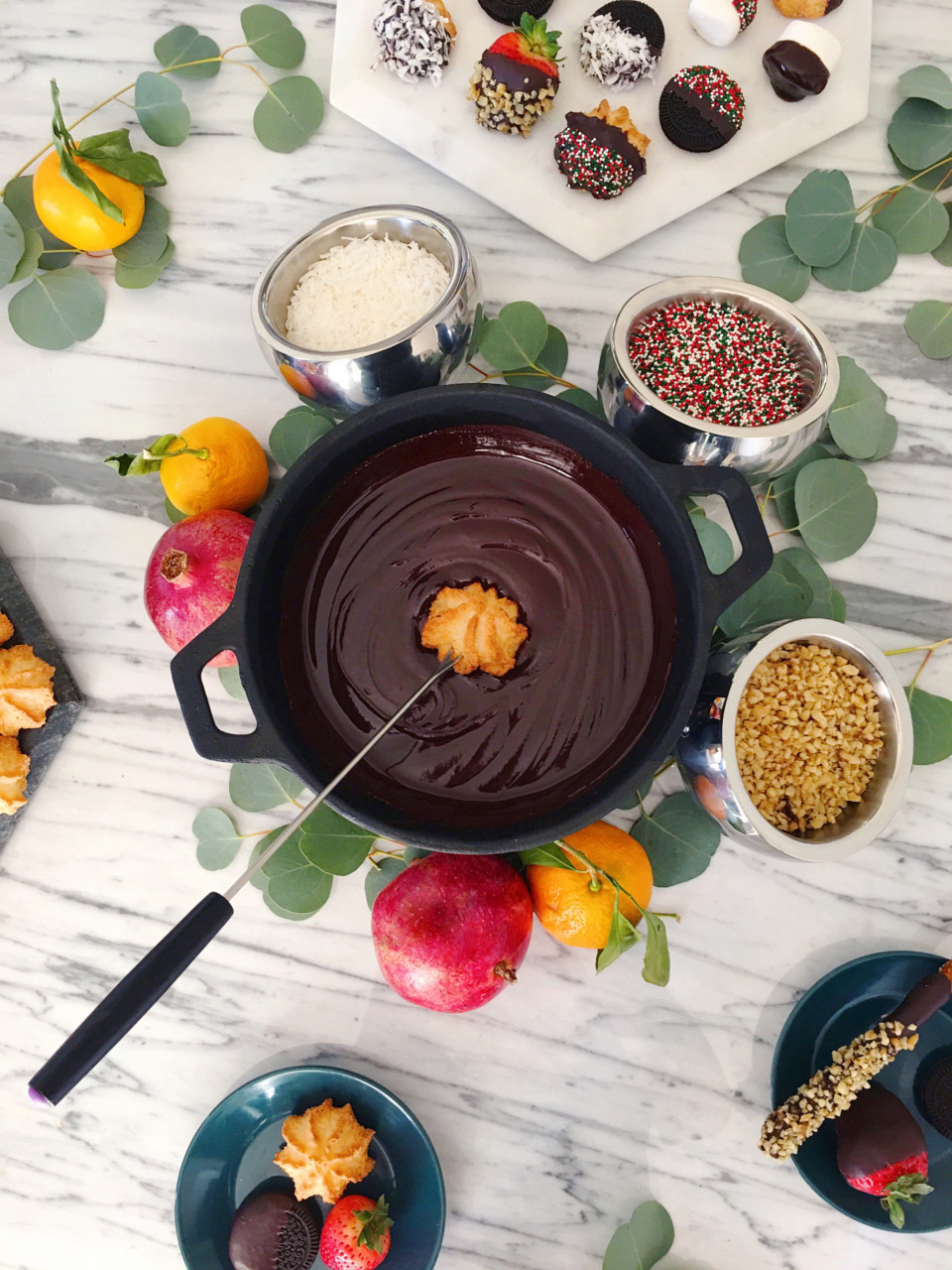 Photography by Meg Quinn
We did an informal poll to find out what the best holiday parties all have in common: merry music, glitzy decorations, and cocktails aplenty. Snacks are always appreciated, but we see them as more of an added bonus. So what's the one dish that's easy for hosts to pull off and fun for everyone? Fondue. We asked Meg Quinn, home and food stylist of Ain't Too Proud to Meg, to share her secrets for serving the creamy chocolate dip in our black cast iron fondue set. It turns out the quality of the chocolate does matter (she uses Ghiradelli), as does the addition of speciality extract, fruit syrup or a fine brandy or liqueur. Playful toppings add sweet finish, and mini take-home boxes make it easy for guests to pack up leftovers. We're pretty sure it'll be your new favorite holiday tradition.
---

Holiday Chocolate Fondue
Ingredients:
2 cups bittersweet chocolate chips
1 cup heavy cream
2 tsp. vanilla extract (or espresso or coconut—which goes great with pineapple and mango)
Pinch of salt
Items for dipping: fruit, macaroons, cookies, pretzel rods and marshmallows (just make sure they're dry or the chocolate won't stick)
Optional toppings: chopped nuts, sprinkles and shredded coconut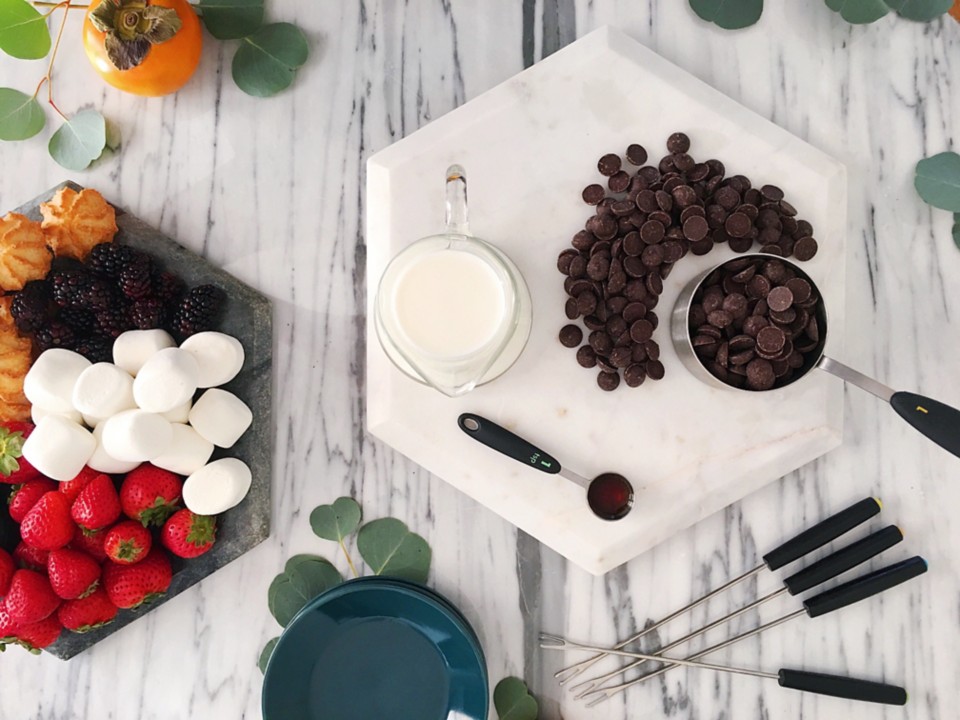 Photography by Meg Quinn
Preparation:
Working with the fondue pot on the stove on low (you'll transfer it to the stand once the chocolate has melted), melt cream and chocolate chips together, stirring occasionally. Add in vanilla and salt. Transfer fondue pot to the stand. Set out dipping items (fruit, cookies, pretzels, etc) as well as toppings such as sprinkles, chopped nuts and shredded coconut. Dip to your heart's content!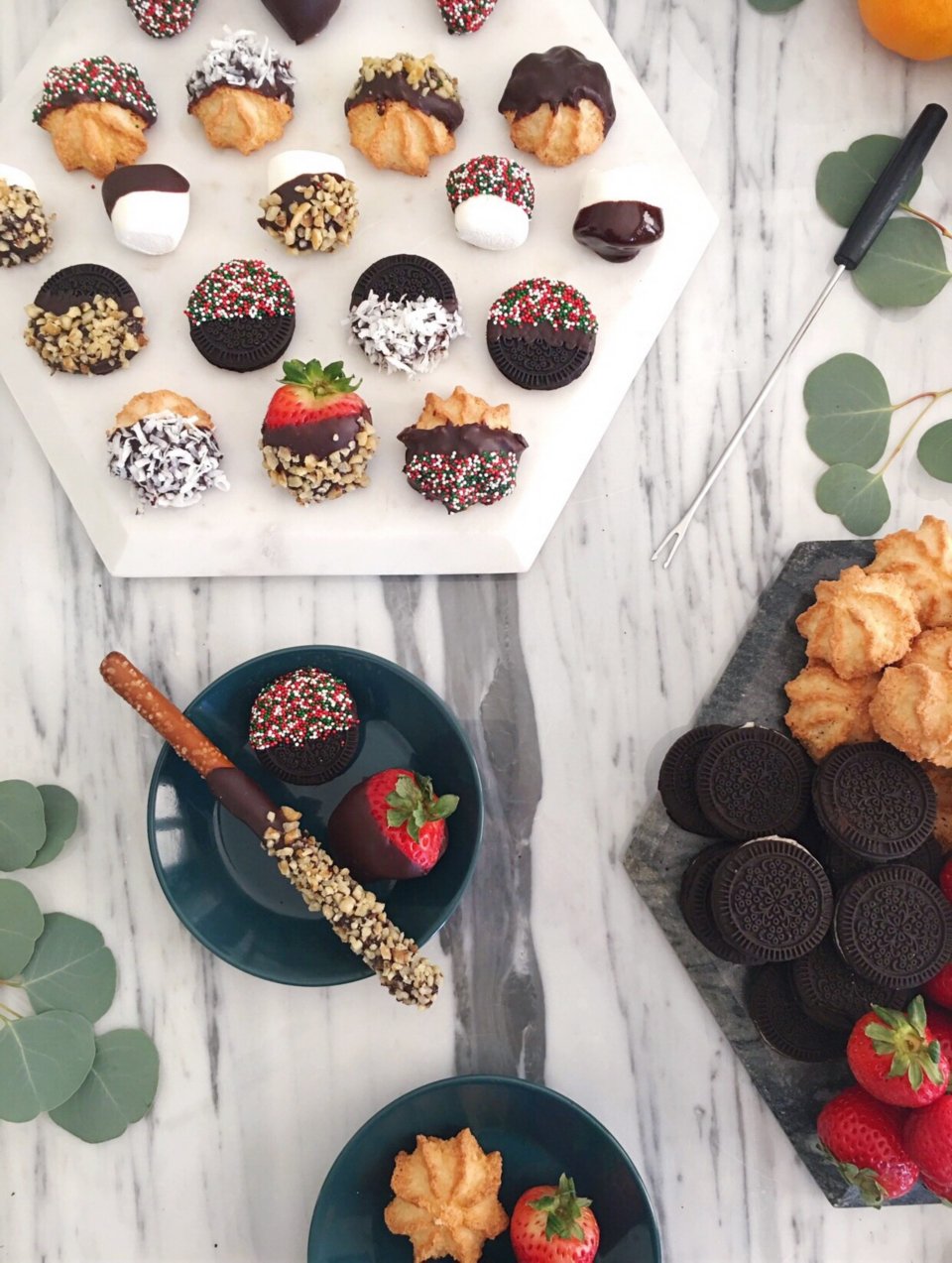 Photography by Meg Quinn
Pairing your festive fondue with holiday cocktails? Check out our collection of unique bar gifts.