Do you ever go weeks — or even months — between seeing friends, but when you finally do get together, everyone agrees that "we have to do this more often!"? Artist and blogger Meg Biram gets it, and she has a simple solution: take the pressure out of entertaining and use any excuse to have people over. Awards season provides plenty of reasons for a party, and Meg shared some easy Grammy party ideas to kick it off, including a fun printable Bingo card for your guests. Click here to download it, and read on for her tips.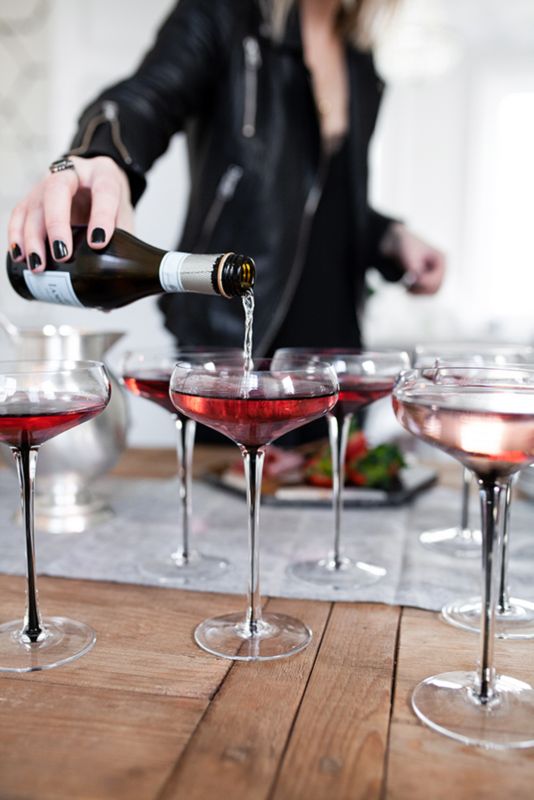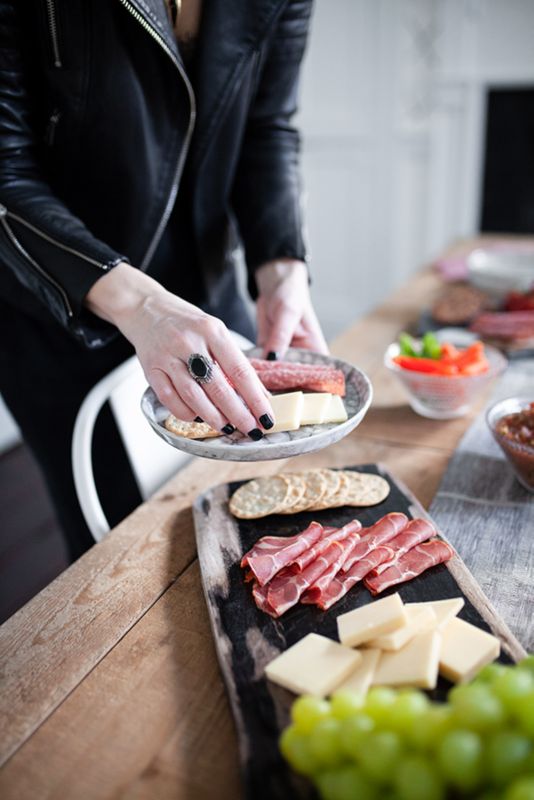 Getting together doesn't have to be an ordeal. Sometimes we make things a bigger deal than they need to be, when really your friends don't care if your house is spotless or if you spent hours cooking for them — they just want to be with you.
You can always get together with friends randomly, but doing it around an event like the Grammys can add a fun twist to the night and just gives you a reason to have people over. It gives you something for the group to focus on and experience together. Who knows, maybe a Grammy Party will become an annual thing!
To help you take your little gathering to the next level I made some print outs you can download and use as a fun Grammy Bingo game (whether you bet with cash money, make it a drinking game, or everyone brings some sort of funny gift for the winner — do it however you like)!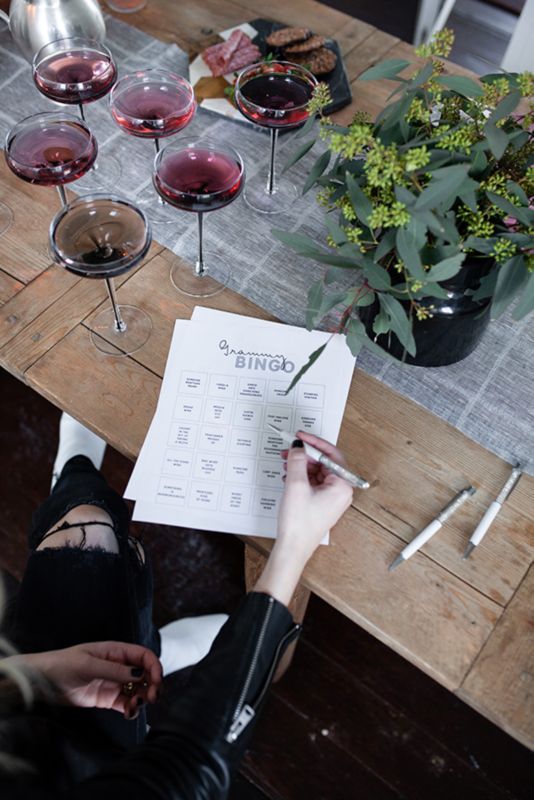 If you have time to make things from scratch and put together a decorated themed get-together, knock yourself out. But just having friends over to your imperfect home, putting a nice charcuterie board together, and whipping up a batch of fun cocktails is plenty. Don't overthink it! Pull out your nice cocktail glasses and napkins, light a few candles, and they'll think you spent all day working on it when really you didn't.
Sometimes I don't even plan what food I'm going to have, I just go to the grocery store, and see what speaks to me and see what they have in stock and boom — there's the menu. I think it's fun to think up menus and have a fancy dinner party, but that's just not realistic most of the time.
Once I was on my way to a party and forgot I was supposed to bring an appetizer, so I stopped at a Chinese restaurant on my way and picked up a bunch of crab rangoon. My husband thought I was nuts, but everyone smelled it when I walked in the door and they immediately devoured it!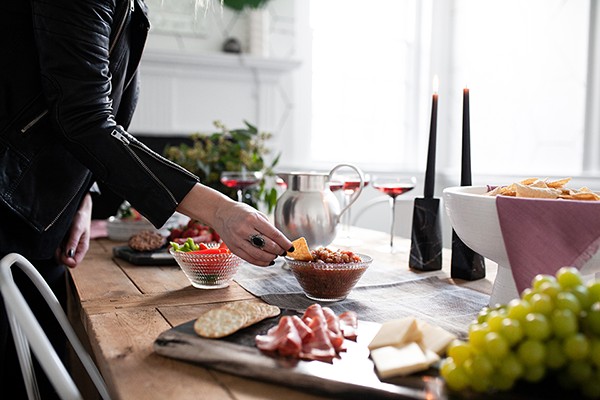 To save time, make a drink you can put in a pitcher and everyone can self-serve when they are ready for more. You can always leave the alcohol out so people can add their desired amount. I love making a simple crowd favorite cocktail like a cosmopolitan: all you need is vodka, limes, triple sec, and cranberry juice. They're easy to make, easy to drink, and hard to hate.
Love Meg's Grammy party ideas? Check out her granny chic tea party, outdoor entertaining tips, or visit her site MegBiram.com for even more inspo.
SHOP AWARDS SEASON ENTERTAINING
Photos by Luke Wright for MegBiram.com.