Earlier sunsets. Moodier hues. Spicier scents. All the trappings of fall are here — and we're itching to bring them home. PSLs, hayrides and apple picking this is not. We're feeling a vibe, and it's rich. It's deep. It's a little dramatic. It makes a statement, and that statement is, "I am very cozy, but in a cool way."
Not that we're against a traditional fall palette. We've just sort of been there, done that at this point. This season, we were looking for something a bit more unexpected. We found it in CB2 prop stylist Miriam Bouleanu's home, which masterfully layers antique treasures and new finds.
In fact, we think that mix of vintage and new is really where the magic lies, and highly recommend scoping out your local flea market if you haven't yet. Vintage pieces just have a way of adding stories and character to a space, and we bet even the most minimal among us can find a thing or two to layer into a cozy living room this fall.
So we turned to Miriam to see how, exactly, she transitions her home between seasons and get her tips to achieve that magic mix of vintage and new — and were pleasantly surprised to find out that her ideas are super achievable in any space.
That mix of vintage and new is really where the magic lies.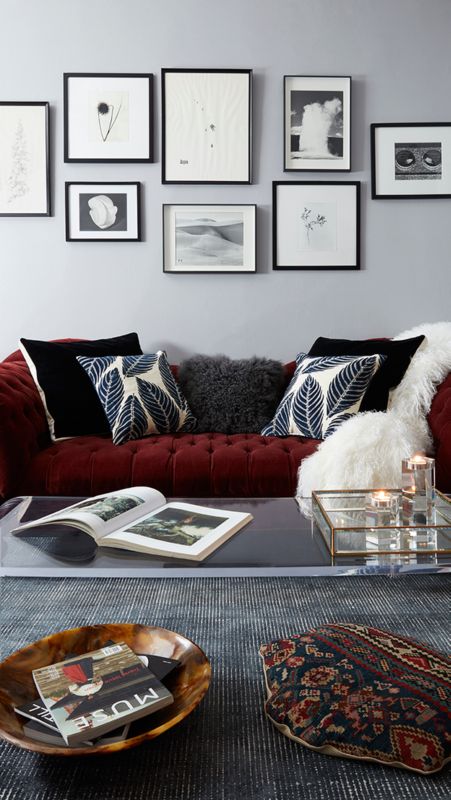 It's true: Miriam's jewel-toned velvet sofa already screams fall, but it was previously styled with simple black pillows. She upped the cozy living room factor with an explosion of texture and textiles, combining luxe Mongolian fur and velvet pillows with a sheepskin throw for the ultimate glam-meets-hygge retreat.
Miriam also stuck to a color palette that plays well against her gorgeous burgundy sofa (in this case, shades of black, white and navy) to keep the whole thing cohesive and chic. When spring rolls around, the navy pillows can easily be swapped for a brighter hue to match the season. We're thinking blush pink and copper would be stunning.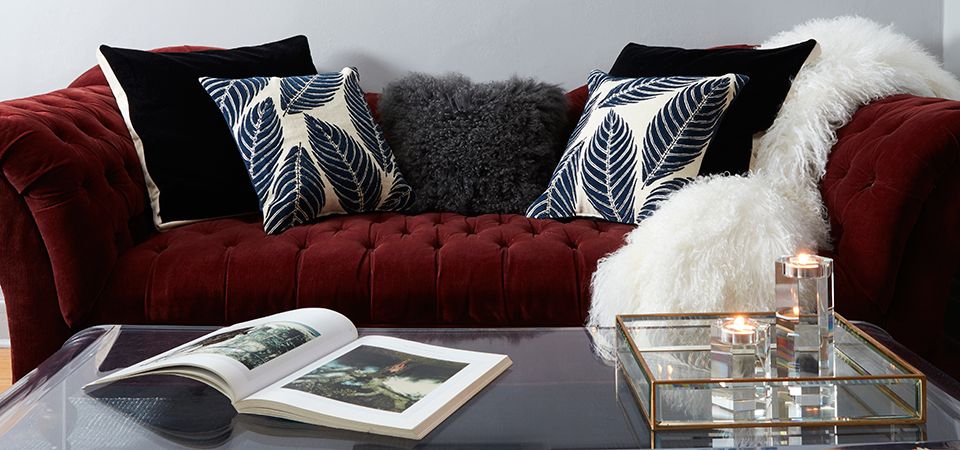 Fall layers need not be limited to scarves and clothing — or even throw pillows and blankets, for that matter. Miriam added more decor to her coffee table for the season, giving it a warm, eclectic vibe. Before, glass and acrylic accessories emphasized the acrylic table's airiness, so she swapped out the glass tray for a dark marble one and layered in moody, textured pieces. It's a simple yet effective way to transition from sleek summer style to a more decadent fall moment.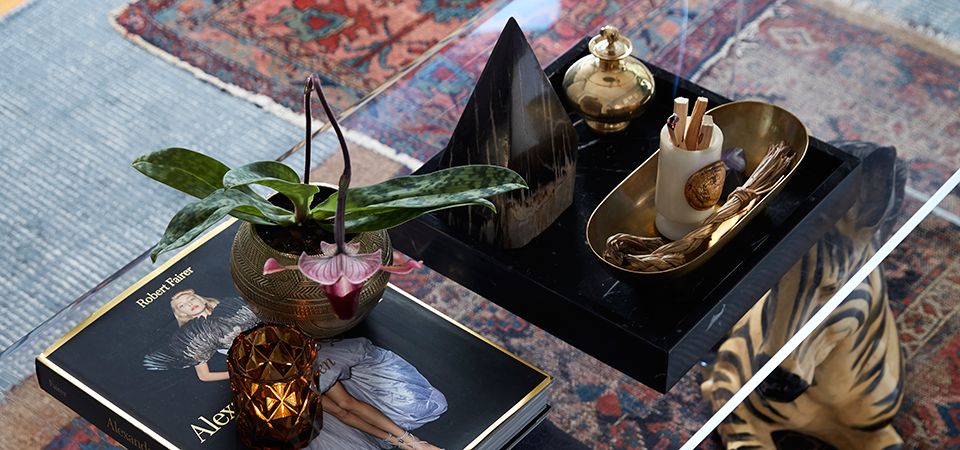 We love the way Miriam juxtaposed natural wooden elements with glam brass and marble. Fall is the perfect season to bring out cozy accessories like palo santo, incense sticks and, of course, candles. A sophisticated, dramatic coffee table book makes an excellent makeshift tray for added display space, too.
That zebra looks pretty comfortable on his rugs, no? (He's vintage, though, sorry.)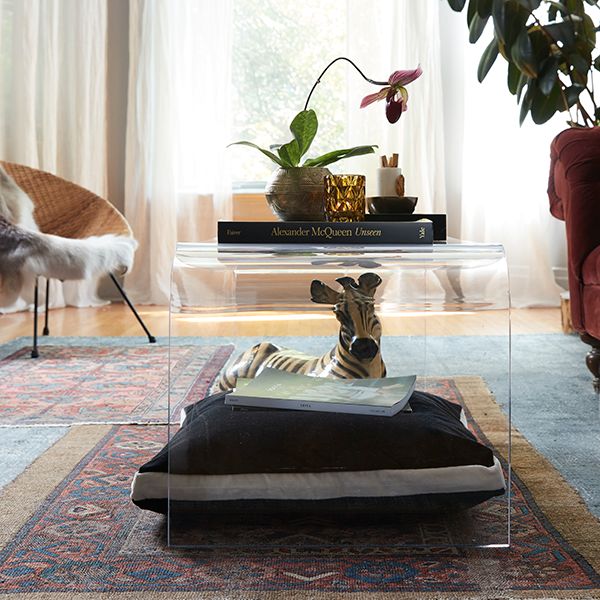 A great rug grounds the room and helps tie it all together, like Miriam's trusty blue CB2 kilim. But why limit yourself to just one? The way Miriam layered vintage rugs is totally genius and one of our favorite things about her fall decor updates. Vintage (or vintage-inspired!) work with nearly any decor scheme and add hints of an exotic bazaar. Bonus: your toes will be grateful for the added warmth multiple rugs provide during the chilly fall and winter months.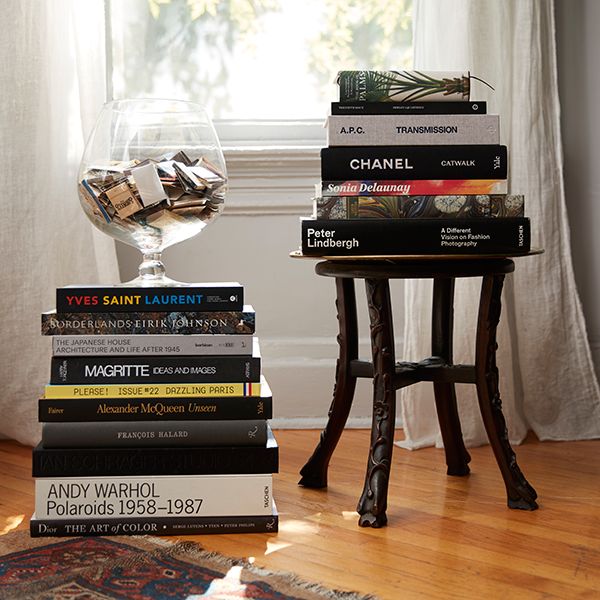 Legendary Vogue editor Grace Coddington once said, "Always keep your eyes open. Keep watching. Because whatever you see can inspire you." We think this should apply in your home, too — it definitely does in Miriam's. As a stylist, she's always collecting props and accessories for shoots. Instead of storing everything away in a trunk or closet, she styles little vignettes throughout her space. It's proof that clutter can be chic. Actually, it can be downright inspiring.
We're obsessed with the way Miriam transformed her desk into a bar, a simple yet totally unexpected update that makes fall and holiday entertaining practically painless (especially for those friends and family who just happen to randomly drop by). She added a few key pieces to take it from workstation to entertaining spot: marble trays, serving platters, sparkly tealights and, of course, all the fixings for killer cocktails. Workday paraphernalia is simply stashed away in a few vintage baskets perched underneath the desk.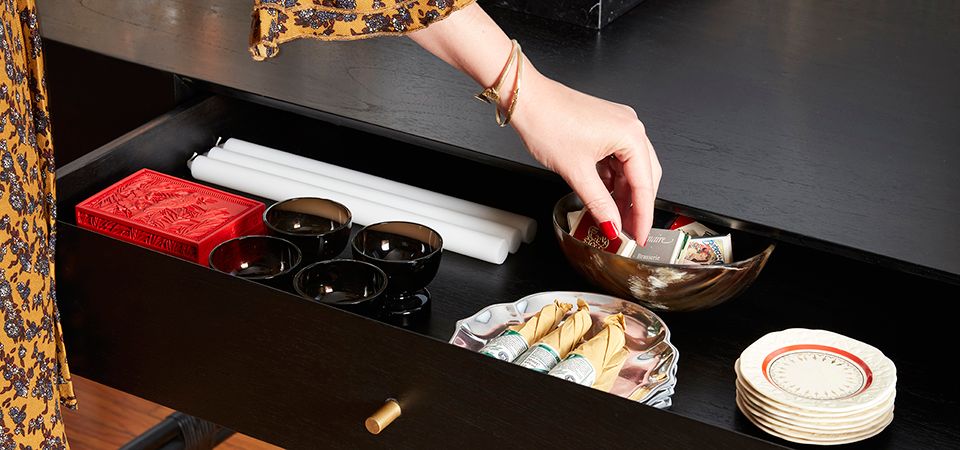 Another thing we learned from Miriam: Just because something is in a drawer doesn't mean it can't be neatly styled and organized. Guests get a pleasant surprise when reaching for matches or an additional cocktail glass. Miriam even leaves it propped open a bit to show off the contents. And who can blame her, when the contents are that pretty?
We've listed CB2 sources for Miriam's home below and noted which pieces are her own and vintage. The beauty of vintage is that it's often one-of-a-kind, but if you'd like to get the look yourself, we have a few similar styles that might work. We may not sell a zebra sculpture or egret vase (sadly), but you could always pick up our bull doorstopper or Matthew Williamson flamingo catchall for a similar vibe.