If you've been following along, you might have noticed Chillhouse and its founder Cyndi Ramirez-Fulton popping up on our blog a few times. And with good reason: we absolutely love her style. So we were thrilled when Cyndi and her husband-slash-fellow entrepreneur Adam Fulton wanted to work with CB2 Interiors (our online decorating service powered by Modsy) to help design their NYC home. It's as cool — and as chill — as you'd expect from an artsy, entrepreneurial couple.
The apartment was something of a blank slate when they moved in, so Cyndi and Adam were able to really infuse it with a lot of their own personality. The key was to figure out a cohesive, stylish way to showcase both their aesthetics. Cyndi gave us the scoop on how she and Adam combined their styles, how CB2 Interiors helped with the design process and how two busy entrepreneurs make work, life and their relationship, well, work.
CB2: Hi Cyndi and Adam! Please tell us a little bit about yourselves. CB2 followers may remember Cyndi from our first Chillhouse feature, but this is the first time our readers are "meeting" Adam.
Cyndi: Where do we begin. We're partners in life and in work. Two and a half years married, and partners for about five years. I'm the founder of Chillhouse, a destination for modern self-care. Adam is my partner in that but also owns a few other hospitality businesses in NYC, as well as a content creation agency that works with hotels/restaurants across the country.
CB2: You're both entrepreneurs with successful businesses. How do you balance work life, home life and your relationship?
Cyndi: You just make it all work! I don't think there's an exact science for everyone. We don't have a typical 9-5 — we're at the office all day and then head to the bars directly after. I think anyone who works in hospitality can relate. One of the ways we find "balance" is by traveling frequently. Whether it's for business or pleasure, we make it a priority to carve out time for a little R&R. Again, you just make it work because we all have to. Amirite?
Cyndi and Adam's apartment had a pretty petite
"entryway" just off the dining and living space; the
perfect size for our Caplet Oval Mirror with Shelf.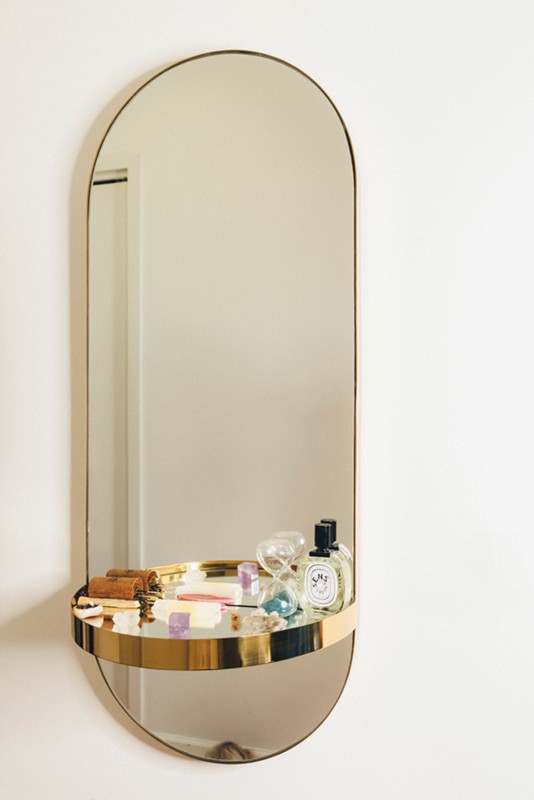 CB2: We have to imagine that having a relaxing home base to come back to at the end of a busy day is important. You recently updated your apartment with the help of CB2 Interiors; can you tell us a little bit about that?
Cyndi: I've honestly never felt more happy in my home as I do now. And it's true: when you have a relaxing home to come back to, your stress instantly melts away (at least for me!). I loved the CB2 interiors process. As someone who has a hard time visualizing how pieces and furniture will coexist, this service allowed me to get a clearer bird's-eye view on the whole space. Decorating is stressful enough — this eliminates the wondering and earns you back time.
CB2: Why did you decide to work with CB2 Interiors for your home? How did it compare with the Chillhouse project?
Cyndi: It was a no brainer! I have such a hard time making shopping decisions, so this allowed me to visualize the project and get it all done! Our home was a bit more of a blank canvas given that Adam and I have never completely invested time or money in decorating our dream apartment. We were ready and open to all ideas! For Chillhouse, we had a very clear idea of what we needed and CB2 Interiors just honed in our vision and delivered!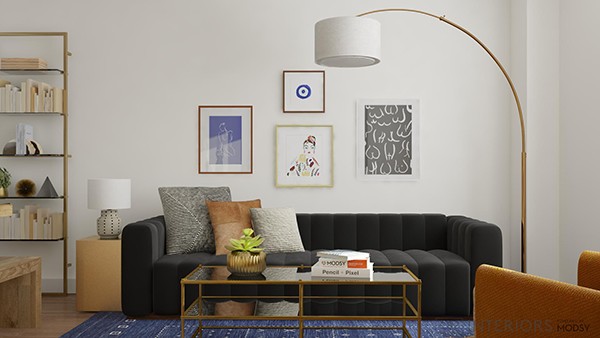 Rendering to reality: a peek at the CB2 Interiors process. Above is the initial rendering from
Cyndi's design team; left is the final design IRL.
We can't get over how similar they are.
CB2: Do your personal styles and tastes differ at all? Tell us a little bit about the design project and how you created a space that worked for both of your needs and reflected your aesthetic as a couple.
Cyndi: Definitely! If I had my choice, there would be a lot more creams, peach and acrylic in the apartment. I have much more of a contemporary aesthetic, with a slight bohemian edge, whereas he's more rustic/vintage/brass vibes. I think our styles are both well represented in our redesign!
CB2: Following up on the above question, were your CB2 Interiors stylists helpful in figuring out and nailing your decor vibe?
Cyndi: Yes! I also think the questionnaire in the beginning helps with that process. It's a great tool to allow the folks behind the scenes to hone in on the individual's taste prior to even chatting with them!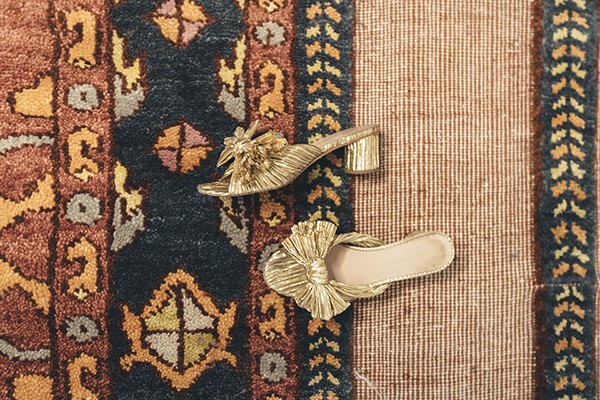 To compensate for minimal closet space
(this is a New York City apartment, after
all), Cyndi used our Stairway Bookcase as
additional shoe storage.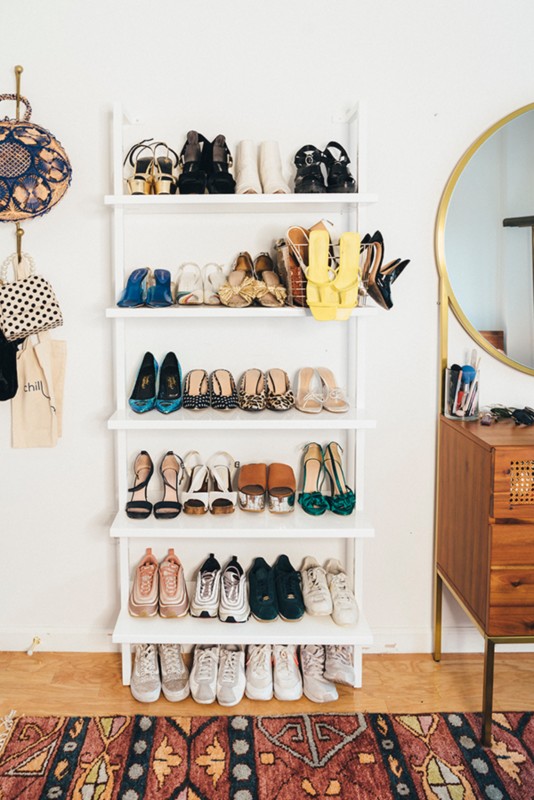 CB2: What is your favorite part of your new home?
Cyndi: Ugh. All of it. <3
Click here for more information on CB2 Interiors and to get started on your own project, or you can shop pieces from Cyndi and Adam's apartment below:
LIVING AND DINING:
BEDROOM:
Photography via Victoria Morris. This interview has been edited and condensed.