Buyer Sara Khodja's Chicago apartment is a showcase for her colorful, quirky treasures from around the world.
Taking a tour of Sara Khodja's apartment is akin to hopping on a flight that takes you from Europe to Africa and Asia—and then around the world again. As a merchandise buyer for CB2, Khodja's job is to develop lighting and furniture for virtually every room in the home. Among its list of requirements: be willing to travel the world, several times a year. And so she does just that, jet setting to Italy for trade shows and visiting vendors and factories in India, Vietnam, and Thailand.
Along the way, Khodja gleans inspiration from her surroundings and falls for trinkets and textiles that are special and sized-right for her suitcase. "I've learned that if you see something you like, you have to buy it, even if you don't know where it will go," she says. "Otherwise, you'll never seen it again."
It's with this relaxed philosophy that she's decorated her Logan Square apartment since moving in four years ago. We love that her collected aesthetic is authentic and worldly without trying too hard. Here, she shares her secrets to pulling it off with a series of simple, yet versatile styling tricks.
1. Keep the walls (mostly) white. Khodja's loft is located in a former silk factory, which means her ceilings reach 15 feet high and natural light pours in from a wall of windows, highlighting the building's industrial charm. Besides a few walls in her bedroom and bathroom which she painted a cozy grey, she went with a clean, white backdrop to allow her colorful furniture and accessories to really pop. A group of pillows—york, toodle, two plus grey, pata—add warmth and coziness to a neutral sofa, while bedding accents and a collection of handcrafted little birds add punches of color in the bedroom and living room.
2. Group like with like. Khodja's collections range from vases to very small figurines. Khodja can't quite explain why she likes what she likes, but she's learned to trust her gut instinct. And she understands the power in numbers. One or two items can be the start of a collection, but a multitude is needed to make a statement. A few of our favorite collections in her home: A group of painted wooden people dressed for work, which she arranged on her fireplace. And nearby, on our metal wall shelf, a rainbow mix of porcelain vases made from old bottle molds below a concert poster of Lana Del Rey.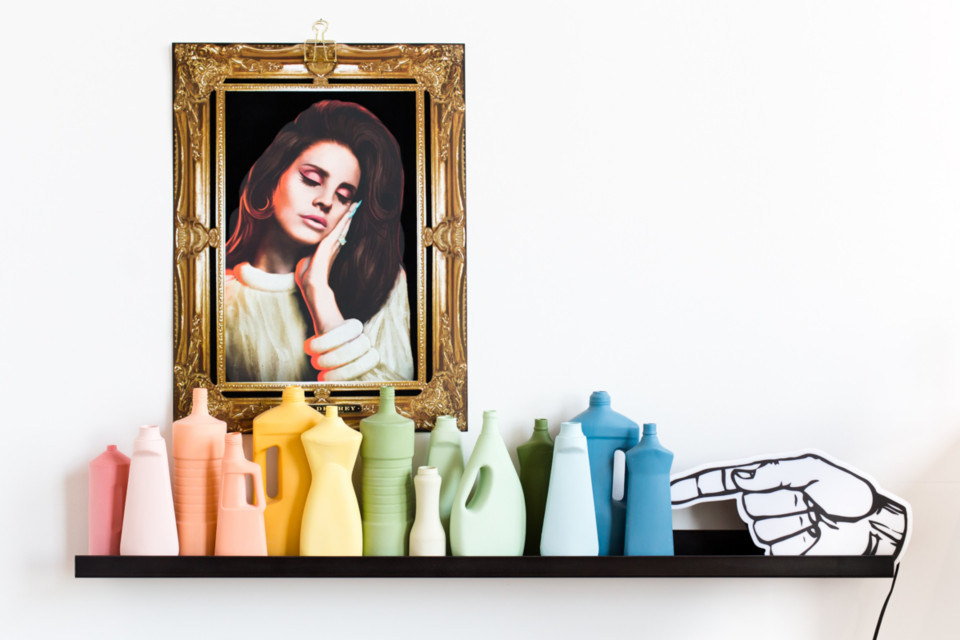 Photo by Carolina Mariana
3. Honor your heritage. Atop a dresser in her bedroom, Khodja displays a bronze tray from Tunisia that was once her parents. "Because of my heritage, I'm drawn to objects from North Africa and the Middle East." It's a thoughtful approach that makes a space feel truly unique. A white bust from TJ Maxx is topped with a luche libre mask that Khodja picked up in Mexico.
4. Embrace the weird and wacky. A collection of mixed-size masks from places such as Japan, India, China add up to one impressive collection along Khodja's hallway. And in a sitting room, shelves are lined with funny little finds. There's a section for her pigs, figurines that tell old wives' tales, and books on everything from fiction to fine art photography.
5. Look for art in unlikely places. For Khodja, that meant scooping up remnant of a Bollywood billboard (who could resist those lips!) and tacking it up on her dining room wall. "If you flip it over, you'll see passport stamps from when I brought it back," she says. In the entryway, an old shopping palette has new life as a mirror, while a face-filled wallpaper from Barcelona adds depth and a playful point of view.