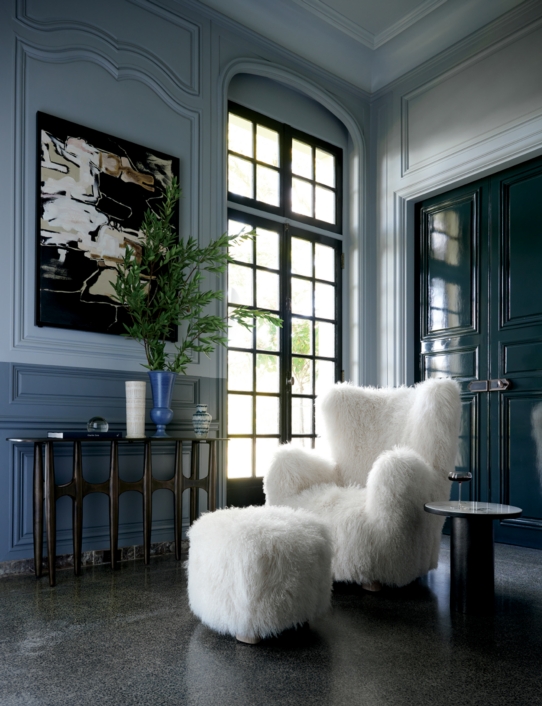 Design, when done well, can be truly transportive. In the case of our
Spring 2021 collection
, we were transported to Paris by way of Lake Bluff, Illinois—specifically, the Ralph H. Poole House by David Adler.
Sure, you may have heard of prominent Chicago-based architects like Ludwig Mies van der Rohe and Helmut Jahn (and we love them, too), but there was a whole school whose designs were grounded in much more traditional references, drawing heavily on European inspirations. Adler was one such architect. A Milwaukee native, Adler studied at Princeton University and went on to become the first American to attend the École des Beaux Arts in Paris, according to Architectural Digest.
Feels like you are stepping into the chicest boutique hotel in the French countryside.
Most of Adler's commissions were for well-to-do families in the Chicago area, constructed in the early decades of the 20th century. He was especially known for extravagant country homes (but not in a tawdry, new money way) and perhaps worked most prolifically during the Roaring Twenties. Coincidentally, we've now photographed three Adler homes around Chicago, most recently our Spring campaign at the aforementioned Ralph H. Poole House.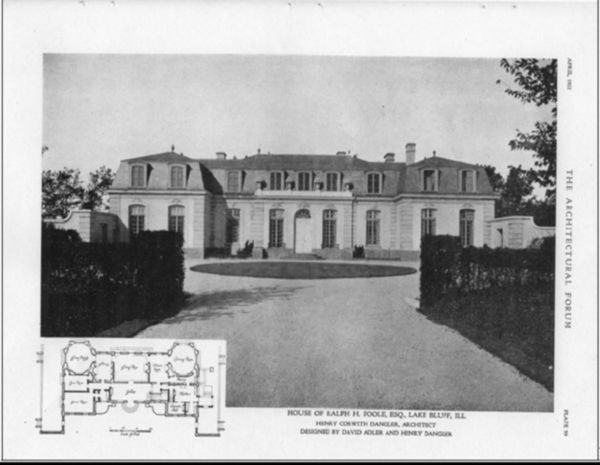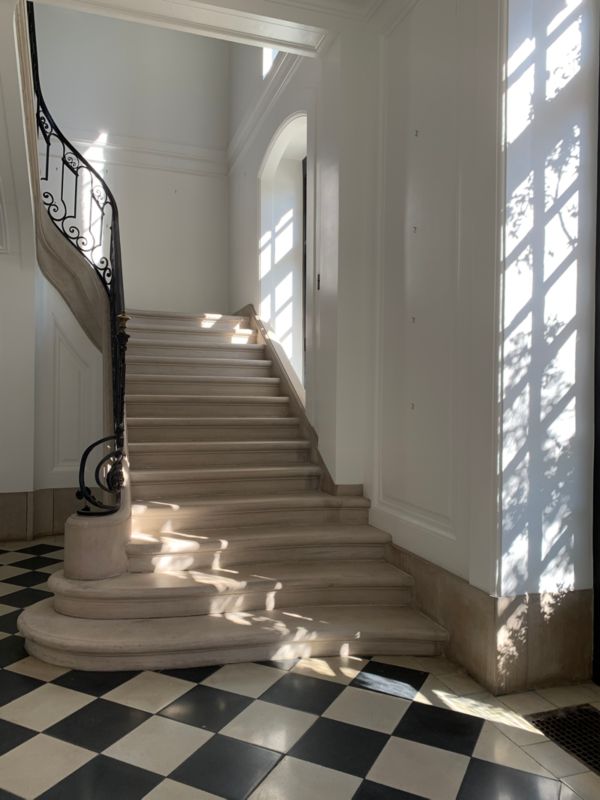 Top left: The Ralph H. Poole House as featured in the April 1922 issue of "Architectural Record." Top right: The dining room pre-renovation and restoration. Bottom left: The renovation process. Bottom right: The renovated foyer. Images courtesy Michael J. Hoeft and Kiernan Miller.
The result? Well, you can see it in the pages of our
June catalog
. "The renovation and restoration has been a long, arduous process—one that is still not totally complete. However, we are driven to see it through, house and grounds!" Wisehart says.
Okay, yes, our collection doesn't exactly scream "neoclassical European" or even "gilded age." We're not quite that traditional. But look closely and you'll see a different sort of European influence. It just might be Italian Modernist vs. Beaux-Arts or Rococo.
There's an alchemy in pulling together two seemingly disjointed things, in pairs that don't necessarily "go." It's what makes design interesting. Design should inspire, should spark something in your imagination that transforms it into so much more than just an object. That's as true of product design as it is of architecture, whether it's an outlandish Ross Cassidy-designed armchair wrapped in pure Mongolian sheepskin, or the careful restoration of a historical Chicago country home with Parisian ties.
"Adler's homes are rooted in classical, European architecture that evoke a sense of history and travel, which are such an inspiration for CB2," Moore says. "I love the contrast of our modern pieces in these old-world environments."
In fact, we'd say that juxtaposition is one of our favorite things about design. The way in which different elements of a room come together is so individual, whether the individual pulling it together is a professional interior designer or a design devotee. The idea of juxtaposition is also why we're calling this look "21st century château." Our collection is undeniably modern, with pieces from a wide range of designers who all bring their own inspiration to the table. Yet many of these pieces feel just as appropriate in a grandiose, historical setting as they do an ultra-sleek modernist compound. There's something extra fun about putting a concrete, Brutalist-inspired desk by Mermelada Estudio in a traditional wood-paneled library, no?